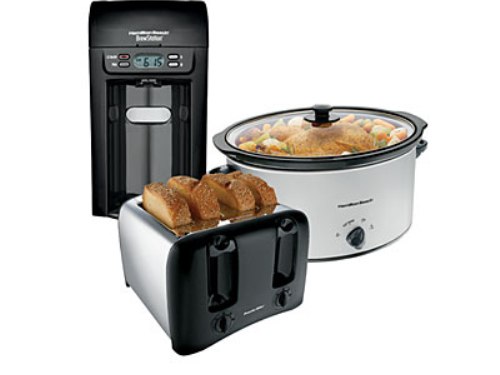 I know this is a topic some of you have been waiting for me to cover for a long time. And I have to say I'm sorry for not doing it sooner! I have pretty much all the kitchen gadgets I need (and then some!) by this point so it's definitely time I share this with you.
I've made two parts, one for kitchen appliances and one for gadgets and list them in order of most used and loved. And yes I do love some of my kitchen appliances because they make my job SO much easier. And who doesn't love that right?
I also wanted to share blog recipes using each of these gadgets so you can get some new recipe ideas as well so be sure to check out the links below. 🙂
Part 1: Top 12 Kitchen Appliances For Your

Vegan

Kitchen 
1. Vitamix ($400-$500) / Omni Power Blender ($300)
So the Vitamix is probably my first love. I've wanted one for most of my life (it was my dream as a child every time I saw the Vitamix demos at the trade shows – strange I know!) as I've always loved fresh fruit (no dairy!) smoothies, sorbets, fruit ice creams and blended soups.  When I first got serious about eating raw and vegan food it was the first purchase I made and I haven't looked back since. I know it's very pricey, but what I recommend is saving about $10/week or $40/month towards one, and after a year you'll have enough to purchase one on Amazon or Ebay. Older models can be had for about $350. This hands down is my most used appliance and it cannot be beat for the fact that is produces the smoothest green smoothies and pureed soups and sauces and it doesn't break! Oh you can try, but I bet you you can't break this motor. To me it's just not worth going through a new $50-$100 blender every few months burning it out trying to blend frozen fruits and thick dips, so the Vitamix has been a great investment for me personally, plus it saves time in the kitchen. Instead of blending and stirring, blending and stirring (which can take 5-10 min with a regular blender in all) in 30-90 seconds I am totally done blending and either eating or finishing my recipe!
Another option is the Omni Power Blender – it is essentially a Vitamix knockoff (they are not happy about this) and I have used one once and it was pretty decent for blending. It is high power and seems durable, but it does not puree green smoothies as quickly or as smooth as the Vitamix. I would say it's a not bad option if you like to do lots of blending but the Vitamix is too out of reach. It also has a plunger which I find is essential for anyone wanting to make dips or banana ice-cream. Sure some people love the Blendtec but I am not a fan of a blender without a tamper that has too many preprogrammed functions to figure out how to use. (Saving your pennies + having a garage sale this summer can help raise some funds for some much needed kitchen gadgets too)
Vitamix Recipes:
Chocolate Cherry Blender Ice-cream, Banana Berry Acai Bowl, Vitamineral Green Smoothie, Holiday Eggnog Smoothie, How to Make Perfect Green Smoothies, Avocado Green Smoothie, Cherry Mango Love Smoothie, Strawberry Pecan Spinach Salad, The Best Caesar Salad Dressing, Mexican Black Bean Corn Soup, Creamy Raw Vegan Mexican Cilantro Corn Soup, Dr. Fuhrman's Anti Cancer Soup, Spaghetti Marinara With Chickpeas, Summer Harvest Soup,
2. Zojirushi Rice Cooker ($139-$159) / Hamilton Beach Rice Cooker ($41)
I will confess I was a user of $10 rice cookers for much of my rice cooking period. When I first discovered them at the discount store I was intrigued, cooking regular rice instead of microwaving pre cooked rice or using Uncle Ben's minute rice? I used it, but often it would keep resetting leaving me with undercooked or still watery rice and sometimes even burned crispy rice on the bottom. Not good. So when I heard about the Zojirushi (and then saw the price) I scoffed, how good does a rice cooker need to be? And then I tried it… and holy mackerel I was hooked. I use my Zojirushi probably 3-4 times a week for all my rice and quinoa dishes (and steel cut oats too). What I like about it is I can pre program it to start at any particular time or just hit it an hour before I start dinner (for white rice, or 2 hours for brown rice) This is great when I don't know what I'm making yet, I have time to decide whether i'm going with stir fried vegetables, lentils, beans, curry, and more. The Zojirushi also has some special features in that you can make porridge (steel cut oats), 1 pot meals with it (comes with some recipes), bake cake (it's true!) and use different types of mixed rice, brown rice or sweet (dessert) rice recipes.
An inexpensive alternative is the Hamilton Beach Rice Cooker which my mom has and I use it when I visit her place. It has a white rice, a whole grain (for brown rice) setting, boil and simmer function. So you can cook both rice and/or vegetables in it. It does have a delay starter which is handy and I have used it to cook steel cut oats by programming it to start before I wake up in the morning. It's a very good option, just doesn't have as many bells and whistles and is much bigger than the Zojirushi so it takes up more counter space.
Rice Cooker Recipes:
How To Cook Brown Rice, How To Cook Basmati Rice, Greek Rice Stuffed Peppers, Greek Stuffed Eggplant, How To Cook Sushi Rice, California Rolls,  Asian Vegetable Stir Fry With Tahini Sauce, Chickpea Quinoa Burgers with Lemon and Thyme, How To Cook Steel Cut Oats, How To Cook Quinoa, Protein Packed Spinach Salad With Quinoa, Quinoa Stuffed Zucchini Boats
3. EZ Bean Cooker ($100) / Nesco Digital Pressure Cooker ($75) / Presto Stovetop Pressure Cooker ($50)
I'm fairly new to using pressure cookers, I've only been using them for about 2 years now but they are one of my favorite devices because #1 they are fast, and #2 you can cook almost anything in them. Potatoes, beans, lentils, grains, vegetable broth and more. Many people feel leery about pressure cookers imagining they are some sort of potentially exploding kitchen contraption, but please please have no fear. Dangerous pressure cookers are more old wives tales that could have only occurred with the old "jiggle top" style of pressure cooker. The ones these days come in two varieties, stove top and electrical plug in style (just like a rice cooker). I prefer the new digital pressure cooker style and just recently got an EZ Bean Cooker which is like the ultimate pressure cooker as it's totally preprogrammed for every type of bean or lentil you would like to cook – which means NO soaking time. Yep! No overnight soaking, no taking all day to cook beans. Your beans will be done between 30-70 minutes due to cooking under high pressure. This in itself is invaluable as there's no more need for canned beans and dried beans are so much cheaper. The Ez Bean Cooker also has a manual mode so you can use it to cook any other items you like, just program in the time to cook.
Another alternative is the Nesco Digital Pressure Cooker which you can cook everything you desire in, but you'll need to use a pressure cooking chart to determine how long to cook the food you desire. And finally the Presto Stovetop Pressure Cooker is a great low cost option, but it's best for gas stoves. I don't recommend it for electric stoves as it's hard to control the temperature (as you have to bring it to a boil and then lower it to cook with steady steam and the stove rings can retain heat for too long to do this) It also comes with a handy pressure cooking book with times and a few recipes which is very handy to have at your finger tips.
Pressure Cooker Recipes:
How To Cook Chickpeas, How To Make Homemade Vegetable Broth, Kik Alicha (Ethiopian Split Pea Stew), Holiday Yam Pecan Casserole, Vegan Avocado Dill Potato Salad and of course mashed potatoes and any recipes requiring cooked beans or lentils.
4. Ninja Cooking System ($130)/ Hamilton Beach Crock Pot (Slow Cooker) ($50)
The Ninja Cooking System is a fancy slow cooker with many more bells and whistles. You can cook in it just like a pot on the stove, it comes with a non stick pan which means easy clean up and you can sauté and brown any items you like before turning on the slow cooker setting. It also comes with a small cake pan and a wire rack so you can bake or roast in it dry just like an oven! I like using it for my chilli recipes and slow cooked vegetable stews and bean dishes.
A cheaper alternative is the Hamilton Beach Crock Pot, which can still be programmed with desired cook time on high or low and comes with a glazed ceramic insert to cook in. I like this size as it's generally large enough to make dishes that serve 6 people. It's definitely useful in the summer when you don't want to heat up your house cooking, or set it and forget it Sunday recipes.
Slow Cooker Recipes:
Vegan French Split Pea Slow Cooker Soup, Slow Cooker Indian Dal Soup With Mixed Vegetables, Indian Tarka Dal Curry,
5. Cuisineart Food Processor ($100)
For some recipes, a simple food processor is required. I like to use mine to quickly shred root vegetables, slice cabbage or zucchini rounds, pulse nuts, make veggie burgers, hummus and black bean brownies. If you're into raw food recipes or making your own dips a food processor is a must have kitchen item. It also works well when you don't have a high powered blender and you need to puree thick mixtures.
Food Processor Recipes:
Low Fat Chickpea Hummus, Sweet Potato Yammus Hummus, Smoky Yam Black Bean Burgers, Chickpea Quinoa Burgers with Lemon and Thyme, Black Bean Brownie Recipe, Tahini Dip For Falafel, Vegan Cheesecake with Blueberry Rooibus Compote,
6. Breville Juicer ($150) / Green Star Juicer ($465-$529)
A juicer is something you may be interested in if you like to make fresh juices or Dr. Fuhrman style recipes. He starts many recipes off with fresh carrot and celery juice and a decent juicer is a quick way to get loads of nutrition from veggies you might otherwise not eat or not be able to chew. I have a Breville juicer and I like it because it's easy to clean and the cup it comes with scrapes off the juice foam which is quite handy. For those who are concerned about centrifugal juicer and want a gentler way to extract nutrients from veggies a Green Star juicer is a great choice. It's also the best way to juice wheatgrass and greens. (They don't fair so well in a centrifugal juicer)
Juicer Recipes:
Pomegranate Apple Grape Juice, Kale Apple Celery Juice, Apple Celery Carrot Beet Juice, Fruit and Veggie Smoothie With Beet Juice, How To Make Dr. Fuhrman's Anti Cancer Soup
7. Proctor-Silex Coffee Grinder ($14)
This one is absolutely essential, but not for what you think! I don't even drink coffee, nor have I ever ground coffee. What I use it for is grinding chia seeds, flax seeds, small quantities of nuts and whole spices to make my own spice mix. It's invaluable to have as it's often cheaper to buy these items whole and then grind them yourself so then you have both the whole seed/spice and a ground version for quickly using in recipe. I like to add ground chia to my Banana Pancakes, smoothies, and sometimes salad dressings (it makes it thicken nicely). I don't like buying ground chia or flax in the store because it perishes quickly and then you have to store it in freezer which can take up a lot of space, so I prefer to grind 1/2-1 cup batches at a time and keep them in smaller containers in the freezer for ease of use. A coffee grinder is easy to pick up at any kitchen store so make sure you have one.
Coffee Grinder Recipes:
Punjabi Garam Masala Spice Recipe, Dr. Fuhrman's Cinnamon Fruit Oatmeal, The Best Ever Vegan Banana Pancakes,
8. Hamilton Beach Sandwich Maker ($23)
You may scoff at the idea of needing a sandwich maker, and truth is you don't really need one, but if you have one you'll enjoy making oil-free toasted sandwiches, panini, and more. I like to slather some homemade hummus on bread and add sautéed veggies such as onions, mushrooms, zucchini, peppers and more and grill it (no oil) so it comes out all toasty and melty and delicious. Get creative and use your favorite veggies, raw or cooked and favorite dip to create an easy meal.
Sandwich Maker Recipes:
Engine 2 Inspired Tempeh Mushroom Melts
9. Cuisinart Hand Blender ($35)
A hand blender is super handy (ok I know) to use for a variety of reasons. When I travel and can't take my Vitamix with me, I can bring my hand blender as it's stowable and easy to pack. You can make smoothies on the go wherever you are. At home it's nice to make blended sauces and soups straight in the pot (instead of moving everything into a blender to puree) in a matter of seconds.
10. Procter-Silex Electric Kettle ($14.50)
An electric kettle is great to use to save on time for cooking pasta. Just boil your water and then pour it into the pot and return to a boil to easily chop your cooking time in half. I also use my kettle to make rooibus or herbal tea on a cold fall/winter day.
11. Black & Decker Toaster ($35)
You probably already have a toaster, but it's nice to have to quickly toast some bread for toast and jam, toasted sandwiches, breakfast bagels, or even toasted buns for homemade veggie burgers.
12. Presto Air Popper Popcorn Maker ($20)
Who doesn't love popcorn? I skip the the microwaved popcorn and prefer to make my own in an air popper so it's oil free. Then I use a mister to spray on a little soy sauce and season with spices. Nutritional yeast, paprika, chipotle powder, salt and pepper are all great choices for your oil free pop corn.
So there you have it, my list for the top 12 "Must Have" Kitchen Appliances for your vegan kitchen.
What is your most beloved small kitchen appliance? Which one do you want to get next?