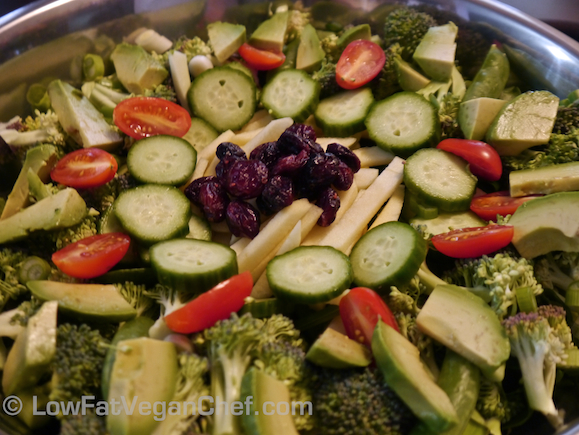 *Contest is over! I've chosen Tina's name "Rock My Broccoli Salad" for the title!
Hey everyone. So I kind of need your help.
You see, I made a delicious salad the other day and I absolutely loved it, but because it has so many ingredients I couldn't really decide on what to call it. So I want hear some suggestions from you.
In fact, I'll even give a little prize to the person who comes up with the best name for this salad recipe. (I'm going to put it in my next salad recipe ebook you see so it needs a catchy title.)
So please let me know what name you think suits this salad and it's ingredients that make it sound delicious and appetizing. I'll announce the winner later this week. And since it's open to everyone (and some of you may have already purchased one or two of my recipe ebooks) I want to offer the winner a copy of any one of my ebooks they don't already have. So if you've been dying for a particular ebook, please don't miss out on this chance to enter! Plus it's a fun way for me to get feedback from you.
I usually stick to all raw ingredients when I make my salads and dressings, but not always. This one however is pretty much all raw and super fresh (depending on the cranberries, but you can use something else instead if you wish.)
Once this salad is tossed together with the orange hemp dressing and the avocado chunks get all broken up and creamy, it's a super tasty and decadent salad, but it's jam packed full of vegetables and still light. I never use any oil in my salads and try to keep them zesty and flavorful but lower fat at the same time.
If you're going to make this salad and not use it all in one meal, it's best to portion it out and keep the remaining dressing separate so it doesn't wilt the lettuce. Use the dressing within 3 days as it is fresh.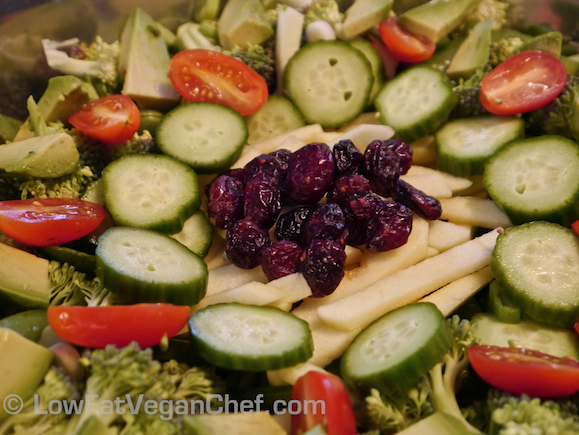 Rock My Broccoli Salad
Serves 2 dinner salads or 4 side salads
Salad Ingredients:
1 small head of broccoli cut into small florets
3 cups baby spinach or spring mix
2 cups romaine lettuce
1 8 oz. package sugar snap peas
1 apple peeled and sliced into match sticks
2 small seedless cucumbers (Persian or Iranian), sliced
1 8 oz. package plum tomatoes, sliced
2 small or 1 large avocado, seeded and sliced into chunks
2 green onions, chopped
3 tbsp pomegranate seeds or dried cranberries
Orange Hemp Dressing:
1 cup fresh squeezed clementine or mandarin orange juice (please don't use store bought it's too sour)
2 tbsp hemp seeds
2-4 dates, pitted and chopped
dash of kelp flakes *optional
dash of salt
dash of pepper
Directions:
Arrange salad ingredients into a very large salad bowl as desired.
Combine salad dressing ingredients into a blender and blend until smooth.
Serve salad and top with dressing as desired.
Additional Tips:
Store leftovers in separate containers and consume within 3 days.
**Contest Over**
Name this salad and get a chance to win a copy of any of my recipe ebooks!
Winner: Tina with "Rock My Broccoli Salad" Congratulations Tina!