So the other day I was craving something pizza-like, but knew I wanted to put a healthy twist on it. Although you may think I'm apt to put hummus on just about anything (I might! lol) I actually don't eat hummus all that often. But when I do, I love to make my own from scratch as it's super simple. In this recipe I wanted to use the creamy hummus to sub for the sauce and cheese of traditional pizza and then top with some delicious veggies. Although you can use store bought hummus, I don't like that it contains a lot of oil and isn't as tasty as making your own. In fact there is a world of difference between fresh made roasted red pepper hummus versus the store bought kind.
In this episode of 20 minutes to the Table I'm going to show you how you can make your own roasted red pepper hummus, baked flat bread and a fresh salad with maple dijon dressing all in less than 20 minutes for an easy midweek meal
To subscribe to my Youtube channel please click on the video to open it in a new browser and hit the subscribe button beside LowFatVeganChef just under the video. Likes are always appreciated as well!
Some other toppings for your baked flatbread could be sautéed mushrooms, black olives, pineapple, arugula, tempeh or smoked tofu. Use your imagination! Recipes below: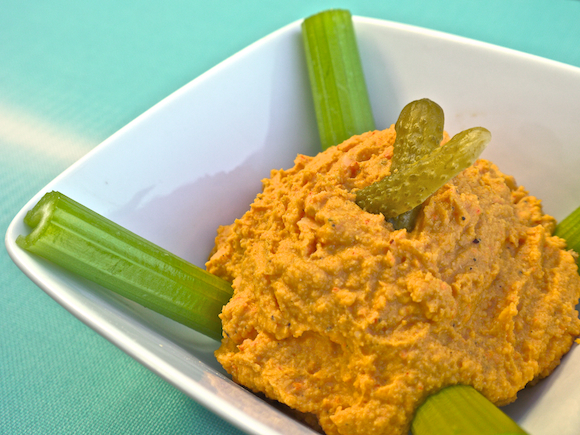 Oil-Free Roasted Red Pepper Hummus Recipe
This is half the recipe from my version in Vegan Comfort Foods From Around The World
Ingredients:
15 oz. / 425 g can chickpeas (no-salt), drained (reserve a few tbsp of liquid) *OR 1 3/4 cup fresh cooked chickpeas
1 Tbsp. tahini (sesame seed butter)
6 oz. / 170 g (half a jar) roasted red peppers, drained *OR about 1 small fresh roasted red pepper
1/2 large lemon, juiced
2 cloves of garlic
1/8 tsp. fresh ground pepper
1/8 tsp. Herbamare or salt, or to taste
Directions:
1. Combine all ingredients in a food processor and blend until smooth.
2. Taste test and adjust seasonings if desired and blend again. Don't worry if it's a little thin, when it baked it will become creamy and thick!
3. Enjoy!
Vegan Baked Flatbread with Roasted Red Pepper Hummus, Artichoke Hearts and Basil
Serves 3-4
Ingredients:
Roasted Red Pepper Hummus (recipe above)
1 package of thin burger/sandwich buns or other flatbread
1 15 oz. can artichoke hearts in water (not oil) *OR 400g of frozen artichoke hearts
1 small Vidalia (sweet) onion, sliced
1 handful of fresh basil
Directions:
1. Preheat oven to 400 degrees. Sauté onion over medium heat for 5-7 minutes in a little bit of water.
2. Slice artichoke hearts and basil into strips.
3. Assemble flatbread by spreading a thick layer of hummus on each piece of bread and topping with cooked onion, artichoke pieces and basil.
4. Bake for 8-10 until crispy and brown on the bottom. (I baked mine for 10 minutes)
Spinach Arugula Salad with Maple Dijon Dressing
Serves 3-4
Salad Ingredients:
1 5 oz package baby spinach & arugula mix
1/2 English cucumber, sliced
1/2 ripe tomato, sliced
1/3 cup chickpeas
Dressing Ingredients:
4 tbsp Dijon mustard
5-6 tbsp maple syrup (or honey if desired)
1 tbsp apple cider vinegar
Pinch of salt
Pinch of pepper
Directions:
1. Assemble salad ingredients into a bowl.
2. Whisk dressing ingredients together in a bowl.
3. Drizzle over salad and store any leftovers in a sealed container in the fridge.
 Have you ever made a vegan flatbread or pizza? What's your favorite toppings? Let me know what you think of these recipes by posting below.