Now, before you start drooling all over the keyboard on my delicious (lower fat vegan) Apple Strawberry Giant Strudel Pie recipe, I want to make a quick reminder that my new recipe ebook Comfort Soups To Keep You Warm is now available for sale. I am so happy with the response I've recieved on this book so far. People are in love with the delicious and filling soup recipes and blown away by my 40+ pages on tips and tricks on exactly how I cook, what you need and how anyone can make soup and even create their own recipes with anything they have in the fridge! It also contains 30 oil free soup recipes and even some additional bonus recipes you won't want to miss out on. I know you're family is going to love these soups recipes so much, they won't even notice they are healthy or vegan!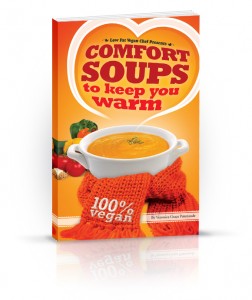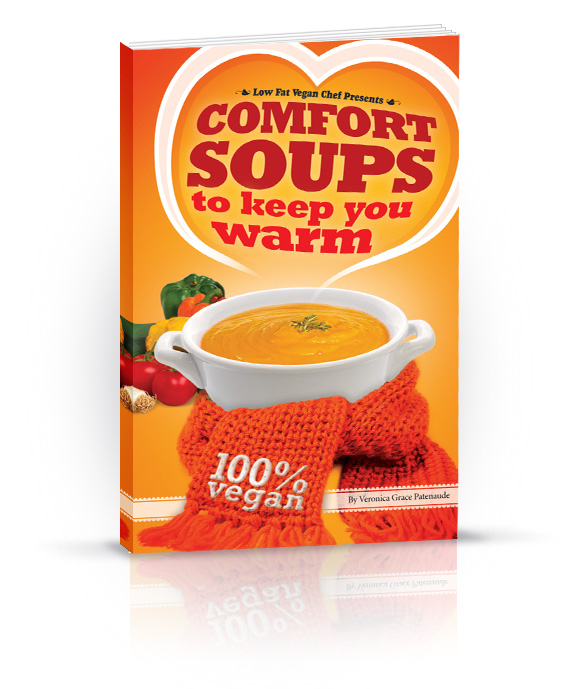 Ok, I have a very special recipe for you today… This would be GREAT for a special vegan Easter or holiday dessert.
It was my friend's birthday a while back and he wanted me to make something yummy for dessert that had apples and cinnamon in it. I started thinking, how could I possibly make an apple pie low fat, but that tastes good? Pie crusts have lots of fat in them from margarine or shortening and raw pie crusts are really fatty from using nuts, so neither were a good solution.
I started thinking of apple crumble, but then you still need margarine to make the crumble crispy and delicious too. (Oil free oat crumble turns out like little muffin bits and rises because of the lack of oil, I've already tried it.) So I thought, hey I bet a few layers of phyllo (film or fillo) pastry would do the trick and make the apple strudel delicious without being too heavy. I was inspired by Susan's recipe for Apple cranberry strudel pie.
But most people's recipes want you to layer on the margarine or butter in between the phyllo and add lots of nuts.
Well PFFFT to them! Because you don't even have to do that. The trick to getting a crispy phyllo pastry, is well, just baking it and let is crisp up in the heat. It doesn't even need oil or butter to get crispy and flaky. I'll show you how!
So the key to working with phyllo pastry is to make sure ALL of your fillings and baking dish are ready to go. Phyllo dries out very very quickly and you have to work fast or it can tear and fall apart. I had some phyllo in the freezer that I bought months ago (as I had no idea what I would use it for and it became a little warped and ugly). Make sure you let the phyllo rest for a bit and come up to room temperature if you defrost it overnight in the fridge because it is inflexible when it's so cold. Even though I ripped some of it… I managed to make it work anyway, even though I had never used phyllo before. See? Just fake it til you make it and you can make this apple strawberry strudel too… Even if you rip the phyllo and make a big mess, as long as you get some layers of phyllo sheets in there it will still taste good.
As always I wanted to pack in some more fruit into it, so I decided to use 2 different kinds of apples and some strawberries as they looked pretty fresh at the store. Who doesn't love fresh summer strawberries? Anyone? I didn't think so… I also think this would work well if you had frozen cherries, or really sweet peaches, or pears. I'm going to try an apple-pear combo next.
Although I made a bottom crust and a top for this, I decided that the crust (bottom layers) aren't necessary to make this strudel tasty. They don't really crisp up and they all stay flat anyway, and the most important part of the strudel is really the top crust. So next time I make it I'm going to skip the bottom crust.
Also the nuts aren't really that necessary either, the reason we add a little crumbled "something in between" the layers it to keep them separate so hot air can get to them and crisp up the phyllo sheets. You can easily just use rolled oats and skip the nuts to make the recipe even lower in fat.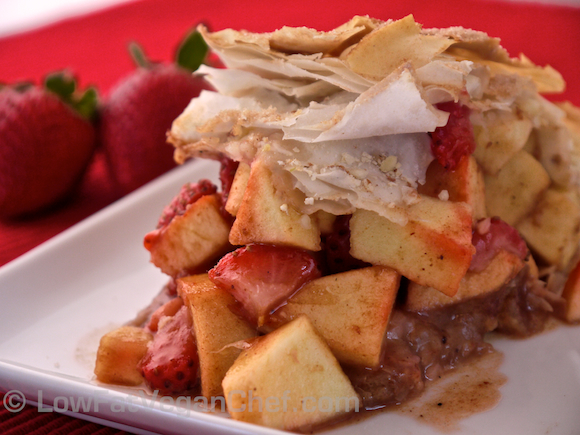 (Low Fat) Vegan Apple Strawberry Strudel In Phyllo Pastry
Serves 8
Ingredients: 
12 (or 6 if you use no bottom crust) 9 x 14″ sheets of phyllo pastry dough (thaw overnight in refrigerator or 5 hours on the counter)
2 tbsp. almonds or other nuts (optional)
2 tbsp. rolled oats (the big flat type oats)
4 medium apples, peeled, cored, and diced (I used Granny Smith and Golden Delicious)
1/2 cup turbinado sugar (raw cane sugar) or other coarse sugar (not white sugar or powdered sugar)
2 teaspoons  all purpose white flour, unbleached or cornstarch
2 teaspoons maple syrup, honey, agave or brown rice syrup (any liquid sweetener)
1 tbsp. ceylon cinnamon (my favourite available here) or 1/2 tbsp reg. cassia cinnamon
1/4 tsp. nutmeg
1 1/2 cups diced strawberries
2-3 second spray of canola oil or non-stick spray
Cinnamon-Sugar Topping:
1/4 teaspoon ceylon cinnamon
2 teaspoons regular sugar/white sugar
Directions:
Step #1. Preheat oven to 350 F /177 C. Use a rectangular (not square) baking dish and spritz the bottom with non stick spray (only if making a bottom crust, if not omit). Get the box of phyllo out of the fridge and let it warm up before using so it's more flexible. Don't take it out of the plastic package until you are ready to use it.
Step #2: Use a food processor or Vitamix to process the nuts and rolled oats until they are coarsely ground. (You can also just use rolled oats and skip the nuts if desired.)
Step #3: In a large sized bowl, toss the apples, turbinado (raw) sugar, flour, liquid sweetener, ceylon cinnamon, nutmeg and strawberries together gently. In a separate small bowl, mix the ceylon cinnamon and sugar together for the cinnamon-sugar topping.
*If you don't want a bottom crust, you can skip this next part and go to Step #6.
Step #4: Get out a large piece of parchment paper and unroll the phyllo pastry over it (have a damp towel ready to cover the rest) and take out two sheets at a time and place them into the bottom of the baking dish. (Cover the remaining pieces with the damp towel to prevent them from drying out and cracking.) The sheets will probably be too big for your dish, but you can try and lean them on the side like I did. Also you can use scissors and trim any large ends that stick out.
Step #5: Sprinkle a tablespoon of the nut/oats (or just oats) over the phyllo pastry, layer another two sheets, sprinkle 1 tbsp again, and layer another 2 sheets. You will have 6 sheets total for the bottom of your pastry, in 3 layers.
Step #6: Pour in the apple strawberry mixture on top of the 6th sheet (if using a bottom crust). If you're not using a bottom crust, just pour the apples and strawberries into the bottom of the baking dish.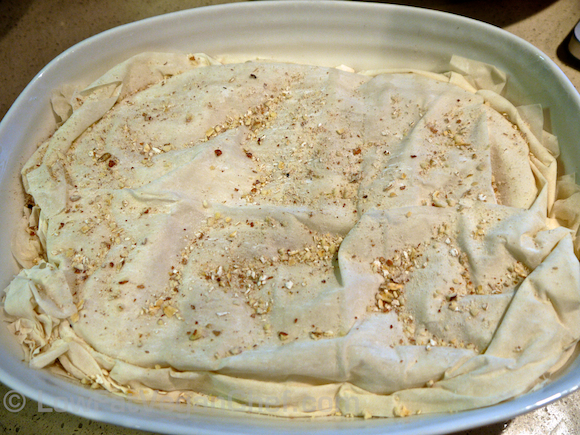 Step #7: Cover the apple strawberry mixture with 2 more sheets of phyllo and push the edges down a little. If they are too giant, you can trim them. If the edges of the layers are all crammed together in a bunch at the top they won't cook and will be like raw dough. So use your judgement, you want some tucked in, but not too much. Sprinkle another tablespoon of the nut/oats mixture and cover with another 2 sheets of phyllo. Repeat and cover with another 2 layers, another sprinkle of nuts/oats mixture, and another 2 sheets of phyllo.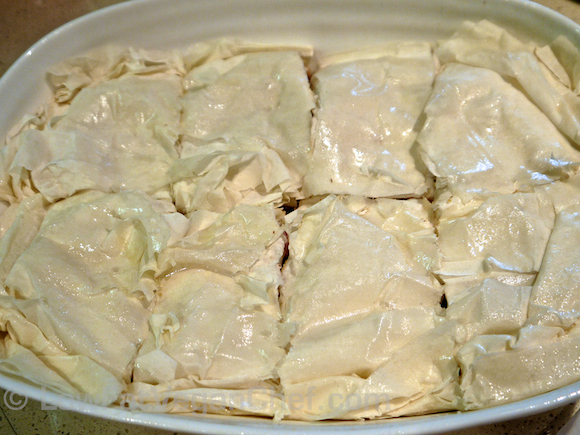 Step #8: Spray just the top layer of phyllo with a 2 second spray of canola oil or non stick spray and with a sharp knife, cut the strudel into 8 pieces. (This is so it doesn't shred when it's cooked. It's better to cut it beforehand.)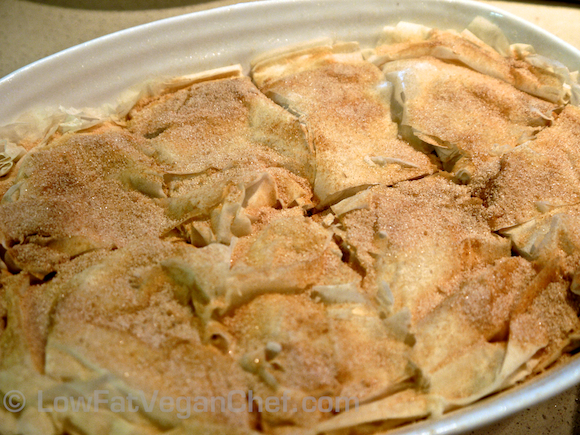 Step #9: Sprinkle it with the cinnamon-sugar topping. Ooh doesn't that look pretty!
Step #10: Bake for 45-50 minutes until the apples are tender. You can test them with a fork after 45 minutes in the middle.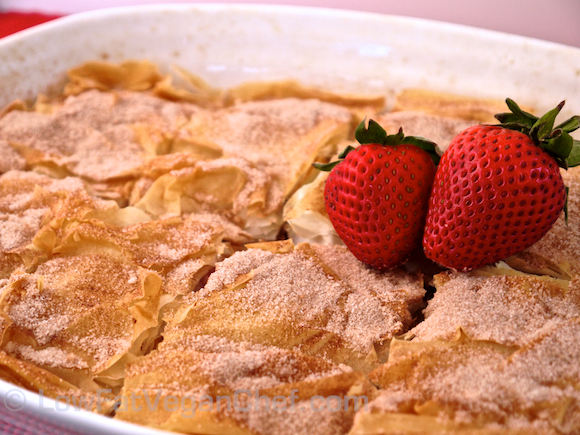 Step #11: Allow the strudel to cool a bit before serving (20-30 minutes). Serve warm.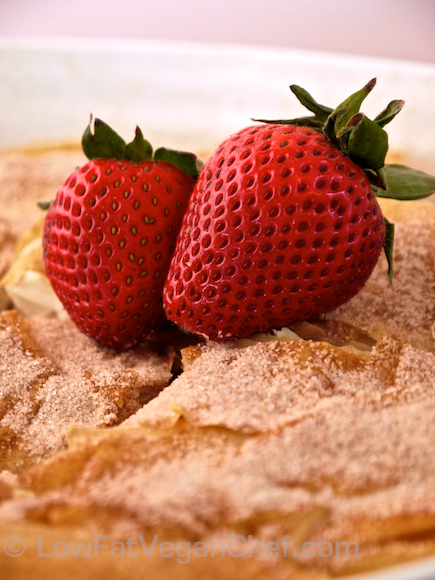 Additional Tips:
Use whatever rectangular baking dish you have to make this strudel pie. Mine is like an oval casserole dish, and it worked ok. I could have used a larger dish because the phyllo sheets are a pretty big. I will trim a little of the excess overhang next time. If you use a large lasagna like pan (9″ x 13″), you should be fine and not have so much extra phyllo on the edges.
*To reheat the apple strawberry strudel you have to do it in an oven. You cannot microwave it or the crust will get all soggy and not be flakey anymore.
 Variations:
Use whatever other fruit you like if you don't want to use strawberries. It's nice to have two flavours. You could also use some stewed rhubarb. My Nana used to make Apple Rhubarb pie and I loved this combination.
I also made this recipe with apples and Bosc pears. It was quite delicious too!
To Make Traditional Individual Apple Strawberry Strudels
You can also make little strudels with this recipe instead of a giant strudel-like pie.
If you want to make individual strudels, take 3-4 sheet of phyllo pastry per strudel.  Place a large piece of parchment paper (larger than the phyllo) underneath it and fill the bottom side of the phyllo (the long side of the rectangle), but leave a 2″ gap on all sides and then roll the strudel up and away from you until it's like a burrito. Tuck the short ends of the phyllo under the roll. Spritz with a little cooking spray and top with cinnamon-sugar. Pierce the strudel every 2″ to vent along the top and cover loosely in tinfoil. Bake at 375 F/ 190 C in the centre of the oven for 15 minutes. Take off the foil and bake for another 15 minutes until golden. Remove from the oven and let cool before slicing and serve warm.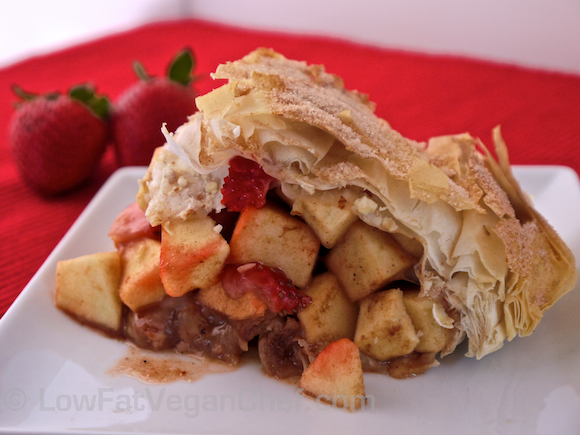 The top crust of the Apple Strawberry Strudel Pie is really pretty.  You can barely see the bottom crust, but it is there. It's pretty flat and soggy so this is why I don't think it's essential to be delicious.
Side view of the apple strawberry strudel. Is your mouth watering yet? Hee hee.
What do you think of my Low Fat Apple Strawberry Strudel Pie recipe?
Also what do you think of the new printer function of the site? Pretty cool huh!