Now that's it's cooling down, you may be craving something warm and comforting for breakfast these days instead of smoothies or cold cereal. So I decided to make up one of Dr. Fuhrman's (author of Eat To Live and Super Immunity) ultra healthy nutritarian breakfast oatmeal recipes.
This is ultra healthy because it contains zero processed ingredients and zero sugar or sweetener. It relies on whole foods for fibre and nutrition and naturally sweet fruit for flavor. It's got healthy omega 3's in the form of walnuts and fresh ground flax seed (which I use my coffee grinder for) .
I whipped this up and it was a nice change from the same old oatmeal. If you prefer steel cut oats instead you can definitely use those for the base and then just add the fruit and nut toppings to it. (I often make steel cut oats in my rice cooker for a no fuss breakfast.)
I used a little more cinnamon than in the recipe because I just love my ceylon cinnamon. It's a delicious sweet variety that tastes almost like candied cinnamon. You should try it, it makes oatmeal and baked goods taste even better!
I also like that this is a high raw recipe, in that a lot of the ingredients are raw and not cooked, such as the apples, flax and walnuts.
My oatmeal turned purple because I only had frozen mixed berries, so if you use fresh yours will look a little less colorful! 🙂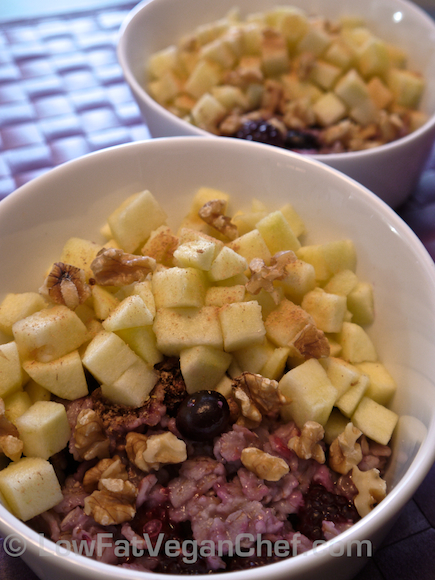 Dr. Fuhrman's Cinnamon Fruit Oatmeal
Serves 2 (Prep time 15 minutes) (Mandi/Andi score 7)
Ingredients:
1 cup water
1 tsp vanilla extract
1/4 tsp cinnamon
1/2 cup old fashioned rolled oats (not instant/quick oats)
1/2 cup blueberries or mixed berries (fresh or frozen)
2 apples, peeled, cored and diced
2 tbsp chopped walnuts
1 tbsp ground flax seed
1/4 cup raisins (optional)
Directions:
1. In a medium saucepan add the water, vanilla and cinnamon. Bring to a boil.
2. Add oats and reduce heat to a simmer and cook for about 5 minutes.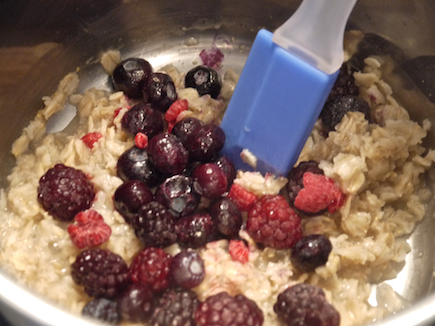 3. When the oats are soft add the berries and stir in. Continue cooking until heated through.
4. Remove from heat. Cover and let stand 15 minutes until thick.
5. Mix in the apples, walnuts, flax and raisins.
6. Serve.
Nutrition Facts: 1 serving 240.7 Calories 12.7 g Protein 40.8 g Carbohydrates 8.1 g Total Fat 6.8 mg Sodium
The Mandi/Andi score refers to a nutrient dense value of the recipe that Dr. Fuhrman uses in his program. He now recommends that you aim for 100+ in Mandi points a day for nutrient dense foods.  One serving of this recipe will give you 7 points.
Have you ever tried one of Dr. Fuhrman's recipes before? What's your favorite healthy breakfast?