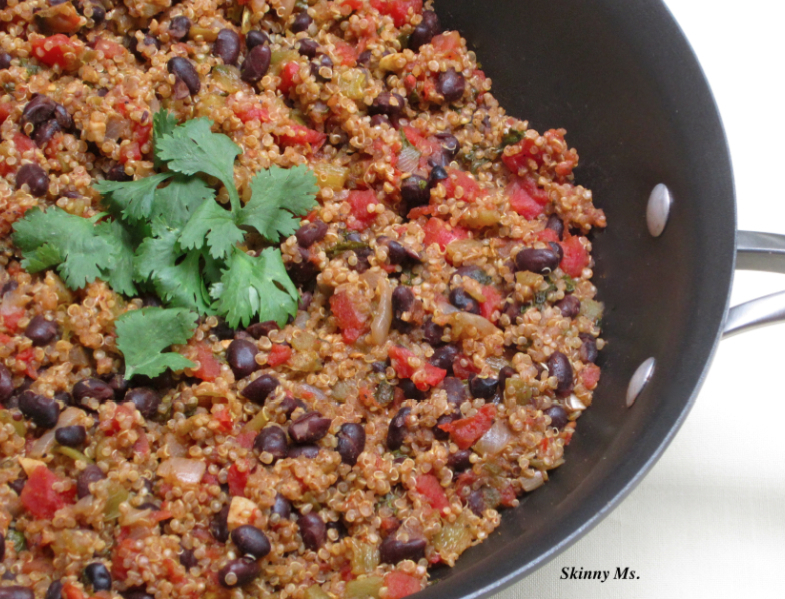 I have a wonderful quinoa and black beans recipe to share today from SkinnyMs.com! Quinoa is a perfect substitute for traditional 'Rice & Beans' and it cooks much faster too. If you've been skeptical of trying quinoa in the past and are not sure just what to pair it with, this is a great recipe for you to try as seasoned quinoa is very tasty and better than a bland and boring side. I love how quick this one pot meal is to throw together and it's a perfect lunch or mid week dinner recipe.
Are you crunched for time, on a tight budget or just starving for healthy meal ideas? You will find delicious, healthy choices for you and your family at SkinnyMs.com.  Skinny Ms. offers recipes made with natural, whole food ingredients.  At Skinny Ms., we are devoted to providing information and tools that empower one to make choices beneficial to living a healthy lifestyle.   For our latest recipes, join us on Facebook.
If you are a quinoa hold out but love Mexican food, this dish will convince to make quinoa a regular part of your dinner menu. Skinny Quinoa with Black Beans is gluten free and vegetarian friendly.
Skinny Quinoa with Black Beans

Ingredients:
1 medium sweet onion, diced
2 cloves garlic, minced
3/4 cup quinoa (uncooked), rinsed
1 (15 ounce) can black beans, drained and rinsed
1 teaspoon chili powder
1 teaspoon cumin
1/4 teaspoon crushed red pepper flakes (more or less to taste)
1/2 teaspoon black pepper
Kosher or sea salt to taste
1 (4.5 ounce) can diced green chiles
1 (10 ounce) can diced tomatoes
1/2 cup freshly chopped cilantro
1 3/4 cup vegetable broth, low sodium
Directions:
Heat a large skillet to medium-low heat and sauté diced onions until tender (add water or broth if needed to prevent sticking), about 4 minutes, add garlic and sauté one additional minute. Add the remaining ingredients in the order listed above. Cover, bring to a boil, reduce heat to a low boil and cook 15-20 minutes or until liquid is absorbed. Remove from heat and allow it to sit 5 minutes covered before serving. Fluff quinoa with a large spoon and serve.
Nutritional Data
Serving size: 1 cup | Calories: 201 | Total Fat: 4 g | Saturated Fats: 0 g | Trans Fats: 0 g | Cholesterol: 0 mg |Sodium: 204 mg | Carbohydrates: 33 g | Dietary fiber: 7 g | Sugars: 3 g | Protein: 7 g
This recipe was edited to omit the 1 TBSP of olive oil originally present in order to be in line with my reader's interests. 
Thanks to SkinnyMs.com for sharing this recipe with my readers!