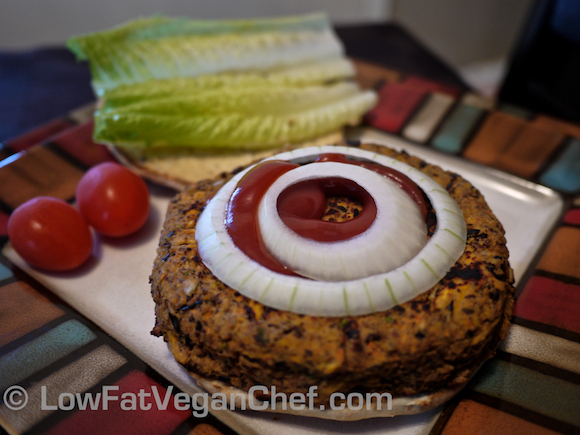 Here we go with another yam recipe! Ahem… "sweet potato" if you are in the states and kumara if you are in Australia. This recipe is an adaptation of fellow blogger Megan Lust whom I met at the International Food Blogger conference in Portland, Oregon last August.
Funny story, so we sort of found each other with a few other vegan bloggers (there weren't many!) and bonded over the lack of vegan food at the conference and being pretty hungry. We hung out and then after we saw each others's business cards we were like hey you sound familiar…. I found out we' were both Canadian and she was from Saskatoon. Then I thought odd… I swear I know a gluten free vegan in Saskatoon.
And we find out we had actually been vegan food swap buddies a few months before. We tried it out this Canada blogger vegan food swap for 2 months when it first started before giving up (because too many people were sending prepackaged vegan junk you could easily get at the store.) But the cool thing was she had lovingly made me some HOMEMADE ginger pear jam because I begged to not be sent anything junkie with oil and said anything else would be awesome. Here is my previous blog post about the lovely things she sent me.
Faster forward to a few months later and the other day I was cruising her website The Gluten Free Vegan and saw these yummy homemade "sweet potato" burgers. (We Canadians use that word online generally so Americans know what we're talking about! and most of our blog traffic comes from the USA and not Canada) and I decided to make them myself.
I wanted to try these. I JUST HAD TO.
So in my version of course I stripped the oil out of it and tried to make it lower fat, and also changed up the seasonings to it as well. If you like smokey black bean yam burgers that have a South Western taste you're going to love these!
These vegan patties also stay together really well because Megan (the genius that she is) uses spiralized or shredded yam pieces in the patty to help it stay together without needing breadcrumbs which makes for a tasty gluten free vegan yam burger! (Much tastier than my previous attempt of yams with black beans and breadcrumbs, that recipe has never seen the light of day because it just wasn't delicious enough lol.)
You end up with a delicious and crispy on the outside moist in the middle veggie patty that is perfect to serve between burger buns, or even set it atop of some rice or pilaff. So check it out!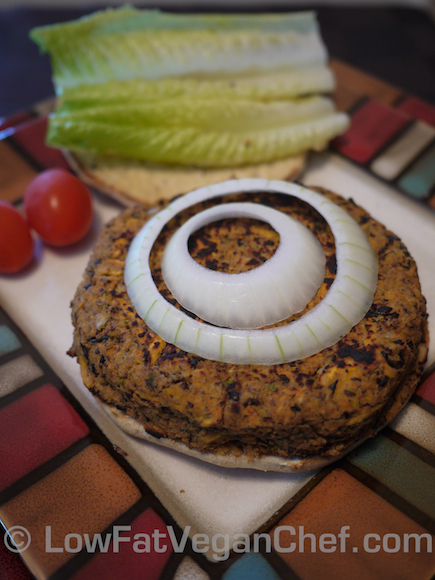 Gluten Free Yam Potato Black Bean Burgers
Adapted from Megan Lust's recipe at The Gluten Free Vegan
Makes 6-8 patties
Ingredients:
2 1/2 cups grated or spiralized yams/sweet potato (about 2 small ones)
1 19 oz.(large) can low sodium black beans, drained and rinsed well
6 green onions/scallions/spring onions, chopped
1 carrot, peeled and chopped
1 stalk celery, chopped
6 cloves garlic
3/4 cup walnut pieces
1 tsp smoked paprika
1/4-1/2 tsp chipotle chili powder
¼ teaspoon salt
½ teaspoon ground pepper
Instructions:
1. Preheat oven to 400°F/205°C.
2. Line a baking sheet with parchment paper.
3. Add walnuts to the bowl of your food processor and pulse until finely ground.
4. Add in the carrot, celery, green onions and garlic and pulse to finely chop. Be careful not to let it become a paste. Remove contents and set aside in a bowl.
5. Add in the black beans to the food processor and gently pulse until chopped. Add 1 1/2 cups of the grated yams and pulse into a chunky puree. Scrape out into same bowl.
6. Add the remaining 1 cup  of grated yams and seasonings. Stir and combine well.
7. Form into 8 patties with your hands and place on the parchment-lined baking sheet.
8. Bake for 25 minutes until lightly browned and set.
9. Garnish with condiments and serve as desired. (I use hummus instead of Veganaise, ketchup and relish or pickles and lettuce.)
Additional Tips:
If you don't have smoked paprika or chipotle pepper, I recommend it, but you can use regular. It just won't have that full bodied smokey flavor to it.
For a gluten free option, serve patties in a large lettuce leaf or use gluten free buns.
Additionally you can serve these like sweet potato cakes over top of rice.
Store remaining patties in between sheets of parchment paper, either in the fridge or seal and place in freezer. To reheat, place into a non stick pan and heat over medium heat until warmed through.
Have you ever made your own vegan burger patties? What do you put in them?