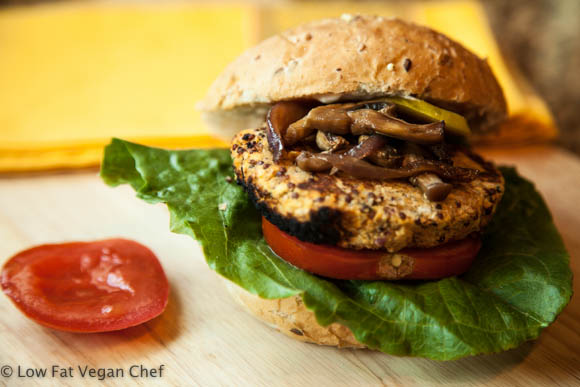 Summer is here and it's the perfect time to be enjoying outdoor barbecues and picnics. Everyone wants to enjoy a freshly grilled hamburger or veggie burger. But making your own is quite easy and insanely tasty without using oils or refined soy products. My chickpea quinoa burgers are soy-free, nut-free and gluten-free so they will work for everyone no matter how they eat. If you've ever made homemade hamburgers or wanted to, you can make these.
A simple food processor is such a versatile tool for making your own chickpea quinoa burgers. Mine isn't anything fancy, just a basic mid sized one and it's perfect for pulsing various ingredients to use in veggie burgers.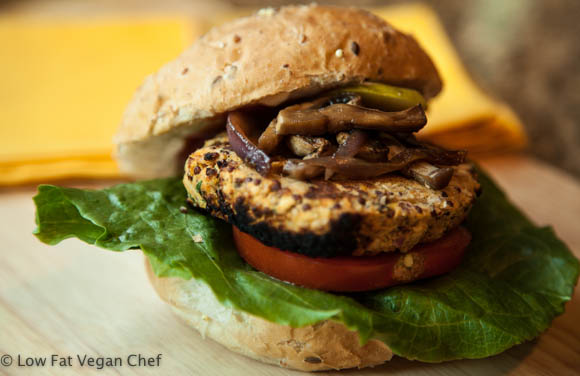 I like to top my veggie burgers with some fresh hummus (see my chickpea hummus here or my yam/sweet potato hummus here), sautéed mushrooms and onions (I use a little soy sauce and maple syrup to flavor them), lettuce, tomatoes and pickles. Cucumbers also work well in place of tomatoes for this chickpea quinoa burger as well as spicy mustard.
Find a nice whole grain bun or roll, toast the insides and top your veggie burger with all your favorite toppings. I also highly recommend some of my Summer salad recipes to go along with it such as Avocado Dill Potato Salad, Strawberry Spinach Salad, Shaved Asparagus Salad, Costa Rican Cabbage Salad, Sweet and Savory Asian Salad, or Rock my Broccoli Salad. So now that your head is spinning with delicious Summer recipes let's get grillin'! Mmm hmm.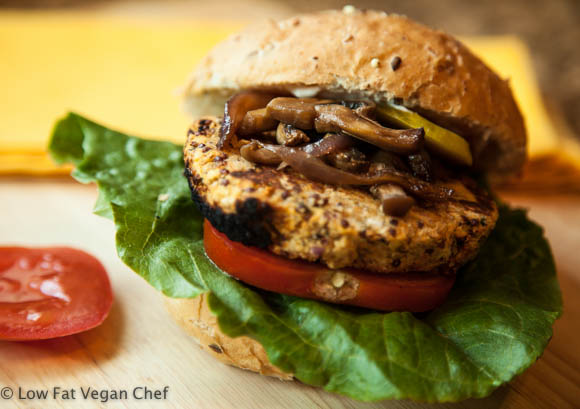 Vegan Chickpea Quinoa Burgers with Lemon and Thyme

Makes 10-12 patties (depending on size)
Ingredients:
1 cup mashed yam/sweet potato, cooled (1 medium yam, cooked)
4 cloves garlic
3/4 cup chopped red onion
2 cans chickpeas, drained and patted dry
2 tbsp fresh thyme leaves (stems removed)
2 tbsp lemon zest
2 tbsp lemon juice
1 cup cooked quinoa, cooled (I used 1/2 cup dry mix of white and red)
1 tsp white pepper
1 tsp Herbamare or salt *or to taste
Directions:
1. Poke holes in your yam and bake at 400 F for an hour or until tender inside. Set aside until cool.
2. Cook quinoa with a 1:1 ratio of vegetable broth or water in a pressure cooker or on the stove. (See my directions here)
3. In a food processor, add the garlic and onion and pulse until chopped finely. Add the chickpeas, thyme, lemon zest and juice and pulse until chopped and well combined. Scoop out flesh from yam (discard peel) and to food processor along with quinoa, pepper and salt. Pulse until well combined.
4. Form into equal sized balls and place on a non stick sheet or plate lined with parchment paper. Refrigerate until needed.
5. Pre heat a pan or barbecue and press patties gently until slightly flatted and cook for 4-5 minutes per side, flipping once. Be careful to move gently so they don't fall apart.
6. Serve on buns or lettuce wraps. (I find using a bun slightly bigger than the patty works best as they will squish a bit when eaten.
7. Store any patties in an air tight container and refrigerate or freeze until needed. (Leaving them uncooked is best).
Variations:
You can also use fresh dill instead of thyme if you wish for variety.
Also check out my Smoky Yam Black Bean Burger Recipe.
Have you ever made your own veggie burgers? What do you like to top your burgers with?