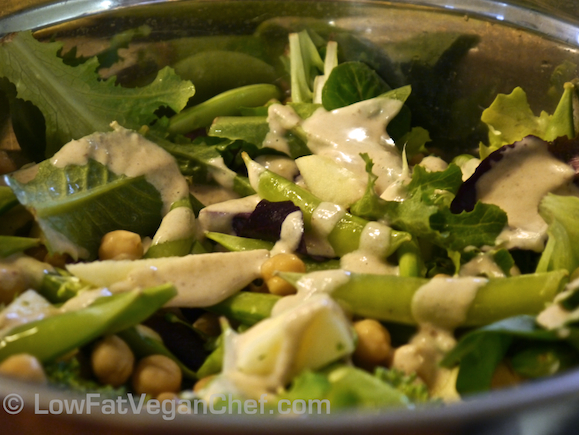 Often when I make salads at home I toss whatever I have in the fridge into a bowl and make a homemade dressing for it. This is a giant salad I made one night for dinner and it was so filling I didn't need anything else! But I kept it lower fat by not adding anymore nuts or avocado to it and added chickpeas instead for calories and protein.
I also like to add apples and dried fruit to salads to give them more flavor and calories as opposed to lots of nuts or seeds. Salads can be much more appetizing when you make a fresh homemade dressing. Store bought dressings often contain a lot of junk and it's super easy to make your own at home. I usually make my dressing recipes up as I go along and season them to taste. This one is no exception and I think you'll like it!
Sweet and Savory Salad Ingredients:
6-8 cups of salad greens like spring mix, or baby greens
2 apples, peeled and diced
1 15 oz. can of chickpeas, drained and rinsed
1 cup of sugar snap peas
1/2 English cucumber, sliced
1 cup cherry tomatoes, sliced *optional
2 tbsp dried cranberries
Orange Sesame Dressing Ingredients:
4 tbsp tahini (sesame seed butter)
2 tbsp orange vinegar (or other fruit vinegar)
8 dates, pitted and chopped
1/3-1/2 cup water (as needed for consistency)
Dash of salt
Directions:
1. Arrange salad ingredients into a large bowl.
2. Combine dressing ingredients in a blender or VitaMix and blend until smooth.
3. Serve and drizzle with dressing.
Additional Tips:
Use dressing within 3-4 days and store any leftovers in an airtight container in the fridge.
Mix up your dressings by purchasing a few different types of fruit vinegars. Trader Joe's makes a few varieties and so does Dr. Fuhrman (sold on his website). Having a little variety makes creating different tasting dressings so easy.
What's your favorite salad dressing recipe?