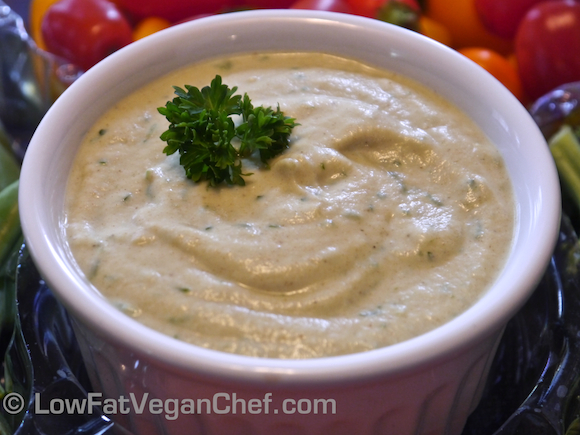 Hey everyone! The other day I was invited over for a friend's house warming and I assumed that I would be the only vegan attendee. So what I did was brought a few things that I would be able to eat, that would also appeal to other types of tastes as well. I made some vegan nachos using seasoned soy beef and some vegan cheese to show off that vegan food could be tasty. BUT I only make that kind of food when I'm serving people totally unfamiliar with vegan food. I don't make that kind of food at home or for myself. So I also wanted to bring a healthy option to balance that out.
I thought of serving a veggie tray as that would be quick and easy to bring as well. Lucky for me my local grocery store now makes veggie trays without that dairy based dip in the middle, so I could run out and grab it and just focus on making the dip portion from scratch. Of course I could chop the veggies myself as well, I just didn't really have a handy travel tray so this worked well for me.
I had been thinking about a way to make a tasty ranch-like dip, but lower in fat. And I was inspired by my Hemp Seed Hummus recipe from Savory Raw Dinner Recipes which uses raw zucchini as the base instead of nuts to cut out some of the extra calories. But I didn't want it to just taste like raw zucchini so that's why I added some raw cashews so it had that nice creamy taste to it as well. I promise you won't be able to taste the zucchini. 🙂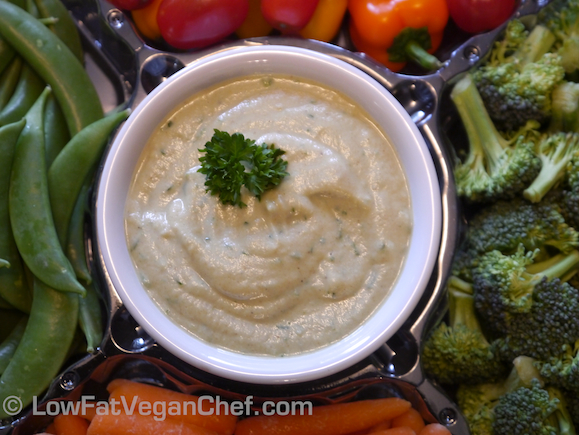 This recipe was a real hit and everyone could not believe that I had made it myself (or that anyone would be a vegan chef let alone a low fat one) but I was very happy that everyone found it delicious even after I told them there was raw zucchini in it! Hurray! Score one for the low fat vegans.
So I wanted to share this recipe with you because quite often I hear the pleas of newbies craving something tasty to dip their raw celery and broccoli into and this is very easy to make at home.
I use a VitaMix for my heavy duty blending, but don't worry if you don't have one I have included some tips like soaking your cashews and dates, that will help make the blending process in your regular blender much easier.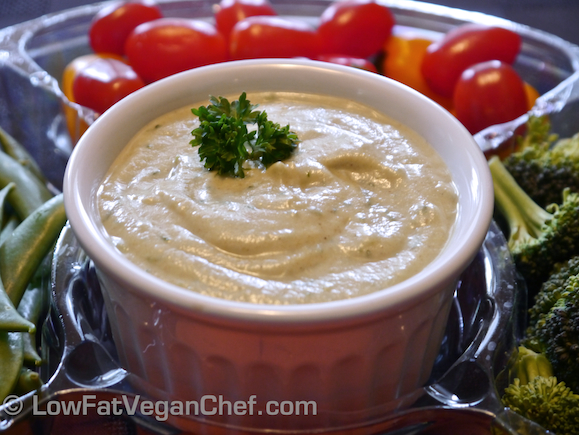 Raw Vegan Zucchini Cashew Ranch Dip
Makes enough dip to serve with 1 large veggie tray
Ingredients:
1 medium/medium large zucchini peeled and diced into small cubes (approx 2 1/4 cups)
1/3 cup cashews, soaked for a few hours and drained
1-2 medjool dates, pitted, soaked and chopped
2- 2 1/2 tbsp meyer lemon juice
1 tbsp nutritional yeast *optional for flavor
1-2 small cloves of garlic, chopped
1 tbsp diced sweet onion (or 1 tsp of onion powder)
1 tbsp chopped curly leaf parsley
1 green onion/scallion, sliced (green top portion only)
1/4 tsp Herbamare or salt or to taste
Fresh ground pepper to taste
Splash or two of unsweetened almond milk (if necessary to blend in a regular blender)
Directions:
1. Combine everything but the parsley, green onion, salt, and pepper in a Vitamix or a food processor and blend. (It's important to have everything in small pieces so it's easier to blend together. A high powered blender with a tamper is preferable.)
2. Add remaining ingredients and blend on medium low to break up the fresh herbs into smaller pieces. Taste test and add additional salt, pepper or lemon juice as desired.
3. Refrigerate before serving.
Additional Tips:
If you have a Vitamix you do not have to soak the cashews or the dates or use the almond milk, but if using another blender or food processor that is lower powered it is highly recommended to make this dip easier to blend.
Let me know what you think of this dip! And what is your favorite raw veggie for dipping?