Whipping up acai bowl recipes are pretty easy. I like to use whatever fresh and frozen fruits I had on hand. This one is similar to my Acai Banana Berry Bowl Recipe , but it's perfect for summer with fresh mango and berries. Acai bowls can be topped with your favorite fruits, but I know some of you have never had one before and are unsure how to make them at home.
Acai is usually sold in a frozen puree for use in smoothies, acai bowls and frozen desserts. You can also buy acai juice, powder and supplements, but I stick with the puree because it's delicious and a little less processed.
Acai bowls are made up of frozen acai puree, apple juice or soy milk, frozen fruit, granola, fresh fruit and sometimes honey. If you do not have acai frozen puree in your country (I found it at the health food store in Canada and the USA) you can substitute about 1 cup of frozen blueberries.
This is a soy-free version which uses apple juice instead of soy milk to blend it together. You can also use fresh pressed apple juice if desired as well.
Soy-Free Vegan Tropical Acai Berry Bowl Recipe

Serves 1
Bowl Ingredients:
4 oz/ 1/2 cup apple juice (unsweetened if desired)
2 100g packets of frozen Acai (I used Sambazon Original Smoothie Packs)
3/4 cup frozen mango (sub a fresh mango if you do not have a high powered blender such as a VitaMix or Blendtec)
Garnish Ingredients:
1/3-1/2 cup low fat granola of choice (I like Galaxy Granola as it's oil free)
1/2 -1 ripe banana, peeled and sliced
1/2 cup fresh ripe ataulfo mango, diced
1/2 cup diced strawberries
Small handful of blueberries
Drizzle of honey or agave *optional (I don't find I need this in mine)
 Directions:
1. Remove packets of acai and frozen bananas from freezer.
2. Slice the mango, slice the banana and wash the blueberries and set aside.
3. Add apple juice to your blender. Break up the frozen acai into smaller pieces and cut the plastic open and pour into blender. Add the mango. Blend on low or pulse to break up the frozen fruit. If you have a VitaMix use the tamper to puree into a soft serve. If you have another type of blender you may have to stop and stir and keep pulsing to combine. Stop blending when smooth.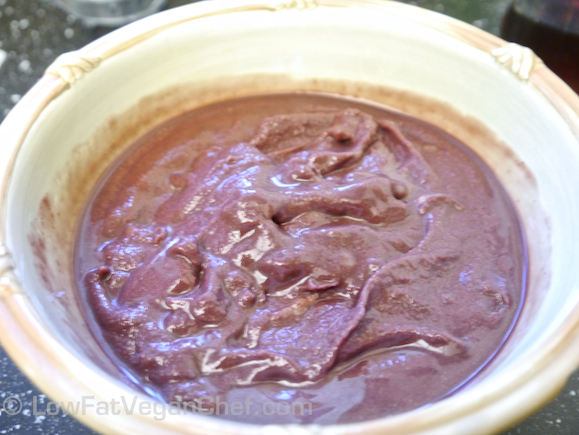 4. Scrape acai mixture into a bowl.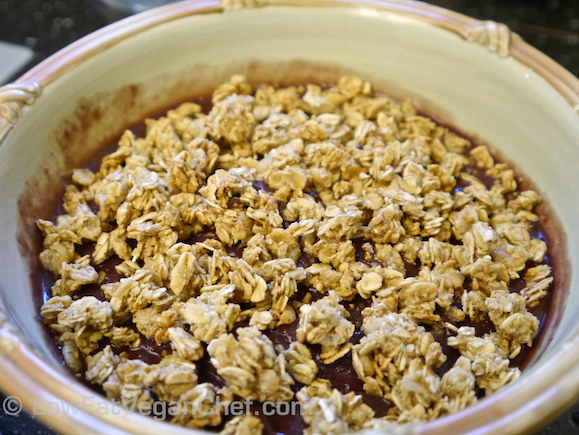 5. Top acai with granola.
6. Top with diced mango, bananas, strawberries and blueberries.
7. Serve.
Have you ever had an Acai bowl? What's your favorite topping?