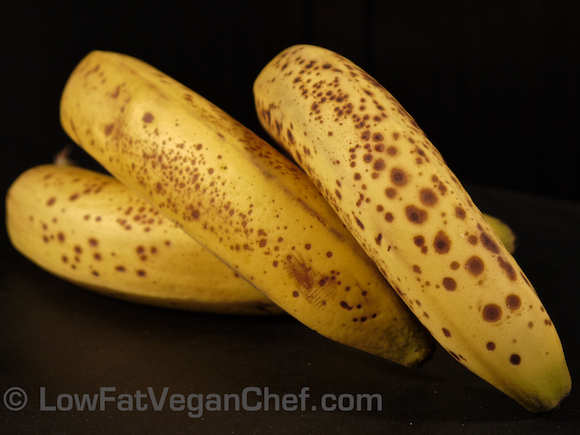 So you want to know how to tell if a banana is ripe and if the ones you have are ripe enough.
One of the most troubling things I find when promoting fresh fruits and vegetables to people is that they don't understand that many fruits have to ripen before being eaten.
You cannot just assume you can simply pick the fruit up from the grocery store display, take it home and eat it right away like a frozen dinner, a box of pasta or a can of beans. (There are a few exceptions like apples and oranges.) As society gets more and more out of touch with fresh whole foods and the majority of people are unable to identify the ingredients they are eating in processed foods, they don't know what fruits and vegetables are supposed to taste like in general, let alone when they are unripe, ripe or overripe.
Someone may have a bad experience with a mango, eating it rock hard and unripe and declare "I hate mangoes! They're all sour and stringy. I'm never eating them again" or "Bananas make me bloated and constipated so I don't eat them anymore." (I promise you, you will not get bloated or constipated from eating ripe bananas, only unripe bananas that are starchy. Think raw potato starchy. Gross.)
Really the issue is not that the fruit tastes awful in general or they are a fussy eater, they just don't have any knowledge about how a plant food grows, ripens and then starts to rot. It has a whole process, unlike sterilized pasteurized packaged food from the dry goods or refrigerated section that is ready to go from cart to pan to plate.
The photo above shows 3 different bananas from 3 different bunches of bananas all in different stages of ripeness.
Bananas are one of the most important fruits for people to learn how to eat properly because people eat them so frequently and don't often enjoy them. They eat them because they have to for a snack or on top of cereal as they think it's good for them.
In my recipes you will see that I stipulate RIPE bananas all the time. I want people to stop thinking that a ripe banana is simply a banana that is not really green anymore. A yellow banana that is rock hard and pale inside is NOT a ripe banana. This banana should not be eaten, not be put on your cereal, not be used in a smoothie and certainly not used for raw banana ice-cream. It tastes awful, mostly pasty, starchy and not very sweet. It's going to ruin your breakfast or your recipe.
When you see bananas starting to get a few brown spots (and you think oh my gosh, but it's rotting, it looks so ugly… maybe I should throw it away) please please wait. This banana is only starting to begin to ripen and not be so starchy and pasty. Before you eat a banana I want you to notice that it has LOTS and LOTS of brown spots, dark brown spots all over it. The peel is softening, the "neck" of the banana is no longer rock hard and it's starting to wilt. Now you don't have to wait for your banana to be all black, bruised and squishy. No no. If you have bruised or squishy bananas you don't have to keep those on the counter. You can however peel them and freeze them for banana bread or for use in baking later if you wish (as this makes them taste better, not worse).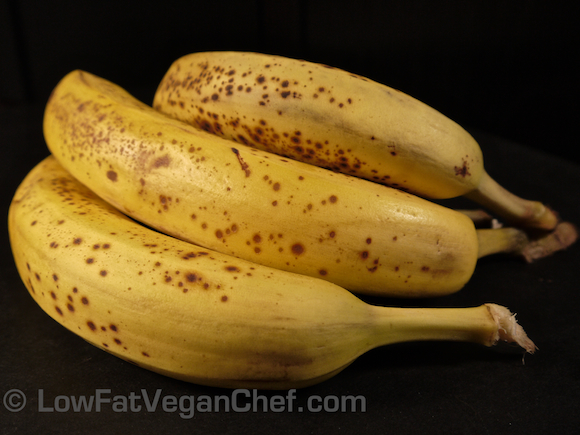 Let's take a look at these 3 bananas again.
I have arranged them from least ripe to most ripe, bottom to top. So the banana on the bottom has a few brown speckles spread out all over the banana. The one in the middle has a few more speckles both small and larger but over more surface area than the one below and the one on top has the most and darkest brown speckles.
So when I am talking about eating and using ripe bananas in recipes and smoothies I am talking about the middle one and the top one at least. The one on the bottom is still not really sweet enough (good enough tasting) to use in a smoothie. When we make vegan smoothies without sugar, we generally rely on ripe bananas for it's natural sugars and sweetness to bring a balance to the flavours of more tart fruits like frozen berries or frozen mango (which are less ripe and frozen immediately).
At home, we actually have several bunches of bananas in varying degrees of ripeness on the counter so I have a steady supply of bananas to use for smoothies or eating. As soon as you have "too many" dark speckled bananas you can simply peel and freeze them and use them in smoothies or raw banana ice-cream later. (If you don't have a Vitamix, I recommend breaking them into chunks and freezing them so it's easier to blend).
So please make sure that when you are eating bananas from now on you give them a chance to ripen (sweeten up, lose the starch) and the peels will be a little softer and it will smell nice and fragrant like a banana. Your banana will open easily and not make an awful cracking plastic sound (like a hard yellow banana).
The easiest way to open a banana is also from the "bottom". The bottom is actually the top of the banana though in how it grows, and the stem is actually at the bottom and is harder. Try it next time! This is also how monkeys open bananas because they know it's easier to open from the "bottom" (what we perceive as the bottom).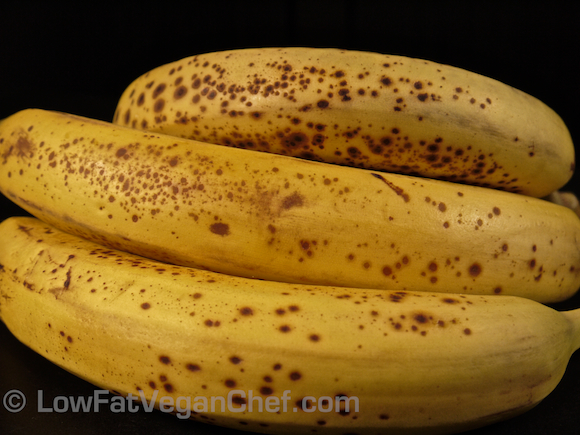 Bottom: starting to ripen
Middle: medium ripe
Top: ripe enough to make a tasty smoothie or snack
So that, my friend is how you tell if a banana is ripe.