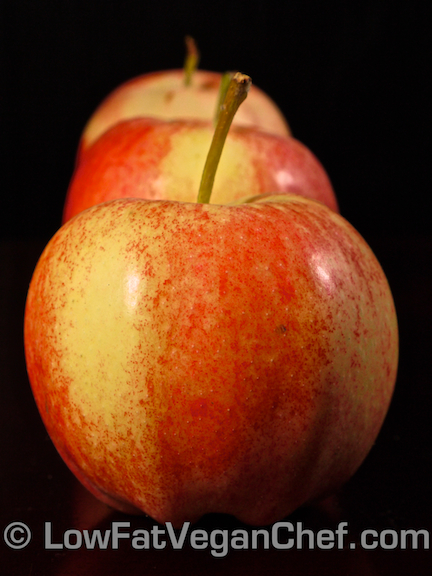 So you live in a Northern climate, it's winter, there's not a lot of tropical fruit around, there's not really any "ripe" fruit around, you don't have a lot of money to spend on produce; you're hungry and want an easy inexpensive meal.
My friends, let me introduce to you the apple. It's quite versatile and easy to get ALL over the world all year round. They keep well, can lasts for weeks if not months in the fridge or a cold cellar.
But how do you get this apply-goodness inside you without it being a pain in the jaw and eating all those waxy peels?
Simply take a bunch of your favourite apples (at least 5 good sized ones, more if you need) peel them completely and slice them into thin slices or cube them for an apple "fruit salad" you can eat on the go at work with a fork.
If you're worried about them turning a bit brown and you're going to eat them later you can pour a little fresh lemon juice over them and toss to mix it in. This will prevent the outsides from oxidizing and going brown.
I have some delicious fresh from the farm ambrosia apples here (a variety made in BC, Canada) they look similar to royal gala apples, but they are crunchier like the pink lady variety.
I used to peel and cube a bunch of apples every day when I had to take a lunch with me to school or work and didn't have a lot of time to eat. It's easy to just eat them with a fork, already pre peeled and cut up. It's also much easier on your jaw too!
So whenever you are low of fruit, high on snow or low on funds, your friend the apple will always be there for you, with dozens of varieties to try make sure to keep some of your favourites on hand.