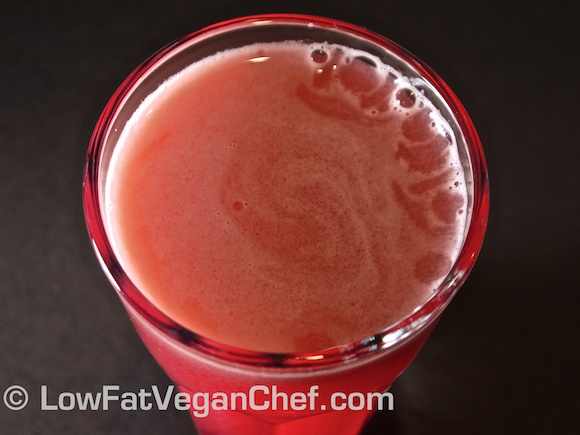 We got some delicious pomegranates from Costco this week, so I've been eating them different ways, snacking on the seeds, straight juice and mixed juice.
Today I'm having an (80/10/10 approved) antioxidant rich breakfast: a bowl of raspberries and a pomegranate, red grape, apple juice. Pomegranite juice on it's own isn't so bad, it just has a really bitter aftertaste. If you find it too strong and want to enjoy some nutritious juice this season, mix it with other sweet juices. Apple, grape, or pear works best. Maybe even an apple celery pomegranate concoction would be nice as well.
To juice a pomegranate you're going to want to use a citrus juicer.  The kind you press the handle down onto it. I have a Breville 800CPXL that works great You can try a hand held citrus juicer, but they're not easy to juice like oranges, and you will find you get whole pieces stuck in crevasses near the peel.
For the rest of my raw vegan juice I used my regular centrifugal juicer Breville BJE510XL, which I enjoy as it's much easier to use and clean than my previous Jack Lalane juicer.
Pomegranate Apple Grape Juice
Ingredients:
1 pomegranate
2-3 peeled apples
2 cups of red grapes (sweet)
Directions:
Cut the pomegranate in half and using a citrus juicer, juice half of the pomegranate at a time. Really press down with the juicer until the pomegranate seeds all come out. Repeat with the other half.  For any seeds you missed in the strainer, use a spoon and push down on them to pop out the last bits of juice.
Take your apples and grapes and run them through a centrifugal juicer. Pour into a tall glass, ensuring the extra foam stays in the container and doesn't go into the glass. Now pour your pomegranate juice into the glass with the other juice and mix.
Serve with ice cubes if desired.
Enjoy your delicious juice without the bitter aftertaste of pomegranate!