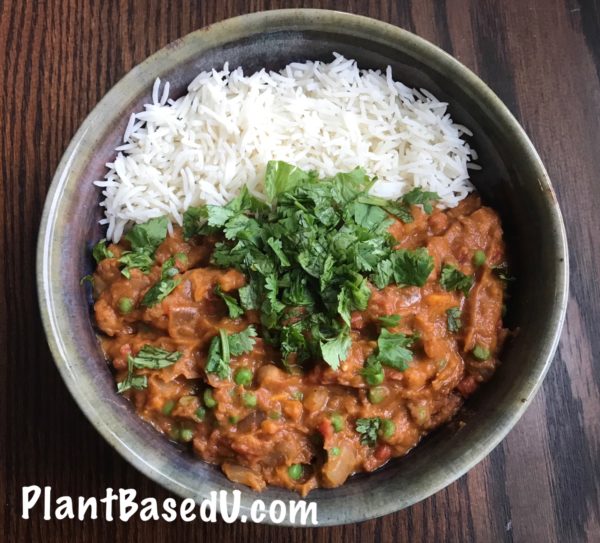 Hey everyone!
Today I have a new recipe for you that I threw together from what I had in the fridge and cupboard as I was craving a warm curry with the cool weather we're having in Toronto right now. This is one you can make in your slow cooker (I have a Ninja cooking system which can do a few more fancy things than a regular slow cooker) or on the stove if you have time to watch it.
As always it's oil free and I used dried chickpeas and soaked them overnight before tossing them in the slow cooker. You can use drained canned chickpeas if you like, but be sure to read the label and see if you can find some that are oil free and low in salt if you're looking for a healthier option. Another note if you're looking to avoid BPA in canned goods, select ones that say BPA free or that have a metal as opposed to a white plastic lining on the inside of the can (Eden Organics for beans and Muir Glen Organics for tomatoes for example).
This slow cooker curry can either be made the night before and to have it ready in the morning to pack up for lunch or you can start it on a weekend and have a few nights of meals for the next week. For those looking for a meal within the hour you can either use canned chickpeas or pressure cook dried/soaked chickpeas in a pressure cooker and then toss everything else in a large pot and cook over the stove until the potatoes are tender.
I happened to have some sweet potatoes and white potatoes that were getting a little bit soft and salvaged them with this curry, I also love chickpeas in any kind of curry and added the peas for some color and a nice tasty pop. You could also use other root vegetables on hand, or peppers or eggplant to change it up instead of potatoes or chickpeas. If you're looking for an even lower fat version you can skip the coconut milk altogether or add a touch of almost milk instead if desired.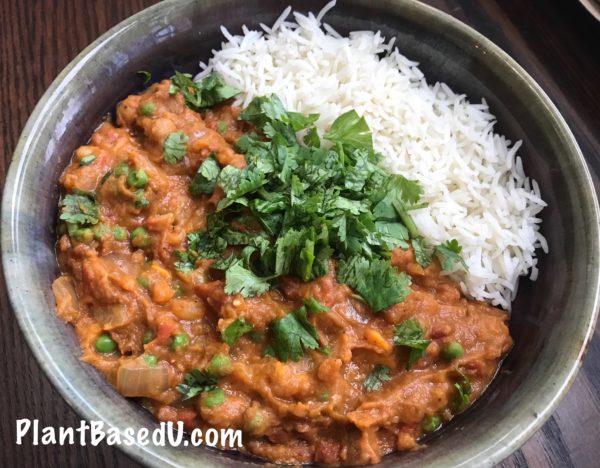 Plant Based Creamy Chickpea Potato Pea Coconut Slow Cooker Curry
Ingredients:
3 15oz/425g cans of chickpeas drained and rinsed or 3-4 cups of dried chickpeas, previously soaked and drained
3 large potatoes, peeled and diced
1-2 sweet potatoes, peeled and diced (optional)
2 large 28oz/793g cans of diced tomatoes
1 15oz can low fat coconut milk
3" of ginger, peeled and minced
8 garlic cloves, minced
1 large onion, diced
2 tsp roasted ground cumin
2 tsp roasted ground coriander
1 tsp turmeric
2 tsp garam masala (Garam masala means hot spices and can vary in flavour in different regions)
1/2 tsp chili
1-2 tsp salt (or to taste)
Ground pepper to taste
Add after cooking:
2 cups frozen sweet peas
1 bunch of fresh cilantro, chopped for garnish
Slow Cooker Instructions:
Layer the ingredients from first to last in your slow cooker so the chickpeas are on the bottom and the spices are on top. You can give it a little stir lightly to get the tomatoes and coconut milk down into the cracks if you want.
Set the slow cooker for 4 hours on high or 6-8 hours on low.
When the potatoes are tender, stir the pot and add in the frozen peas and let sit for a few minutes to warm through.
Adjust for taste if you need more salt, pepper or chilli if desired.
Serve with white or brown basmati rice or flat bread and garnish with cilantro. (I cook my rice in a Zojirushi rice cooker)



Stove Top Instructions:
*If using soaked dried chickpeas you can either pressure cook or stove top cook them beforehand if you want to make this recipe faster, or else you may need to cook this for an hour or two on medium low on the stove until the chickpeas are soft.
Add all of the ingredients except the peas and cilantro to a large pot and bring to a boil.
Reduce heat to medium and stir regularly to ensure nothing sticks to the bottom and burns.
Once the chickpeas and potatoes are tender, adjust seasonings if desired and stir in the frozen peas.
Heat through until the peas are warm.
Service with rice or flat bread and garnish with cilantro.
Have you ever made a slow cooker curry? What was in it?