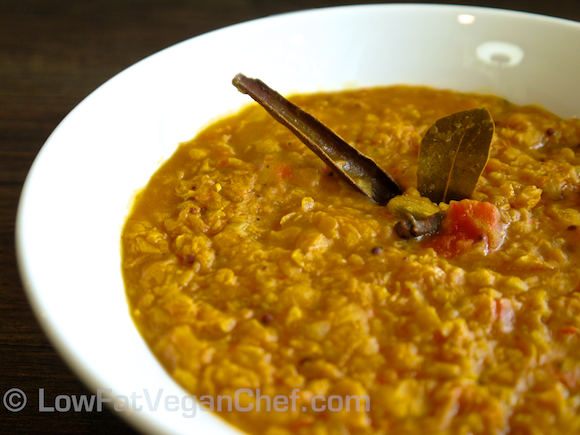 Tarka Dal is also known as Dal Tarka or Tadka depending where you are in India. Like many Indian foods the names of dishes are phonetic so often you will see similar spellings of dal such as dhal or dahl. There is no right or wrong way to spell these dishes, I just use the most common spellings for ease of use.
Dal is a dish that is made with any variety of lentils including but not limited to split red lentils (most common in thin dal soups), black urad dal (used in creamy Dal Makhani), split urad dal (ground with rice to create Dosas which are Indian crepes) toor/tuvar dal which looks just like chana dal and yellow split peas but is smaller, and moong dal a small yellow split lentil that cooks faster than chana or yellow split peas also used in soups.
Cook's Thesaurus has excellent descriptions and pictures of various lentils and how to tell them apart. This may sound quite confusing at first, but it's unlikely that you will fully immerse yourself into using every type of lentil in Indian cuisine, so don't worry. The most important thing is just to make sure you're buying the right lentil and label what you buy if it's coming from bulk bins. As they are all different sizes and thicknesses they can take different amounts of time to cook.
You can almost see that they look like little chickpeas/garbanzos split in half and are not fully rounded like yellow split peas. Toor/tuvar dal is also yellow and similar in size, but it is not the same.
Chana dal is used in East India and is widely available at Indian markets, bulk dry good sections at the health food store or ethnic market and online. Tarka is a method where spices are cooked/tempered in hot oil and added to the beginning or end of a dish being cooked. Since we're going for oil free methods of cooking however, all of the ingredients are combined and cooked together in water instead. Tarka dal is usually cooked in 4 steps and can be quite complicated so I simplified the method. For this reason we have slightly increased some of the spices as the flavours will be subdued through cooking. Whole spices are best as they will retain more flavour, if you substitute all the whole spices with powdered spices you may have to reseason it to taste when it's done cooking and it may not be as flavourful.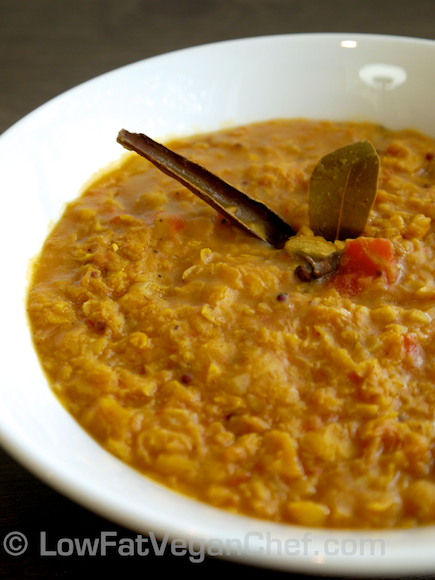 (Oil-Free) Simplified Indian Tarka Chana Dal
Serves 6-8 as a side
Ingredients:
2 cups chana dal (skinless split dried chickpeas, also spelled channa dal, dahl, or dhal)
1 large onion, diced finely
8-10 cloves of garlic, minced
2 inches of ginger, minced (or 1 tsp ginger powder)
1 14.5 oz/411 g can fire roasted crushed tomatoes (I use Muir Glen Organics)
7-8 cups/1.6-1.9 L of water (depending on how thick or thin you want it)
2 tsp turmeric
1 small cinnamon stick
3 black cardamom pods (or green)
8 whole cloves
4 bay leaves
3 tsp cumin seeds
2 tsp black mustard seeds
1-2 tsp red chili powder (or more to taste) I used Frontier Organic Chili powder blend
1 1/2 – 2 tsp salt
Fresh ground pepper to taste
handful of chopped fresh cilantro/coriander (to garnish)
Pressure Cooker Directions:
Combine ingredients (except salt, pepper and cilantro), into a heavy bottomed pressure cooker, mix well, cover and heat over high heat (on gas stove) until a steady stream of steam escapes the pressure valve. Turn the heat down to medium high and cook for 20 minutes or until the dal is just tender (not mushy.)
Season to taste with salt and pepper. Taste test and add additional chili powder if desired. (I added a 1/2 tsp of roasted cumin powder as it's one of my favourite spices.)
Garnish with fresh cilantro and serve with basmati rice or brown rice if desired.
Slow Cooker Directions:
Alternatively you can try cooking this in a slow cooker on high. Check on it between 4 and 5 hours. When chana is soft, season to taste with salt, pepper and additional spices such as chili powder if desired.
You can also probably cook this over the stove, but you will require more water as it will dissipate. I would guess this would take between 60-90 minutes of cooking time on a stove depending whether it was electric/gas and what temperature it's cooked at. Make sure you stir it and check on the water level so it does not burn to the bottom of the pot.
Additional Tips:
If serving this to guests unfamiliar with Indian curries, you may want to take out all of the pieces of cinnamon stick, bay leaves, cardamom pods and cloves before serving. Be careful, the dal is hot! Generally we just pick these pieces out while we're eating. But just make sure to warn people as a mouthful of clove or cardamom can be a little unpleasant!
If you like your dal thick as pictured above you can use the lower amount of water. If you find your dal is a little too runny you can add some corn starch slurry to it to thicken it up. Use 1 tsp mixed in a 2 tablespoons of water at a time and heat through until you get the desired consistency.
You may want to serve this as a side dish, or even as a main meal with rice or Indian flat bread. For a main meal this will make enough to serve 4-6 people.
Refrigerate or freeze any leftovers for a quick healthy meal later on in the week.
Don't use regular yellow split peas for this recipe. They take a really long time to cook and won't be the same, despite looking almost like chana dal.
Have you ever had Tarka Dal before? Have you ever tried chana dal?