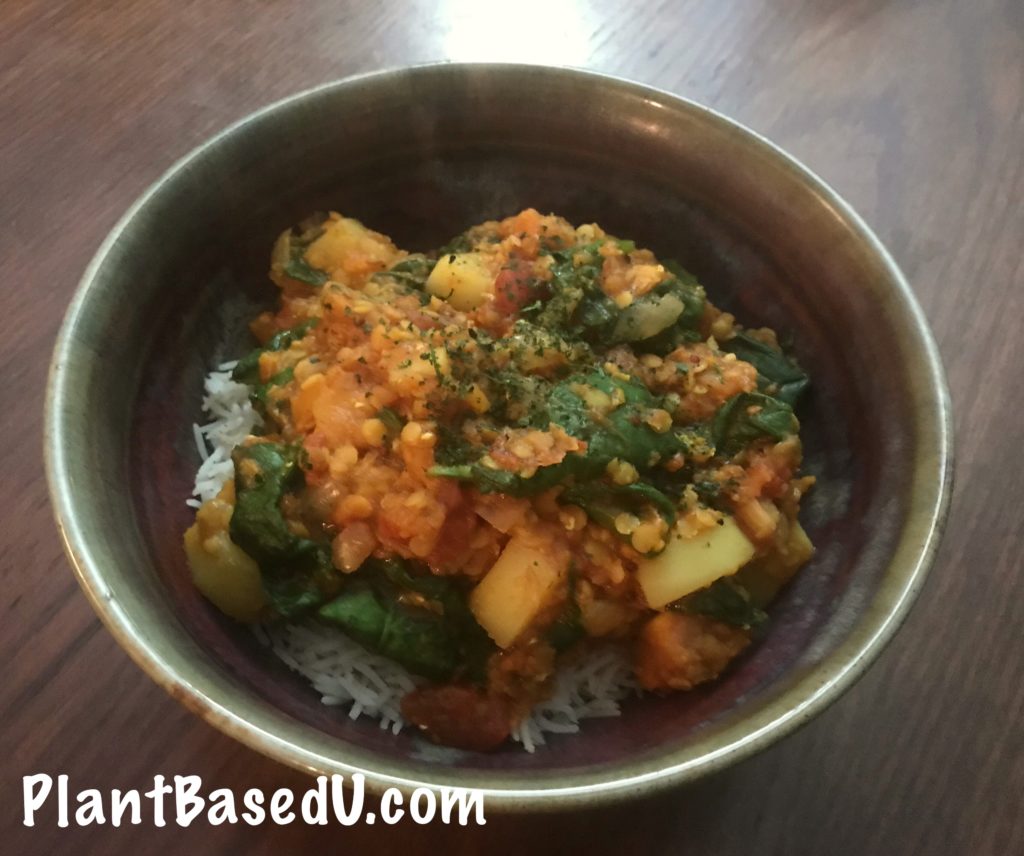 Occasionally I take recipes I've already made and change them up a bit depending on what I have on hand if I need to use up some fresh ingredients or when I'm looking for something different. I highly doubt this is in anyway an authentic Indian dish now, but it's still really tasty and healthy. I have adapted my Tarka Dal recipe here and doubled it except for the lentils and added yam, potatoes, and spinach to it.
This time I just tossed all of the spices in at the same time instead of making a separate tarka tempering. If you like eating large pieces of ginger or curry leaves in the finished dish great, if not after cooking you can remove them before serving.
I served this over white basmati rice but you can also use fresh roti bread, brown basmati rice etc.
Fat Free Vegan Red Lentil Tarka Dal (Indian Lentil Curry)
Serves 4
Dal Ingredients:
1 cup red lentils (split)
1 large onion, diced
4-5 large tomatoes, diced (or 2 14.5 oz. cans diced tomatoes)
4-5 cloves of garlic, minced
4-5 inches of ginger peeled and sliced in long strips
1 medium yam/sweet potato, peeled and diced
2 medium potatoes peeled and diced
As much fresh/frozen spinach as you want
1/2 tsp turmeric
1 tsp Herbamare or salt to taste
6 cups of water or vegetable broth (low sodium)
1 1/2 tsp roasted ground cumin
1 tsp roasted ground coriander
2 tsp cumin seeds
2 tsp mustard seeds (black)
1-2 dried red chilli, chopped (more if desired)
8-12 curry leaves fresh or dried *optional
2-4 tbsp lemon juice
1 handful cilantro/coriander, chopped for garnish
Directions:
1. Place lentils into a mesh metal strainer and rinse under cold water until water runs clear. *To cook your lentils faster you can soak in warm water while you prep the rest of your vegetables.
2. Heat a large saucepan or large pot over medium heat and add the onions, garlic, ginger and turmeric. Sprinkle a little salt on the onions to get them to sweat. (You will need a large pot or giant saute pan for the amount of liquid here) Saute for 2-3 minutes and then add the tomatoes and continue cooking until the tomatoes are soft.
3. Add drained lentils, yams, potatoes, seasonings (except lemon juice and cilantro) and water or vegetable broth. Stir and bring to a boil uncovered. Turn heat down to medium low and and cover with a vented lid (or leave lid cracked to let steam escape) cook for 20-30 minutes until the lentils and potatoes are soft and to desired tenderness. Take off the lid and let some of the liquid cook down until desired consistency. If your potatoes and lentils are still soft and you need more liquid as water as needed to continue cooking.
4. Add the fresh or frozen spinach and stir it in to wilt or incorporate. As fresh spinach cooks down into nothing you can really add as much as you want here.
5. Add the lemon juice and check for flavours. Add more Herbamare or salt to taste and adjust seasonings if desired.
6. Serve and garnish with chopped cilantro.
Additional Tips:
If you like you can use different lentils, but keep in mind that whole lentils will take longer to cook, so you may need to cook this dal for around an hour until they are soft.
What's your favorite plant based curry?