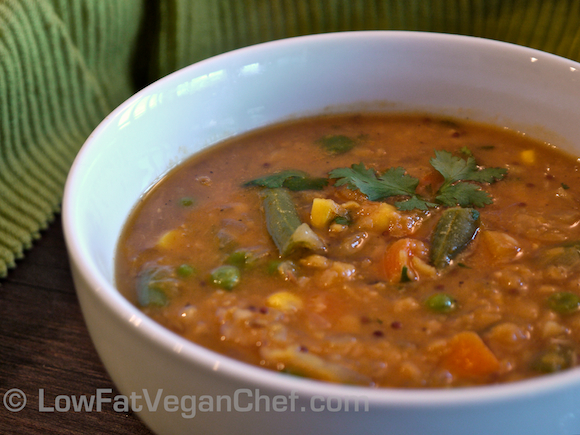 Here's another deliciously easy and affordable fat free recipe that you and your family will love. It's inspired from a delicious Indian soup from a local restaurant we like, and I tried to make my own version at home. It ended up tasting a little differently of course but still very delicious! It's also very versatile and you can use any yellow split lentil like chana dal or toor dal. You can buy these lentils at ethnic markets, Indian markets or Amazon. Although these lentils look similar to yellow split peas, they are not the same, so this recipe will taste best if you use yellow split lentils instead of yellow split peas.
I really love using the slow cooker (aka Crock Pot) when I want to make something hearty but don't have time to watch the stove, or when I'm making something that tends to take a long time to cook such as lentil and bean based dishes. It's one of those appliances that I love using, but don't use it all the time. Making a big batch of something in a crockpot is a great time saver when you're looking for quick meals during the week.
If you or your family is new to Indian food, this is a really easy recipe to start with because it's savory and mildly spiced without being too "exotic" for those not used to it.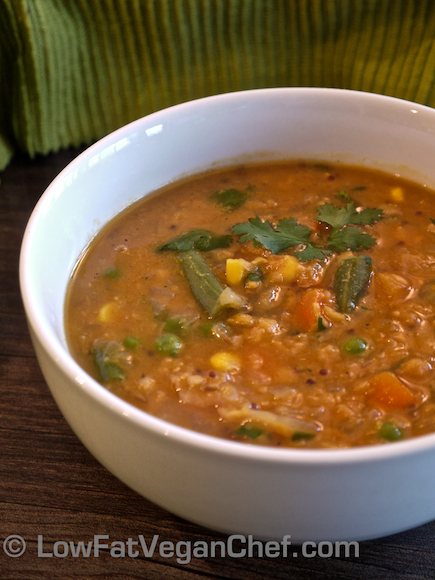 Slow Cooker Indian Dal Soup With Mixed Vegetables
Serves 6
Ingredients:
1 lb/454 g chana dal (split chickpeas) or toor dal (split yellow lentil)
2 medium onions, diced
6 cloves of garlic, minced
1 tbsp ginger, minced
15 oz/425 g diced tomatoes
4 cups/1 qt/~1 L vegetable broth (low sodium or homemade)
4-5 cups/1 qt/~1 L water or more vegetable broth (more or less to thin as desired)
2 tbsp cumin seed
1 tsp roasted coriander powder (or regular)
1/4 tsp tumeric powder
2 tsp black mustard seeds
After dal is done cooking add:
3 cups mixed frozen vegetables or other mixed diced vegetables
1 tsp roasted cumin
1-2 tbsp. sugar or sweetener (if desired)
3/4 tsp Herbamare or salt to taste
fresh ground pepper to taste
1/2 bunch of cilantro, chopped
Directions:
Pick over the dal/lentils and remove any discoloured ones or stones. Rinse thoroughly and drain.
Place ingredients into slow cooker, except for frozen vegetables and additional spices and cook on low 10 hours, or high 7-8 hours. You can also cook this overnight and add the additional vegetables and seasonings the next day.
When the lentils are soft and breaking apart, add the vegetables and seasonings and let cook for another 30 minutes or so. Taste test and adjust seasonings if necessary.
Garnish with fresh cilantro and serve!
Additional Tips:
I use a 6 quart family size slow cooker like this one because I like being able to set it on a timer, as soon as the timer stops it switches it to keep warm until you're ready to serve, so it's really handy.
You can also try yellow split peas, but it won't really be an Indial dal, but more an Indian spiced split pea soup. You may need to add more water as well depending on how thick or thin you like your soup.
What's your favourite meal to cook in the slow cooker?