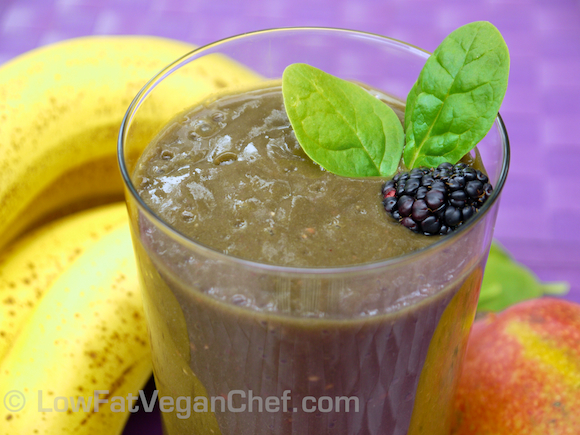 So maybe this smoothie is not a "people eater" per se, but it is purple and it is delicious so I think you need to make this green (err purple) smoothie recipe so you can become a purple smoothie eater! "Purple People Eater" is just a silly song from the late 1950's about a monster that comes to earth because he wants to be in a rock band. He happens to have only one eye and one horn as and he apparently only eats purple people, so most of us should be ok… I said should… if you drink a lot of this smoothie there's no guarantee that might not turn purple! Just sayin. I warned ya…
I like to keep my green smoothie recipes fairly simple, so bananas are a very common choice as a base flavour and natural sweetener for my green smoothies. Next I like to throw in some ripe mangoes if I have it (or frozen if I don't). Make sure your mangoes are soft to the touch like a ripe avocado and the skin will be slightly wrinkled. Ripe mangoes should smell fragrant and have a dark yellow or yellow/orange flesh on the inside. If your mango is still firm, not very fragrant and pale yellow and too tart when you cut it open, it's not ripe enough yet. It's not  a bad mango, you just didn't let it ripen and let those enzymes do their job and create the natural sugars that make fruit sweet when ripe.
Baby spinach is a really easy addition to any green smoothie recipe, and if you don't have any other greens to work with I suggest to start with that or even some leaf lettuce. Swiss chard is a great green to use in smoothies as it's generally fairly available at the grocery store or farmers markets. If not you can easily grow it at home. It comes in green, red and rainbow coloured stems, any kind will do for a green smoothie. You can either just use the green portion or blend the stalk and the green.  The stalks are actually really tasty steamed if you want to save them as well or add them to a fresh stir fry.
One of the best parts about a purple green smoothie is that it looks fairly similar to store made smoothies and no one will know you put some greens in there. So it's good to give to children or your spouse and they won't be as likely to turn their nose up to it on account of it being green and looking like a swap smoothie. But you never know, green smoothies are fairly popular, even trendy nowadays and many people who aren't even into raw or vegan foods are making green smoothies and throwing things like green vegetables into their blenders assuming that will do the trick…
By the way I don't recommend you throw anything like a bunch of broccoli or really strong cruciferous vegetables (Brussels sprouts, cabbage, cauliflower etc) into your green (fruit) smoothie either. They contain sulfur and can be pretty strong and untasty in combination with sweet fruits. Save those veggies for blended soups or raw vegan blended salads or savory smoothies and mask the taste of them with a combo of tomatoes, cucumbers and mangoes (or dates) and this will mellow out the flavour.
Greens like Swiss chard and kale can still get by in smoothies without being too overpowering or strong if you use them in moderation.  I would start with 1 leaf (stalk removed) if you're new to green smoothies and blend it with the rest of the fruit and taste test it before deciding to experiment with more.  Even myself I don't really like more than 2 large leaves of chard or kale in my smoothies as they can add a stronger flavour and some grittiness to it.  Baby spinach can always be added as it barely affects the taste of a green smoothie, so that's why I'm throwing it into the mix as well.
Purple People Eater Green Smoothie
Serves 1-2
Ingredients:
2 ripe spotted bananas
1 ripe mango (flesh only) (about 1 cup)
1 handful of baby spinach
1-2 leaves of Swiss chard (stalks optional)
3/4 cup fresh or frozen blackberries
1/2 cup of water (or more to blend as desired)
Directions:
Place ingredients into Vitamix or blender in order above using the tamper if necessary and blend. If you have a low powered blender you may want to blend the bananas and water first, then add the mango and blend, then add the spinach and blend and so on so that each item is incorporated in the smoothie. Add more water if necessary for your type of blender.
Additional Tips:
To make this smoothie nice and cool you can use frozen blackberries and frozen mango or substitute one fresh banana for a ripe frozen one.
Have you ever used Swiss chard in a smoothie? What combination did you use?