Fresh herbs are WONDERFUL to use in every day recipes, but not all of us have them on hand and even when we do they sometimes (or often) go to waste or are only partially used.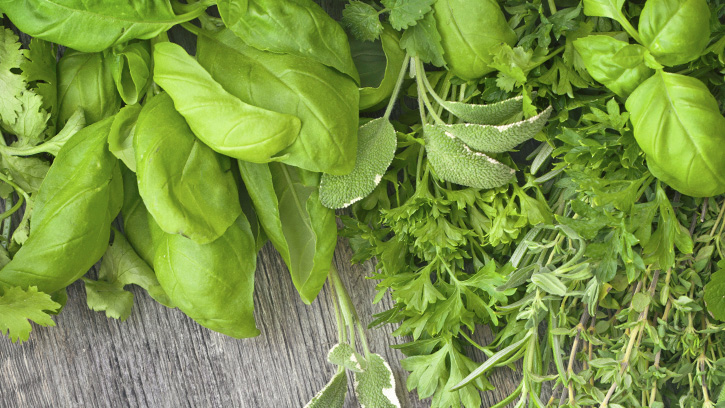 I love using fresh herbs in my recipes and if you don't already have a backyard garden or a windowsill garden of herbs, here are some ways you can ensure you always have fresh herbs and use all that you buy without letting any go to waste.
Choosing and Storing Fresh Herbs
Leafy Herbs: Cilantro, Parsley, Dill, Mint, Basil, Tarragon, Chives
Choose herbs that are bright, crisp and fragrant. Avoid any that have wilted or slimy parts.
Store herbs either placed in a damp paper towel in a sealed bag in the fridge, or snip the ends, remove any dead pieces and place in a few inches of fresh water (be sure to not let the leaves sit in the water or they will rot). Change the water daily and store away from sunlight. Rinse and pat dry just before use for best results.
Hardy Herbs: Oregano, Rosemary, Thyme, Sage, Marjoram, Sage, Savory
Store herbs dry and loose in a paper bag in the fridge, in a few inches of water away from sunlight, tie them and hang them upside down to dry, or dry them in a dehydrator.
Neat Trick: Chop your fresh herbs finely and place into ice cube trays, fill with water or vegetable broth and freeze. Pop them out of the tray once fully frozen and seal in a large freezer bag. Drop them into soups, stews, chopped onions or mushrooms, or pasta sauces as needed. It's a great way to always have fresh herbs on hand without wasting any!
*Also check out these herb-savers you can put in the fridge and keep your herbs fresh and leafy for up to 2 weeks and other herbaceous gadgets 🙂 
What are your favourite fresh herbs to use?