Just a reminder that my Comfort Soups To Keep You Warm recipe eBook is out! I'm already getting lots of great feedback on how delicious the soup recipes are!
Today I'm going to show you how to bake healthy baked potatoes in the oven without all the oil and fat!
I  think baked jacket potatoes are something that most people love or have fond memories of eating.  It's a comfort food for them and I know Dr. John McDougall is certainly very fond of them as well! Potatoes can be healthy, or unhealthy depending what you put on them though. If you're on the McDougall Program you might be interested in baking russet potatoes regularly and without oil of course.
Or maybe you just really like having something warm and filling for dinner, either way baked russet potatoes are a good way to go for a low fat, satisfying meal or side.
The baked potato above is topped with roasted red pepper hummus (that's oil free and low fat) and salsa and is served with a side of my Low Fat Vegan Tangy Collard Greens With Coconut Milk and Mushrooms . (It's also delicious to pour some of the coconut cooking liquid on top of your baked potato.)
So the main reason people like to oil and salt their potato skins before baking them is because it makes the skin all crispy and taste, well salty! The other reason is that it cooks it a bit faster but it raises the temperature it cooks at. Baking in oil at such high temperatures can create carcinogens and adding excess oil to a potato skin is not the best for health.
It's also not beneficial to your health if you load your baked potato or potato skins with bacon, cheese, butter and/or sour cream. These things are far too rich and the negative effects of these toppings outweigh all the health benefits of eating a baked potato for vitamins and fibre. If you're watching your weight, cholesterol or salt intake, please don't add those things to your baked potato. There are many healthier alternatives.
While leaving their rich potato toppings out won't make it taste exactly the same, it will be healthier for you and you can dress up your potato skins with some healthy low fat vegan alternatives like:
Fat free salsa (homemade or jarred)
Tobasco sauce
Hummus (original or roasted red pepper, low fat of course. Look for oil free or make your own.)
Baked beans (homemade or canned)
Salt and Pepper
Fresh chives or green onions (scallions)
Nutritional yeast
Fat free vegan queso or "cheezy" sauce
Steamed veggies like broccoli or kale
What Potato Do I Use For Baked Potatoes?
Use the dark brown rough skinned russet potatoes you find at the grocery store. They make the best baked potatoes and are also good for mashed potatoes. Don't use the smooth waxy skinned yellow or red potatoes for baked jacket potatoes, these are better suited for potato salad, mini roasted potatoes, steamed or boiled potatoes and used in stews and soups.
Make sure that you select russet potatoes that are about the same size so they cook at the same time. If you bake medium and large ones together the large ones will not be done when the medium ones are ready.
Should I Cover My Russet Potato In Tinfoil For Baking?
No. I have no idea why people think they should do this, much less why some grocery stores sell russet potatoes in tinfoil. Maybe if you want to barbecue them, but when you put tinfoil on it you are STEAMING the potato from the inside out and not BAKING it. So it is not going to turn out like a baked potato and be all dry and fluffy inside. It will be more watery and dense like potatoes steamed in water. Don't do this. Bake them uncovered for best results.
How To Bake a Russet Potato Without Oil
from Comfort Foods From Around The World 
Step #1: Preheat your oven to 400 F/ 205 C  (375 F on a convection oven)
Step #2: Wash your russet potatoes well and cut out any "eyes" or bad spots in the potatoes.
Step #3: Use a fork and poke a lot of holes all over your potatoes. This stops them from cooking unevenly and possible exploding in the oven.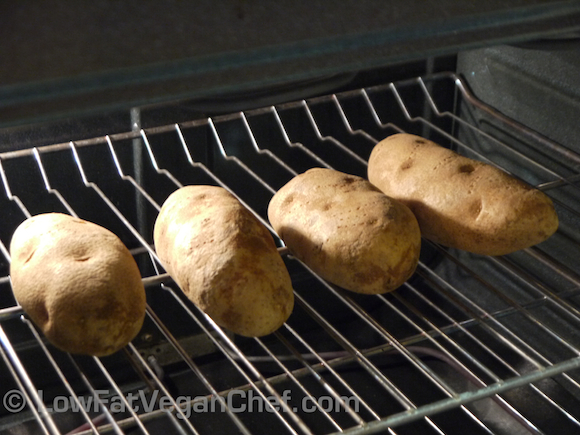 Step #4: When your oven has come up to temperature, place them directly on the rack in the middle of the oven. Leave enough space between them that they are not touching.
Step #5: Bake your potatoes for 50-70 minutes (depending on size) and check on them between 50 and 60 minutes. Using a pot holder or oven mitt, you want to gently squeeze the potatoes and see if they give. If they seem soft all the way through to the middle they are done. If you are not sure you can cut one in half and check. If they need more time, continue to bake, or you can microwave for a few minutes more to finish them off if you're in a hurry. (Once you know the exact cooking time for your oven and this size of potato, write it down or remember it so you don't have to check on it and guess next time. Usually they will be done within 60-70 min).
Step #6: To fluff your potato you're going to make a slit across the top of it, and using pot holders or oven mitts gently squeeze the bottom of the potato together (like how a crab would close it's claws) and this will push the insides up and open it for filling. (This is something I learned when I worked in a restaurant and had to plate food.)
Step #7: Fill your potato with your (hopefully healthy and vegan) seasonings and serve.
When I bake giant potatoes like this it become a whole meal when served with a side of greens. So this makes it a really easy AND cheap vegan meal!
Time Saving Tip:
You can bake multiple potatoes and keep them for future meals in the fridge and just reheat them for a quick lunch or side dish the next night.
I know a lot of Americans like to "nuke" their raw potatoes, but I really don't like this. They can get all hard on the bottom and be a different texture. I prefer to bake mine and only reheat if necessary and not to use the microwave to cook anything that was raw.
Here's another oil free baked potato served with homemade baked beans. The baked beans recipe will be in my upcoming "Comfort Dinner Recipes From Around The World" eBook.
What do you like putting on your oil free baked potatoes?