I'm excited to announce that I'll have a BRAND NEW recipe ebook coming out soon. This one has been a long time in the making, because I was forever adding recipes and expanding the tutorials included in it. My ebook Vegan Comfort Foods From Around The World has ballooned to over 60 new delicious recipes and includes how to cook every low fat vegan side dish from scratch as well.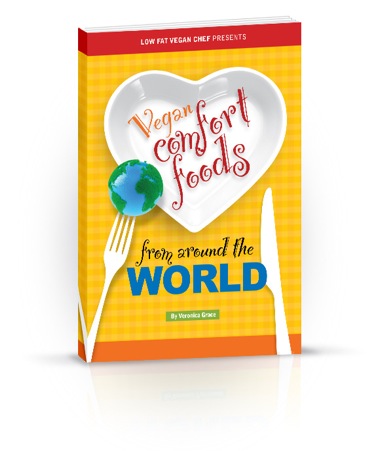 This is the one recipe book you're going to want to dive in and start making recipes from right away. I've taken classic rich and decadent (and typically unhealthy) comfort foods and stripped the fat and processed ingredients from it and created a delicious and whole foods based version. There is absolutely NO processed fake meat, NO store bought fake vegan cheese or anything like that in these recipes. These dishes are nutritious and focus on calories from whole carbohydrates and lean vegan proteins such as lentils and beans. It's also extremely gluten free friendly, and most recipes are soy free and nut free as well. There are a few recipes that use tofu (for tofu ricotta "cheese"), but the majority of the recipes are based on vegetables and whole grains and legumes.
Right now we're just finishing up some final edits for the ebook and it will be available shortly. But I wanted to kick off with a contest! To enter to win a copy of my new ebook Comfort Foods From Around The World just comment below and tell me what 1 or 2 recipes you are MOST looking forward to trying and why. You can also share what your favorite comfort food was growing up too. I wanted to cover a wide variety of comfort foods, so half of them are American and the other half are European and Asian.
BTW there were just way too many photos to post, so this only HALF of all the recipes that are in the ebook to give you an idea of what I have in store for you. And every single recipe in this book comes with a photo unlike most recipe books, so you can let your eyes decide exactly what you want to make!
How To Win a Copy: What 1 or 2 dishes are you MOST excited to try and why? Comment below and you'll be entered to win a copy when Comfort Foods From Around The World is launched. The winner will be randomly selected from all entries. You have until Wednesday Oct 10 at 11:59 pm EST to enter.
Good luck everyone! I know you're going to love eating these recipes as much as I did making them. Make sure you sign up for my newsletter (the pink box on the right) to make sure you're notified when my ebook is for sale.