I know that for some of you eating healthy all the time can seem like a drag at first. Sometimes you feel fed up with eating only what you're "supposed to" and what you really want to do is sit back and relax with one of your favorite treats like a bag of potato chips, pretzels, cookies, candy and more. But that can lead to a slippery slope and make it hard for you to get back on track to the path of health (and keep that weight off).
So instead of moping about what tasty treats you can't snack on, why not be open to trying some new ones? And best of all these are all natural, easy to get and low in calories so even munching on a few to curb your cravings isn't going to cause you any harm.
Let's check out some delicious alternatives for those who crave crunchy or sweet snacks after dinner or any time of day.
1. Sugar Snap Peas are a great choice because they are naturally sweet and often come pre washed in a bag. Simply open the bag and snack. A handful of these will only run you about 20 calories! (I also like to add sugar snap peas to salads and stir fries for an extra crunch!)
2. Carrot Sticks aren't just for kids you know! You can enjoy freshly sliced carrots as is because they're naturally sweet and crunchy. Of course there's also baby carrots, but I'm not really a fan of how they are processed and created (ugly carrots whittled down into small pieces and bathed in chlorine). The choice is yours and it's even better if you can enjoy them without any dip at all. A handful of carrot sticks will run you only 26 calories.
3. Celery Sticks are often popular in veggie trays but are usually served with high fat dips such as ranch dressing, Caesar dressing, peanut butter or Cheeze Whiz.  Try to wean yourself off of those calorie laden dips and enjoy the crunch and natural flavor of celery sticks just as they are. If you're craving potato chips they are a nice substitute for that crunch you desire and are just 10 calories a handful.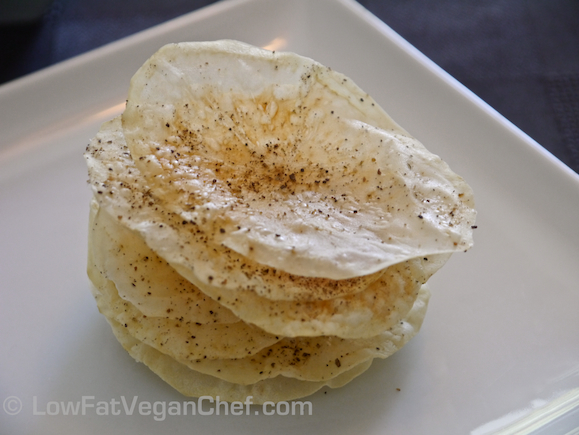 4. Fat Free Potato Chips So what do you do when you feel like you will actually go crazy if you don't have a potato chip? Well I suggest you make your own in that case. Fat free potato chips are not quite as addicting (because they contain no oil) and at only 30 calories a handful they are truly a guilt free alternative to the store bought kind.
5. Cucumber Slices are a refreshing snack or addition to a salad especially in the warmer months when you're looking for something light and juicy. Half an English cucumber or a few mini seedless cucumbers sliced up are a great choice over high calorie packaged snacks at just 8 calories a handful.
6. Cherry Tomatoes are naturally a little sweeter and more flavorful than large tomatoes and can make the perfect finger food for both children and adults. You can eat them as is or sprinkle a little pepper on them for flavor. At just 13 calories a handful you might be glad you switched!
7. Bell pepper slices are not just for stir fries and fajitas! They are naturally sweet and zesty and don't need any seasoning or dip to be enjoyed. Bell pepper slices come in at just 19 calories a handful.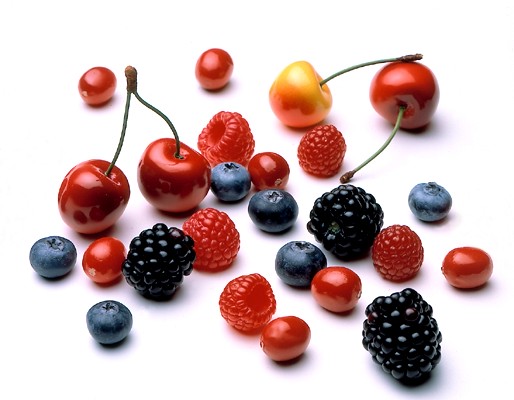 8. Strawberries and berries are nature's candy and good all on their own. Once you start removing excess sugar from your diet you will find they can taste just as sweet or even better than candy with their fresh juicy flavor. A favorite after dinner treat of mine is just a bowl full of berries. At just 24 calories a handful (raspberries 32 a handful) it's probably the best dessert choice you could make!
9. Fresh sliced apples are often easier to eat and more enjoyable once you cut up. A favorite for children and a great snack before or after a meal, apple slices are only 29 calories a handful.
10. Grapes are a great choice for a sweet snack when you're cravings kick in because they're filled with not only vitamins and water, but fibre that will leave you more satisfied than candies will. In summer I like to wash, dry and de stem grapes and freeze them for a natural frozen dessert. The sugars in the grapes will naturally crystallize and are great as a frozen treat or as ice cubes for filtered water. A handful of grapes is just 52 calories.
So how can you best utilize these healthier snacks to ensure you stick to your new found healthy eating plan?
Plan ahead and purchase some of these each week
Wash, dry, peel or chop and place in sealed containers in the fridge
Take your favorites along with you to work or while doing errands (so you're less likely to buy something on the run)
Next time you go to the fridge for a snack, choose one of these instead
Mix it up, try different fruits and veggies each week!
I know it sounds so simple, but many people can benefit from having healthier foods within arms reach when hunger strikes. We all know too well how easy it is to give into weakness when we are hungry and cranky, so do yourself a favor and plan ahead!
Some of you may be wondering what about other snacks such as nuts, trail mix, dried fruit etc. The answer is, if you're trying to lose weight, these foods are too rich in calories and too small in volume (compared to fruits and vegetables) to really satisfy your hunger when compared to the above suggestions. The idea behind successful weight loss is to eat less calories than you burn and using high water content, high fibre foods instead of calorically dense foods will help you get there. I prefer to use nuts and dried fruit in small quantities as part of a meal such as a garnish for salads or oatmeal so I am less likely to over eat on them. So choose low calorie high fibre, high water content snacks instead.
What's your favorite healthy whole food snack? Do you plan ahead and stock your fridge with fresh sliced vegetables and pre washed fruits?