So these brownies are a little "healthier" for you than the standard recipes (as it avoids added oils, butter and eggs) but they're not completely sinless. Brownies are treat, let's face it and sometimes you want to have a better-for-you treat for yourself or your loved ones. I have tried fat free brownies with just cocoa powder, flour, sugar and applesauce but they weren't really brownies, more like dense little cakes and ended up being just ok and nothing to rave about. These brownies however are delicious!
This recipe is inspired from the Post Punk Kitchen's Raspberry Truffle Brownies, but I changed the recipe around. I made a big double batch of these brownies because we had a lot of fresh blackberries on hand and I was thinking of something to make for my friend's birthday and the Canadian edition of Vegan Food Swap.  (If you have a vegan food blog in the USA or Canada and are interested in swapping goodies every month with fellow vegans check it out!)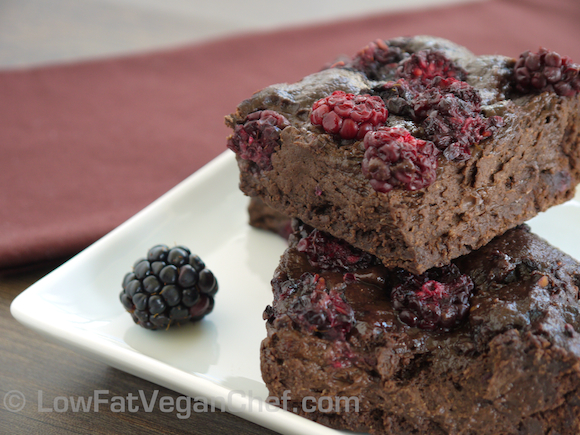 These vegan fudgey brownies feel a lot more decadent when you eat them than they really are. You may have noticed I try to cram as much fresh fruits and vegetables as I can into my recipes as I don't enjoy eating a dish without them.
I think you'll have a lot of fun making these and enjoy them too. You can impress your guests or make them as a little treat for yourself and freeze any leftovers in individual plastic wrapped pieces. The pieces shown below are the size you get if you cut into 9 pieces. You can of course cut them smaller as well.
I even put some extra blackberry pieces on top and it made these turn out very pretty looking, so you don't need any frosting either.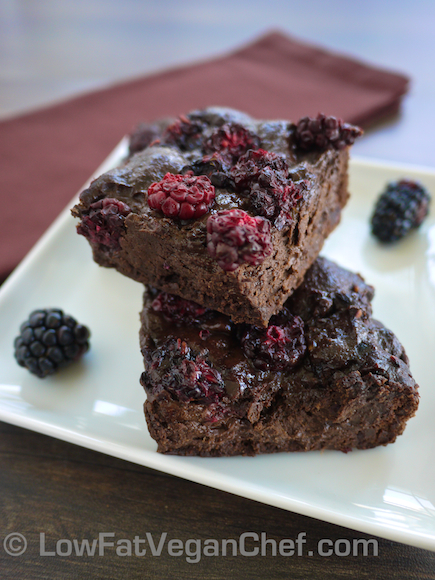 Oil-Free Vegan Fudgey Blackberry Brownies
Serves 9
Ingredients:
1/4 cup/3 oz./85 grams semi sweet chocolate chips or semi sweet baking chocolate
1/4 cup/59 mL blackberry or mixed berry jam/preserves
3/4 cup + 2 tbsp/~210 mL sweetened apple sauce (plain) (you could probably try adding ripe mashed banana as well)
2 teaspoons pure vanilla extract
1/2 teaspoon almond extract
1 1/2 cups whole wheat pastry flour (or AP white flour. Do NOT use regular whole-wheat or whole grain flour)
1/4 cup cocoa powder (unsweetened)
1/4 tsp baking powder
1/2 tsp baking soda
1/4 tsp salt
1 cup fresh or frozen blackberries, blueberries or raspberries
2 tbsp semi sweet chocolate chips (1.5 oz./43 g)
Directions:
Preheat oven to 350 F/177 C. Line an 8 inch square pan with parchment paper and lightly coat with non-stick cooking spray.
If using fresh blackberries you can chop them in half. Put in the freezer to firm up while preparing brownies. If using frozen ones keep in freezer until ready to use.
Melt the chocolate chips using a double boiler or in a dish carefully in the microwave. Set aside to cool slightly.
In a large mixing bowl, mix together the jam and applesauce. Stir in the vanilla and almond extract and the melted chocolate.
Sift in the flour, cocoa powder, baking powder, baking soda and salt. Mix very well until a stiff batter forms. Fold in the blackberries and chocolate chips.
Spread the mixture into the prepared pan if you can. You may need to use your hands as it's very thick. Crush some of the berries on top of the brownies if you are having a hard time mixing them in.
Bake for 16-18 minutes for gooey brownies, bake for 20 minutes for slightly drier brownies. (Tinfoil pans will be done at 15-16 min.) A toothpick will NOT come out clean when inserted in centre, this is normal.
Let the brownies come to room temperature and refrigerate for at least 3 hours to firm up and become fudgey inside. Do not serve right from the oven.
Additional Tips:
If you want to use unsweetened chocolate and unsweetened applesauce you will need to add some granulated sugar (don't use liquid sweetener). Use 1/4-1/2 cup depending on preference. If you like your brownies really sweet you may want to add another 2-3 tbsp of sugar to the existing recipe.
Whole wheat pastry flour or white all purpose flour works best for a lighter brownie (as they are already pretty dense). If you use straight whole wheat or another whole grain flour it will be way too heavy and too dense and have a grittier texture. Make sure you use the suggested flour for best results. Pastry flour is made from soft wheat, white flour is also softer than hard whole wheat or whole grain flour. If you can't find pastry flour you can try this: To make two cups of pastry flour, combine 1 1/3 cups (185 grams) all-purpose white flour with 2/3 cup (90 grams) white cake flour.
Sifting in the dry ingredients is essential so you don't get any uneven lumps. Using a large fine mesh strainer to sift works well. (Pour your powders through the strainer and shake. Discard any rough particles that don't go through.)
For these brownies to be fudgey in the middle they WILL NOT be baked all the way through like a cake or muffin. If you bake them until a toothpick comes out dry in the centre they will be rather dry and like a very dense cake, and thus not fudgey. In the pictures you can see that the center is not baked and has solidified. Once they're refrigerated they will become fudge-like in the middle and be ready to eat.
FYI I don't often make desserts or treats, so don't get all angry and freakout if this recipe isn't for you. I made these for friends and thought I'd share the recipe in case others were interested in healthier alternatives for those not on strict dessert free diets.