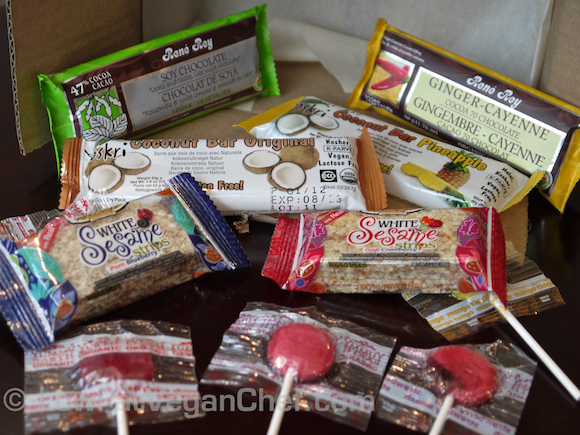 I received my first Vegan Food Swap (Canadian Edition) package yesterday from KimmiKillZombie in Ontario. I had sent my food swap package earlier to Fraser of Cashews Rule Everything Around Me who blogs from Victoria, Canada. Check out what he thought of my package here.
May was the first run of this swap in Canada and if you want more details on what it entails you can check it out here, (for Americans you can go here).
I received:
-Oskri Coconut Bar Original (264 calories, 16.9 g fat)
-Oskri Coconut Bar Pineapple (246 calories, 14 g fat)
-Rene Rey Soy Chocolate Bar (295 calories, 24 g fat)
-Rene Ret Ginger-Cayenne Chocolate Bar (267 calories, 20 g fat)
-Mrs. May's White Sesame Strips Goji Cranberry (160 calories, 10 g fat)
-Mrs. May's White Sesame Strips Pom Blueberry (160 calories, 10 g fat)
-5 organic suckers
Kimmi told me after she sent the package that she'd been sick for 2 weeks so that's why her box isn't as creative, so I understand but I must say I was a little disappointed. I'd asked her for oil free, light on the nuts items and explained that i teach people about how to eat a low fat diet. So these items are not something I would would buy/eat myself as they're so rich in fat. (We were to list any dietary restrictions/allergies along with only sending vegan food items.)
I have tried a few of the fruit-only Oskri bars and liked them but stayed away from the coconut ones because they are so high in fat. (These bars contain 14g and 17g of fat and I look for ones around the 0-3g range.)
The other two bars are straight up chocolate bars. The ginger cayenne chocolate bar sure sounds interesting, but I really don't like cayenne or hot peppers but that's just me. (I know I'm a baby, I like mildly spiced food…)
This was a fun experiment though and I enjoyed putting my box together and waiting for my box to arrive. Everyone is matched with a different person each month and the person you receive from is not the person you send to so it's random. I was paired with someone in Victoria so it was quite close to Vancouver and I could send some fresh baked goods as they arrived the next day. My package coming from Ontario though surprisingly took about 2 weeks to arrive so this is why Kimmi wouldn't have sent fresh items.
I already shared my recipe for Oil Free Vegan Fudgey Blackberry Brownies that I sent to my swapee and I thought I'd share 2 other neat recipes with you that I sent off as well. Most people buy gourmet salts but never make them (and you can pay a hefty price for a tiny amount). I found that it's actually much cheaper to make your own salt blends and surprisingly I already had all of these ingredients at home, so it was very easy.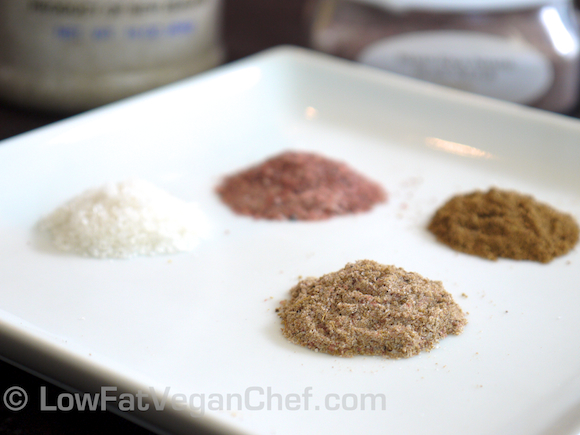 Pictured above is coarse sea salt, Kala Namak ("black" Indian salt), and garam masala mixed together to create Spicy Black Indian Salt in the foreground.
Spicy Black Indian Salt Recipe
I just bought some Kala Namak from Amazon and haven't used it yet and found a recipe for a gourmet Indian salt so I thought I'd try it out. Use this to sprinkle on roasted vegetables, add to curries or even scrambled tofu for a spicy egg-like flavor.
Ingredients:
2 tbsp Garam Masala
2 tbsp Kala Namak (Indian Black Sulphur Salt)
¼ cup fine sea salt
Directions:
Mix together. Store in a tightly sealed jar for up to 1 year.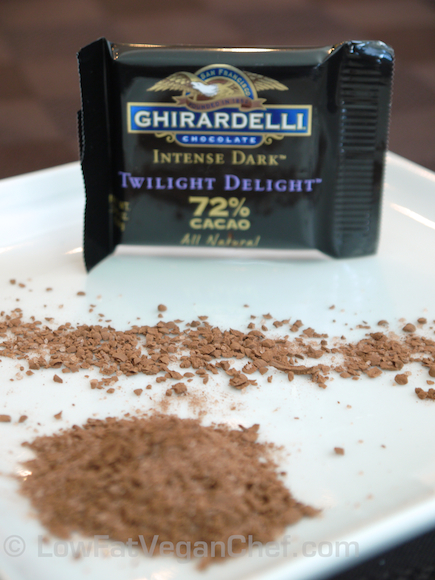 It's often hard to find plain vegan chocolate nowadays as they put milk products into most chocolates to give them a creamier texture and make them more addicting, but this is the one type of Ghiradelli squares I've found that don't contain any milk. You can also use another dark chocolate of choice.
Chocolate Himalayan Crystal Salt
Use in baking or to sprinkle on top of baked goods for a chocolate salty contrast.
Ingredients:
2 squares Ghiradelli 72% Dark Chocolate
3 tbsp Himalayan Pink Salt
1 tbsp unsweetened cocoa powder
Directions:
Use a fine grater to grate the chocolate squares into curls. Combine with salt and cocao. Store in a tightly sealed jar for up to 6 months. Best in a refrigerator or cool dark place.
——————
I have yet to actually use these salts myself, but I plan to use the Spicy Indian Black Salt in some curries and tofu scramble and the Chocolate Himalayan Salt I put into my Oil Free Vegan Fudgey Blackberry Brownies