This delicious breakfast smoothie kind of reminds me of a Pina Colada but gets it's creaminess from bananas instead of coconut. I was going to throw some other fruit into it, but once I tasted it, it was too delicious to mess around with so I left it with just 3 simple ingredients and it's definitely one of my favourite smoothies.
The best smoothies are made with fresh ripe produce, so I always make sure to select the best sweetest pineapples, (See my video on How To Select and Cut A Pineapple) and let my mangoes fully ripen on the counter until they are soft and wrinkly (this is when they are at their peak flavour and sweetness).
My favourite mangoes are ataulfo mangoes and right now they are in season until June or so. Generally April-June is prime ataulfo mango season so I always pop down to China Town and get a case or two as these are my favourite. They're stringless, creamy and the best. You can see part of one in my picture above, it's on the right. Ataulfo mangoes also have some cousins called the champagne mango, Filipino mango, Thai mango or Indian/Pakistani honey mango. So wherever you are keep an eye out for these yellow skinned (orange inside) mangoes they have a much better flavour than the red and green Tommy mangoes and frozen mango at the store.
We're actually moving today to a new place today changing from an apartment to a bigger house (in the suburbs), so I wanted to post a recipe on the blog before I get really busy this weekend. I still have some packing to do! So I should get on that…. (who likes packing? I think it's one of my least favourite things…)
On to the recipe!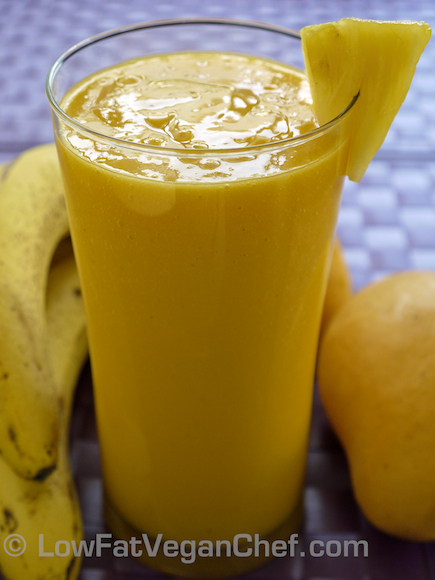 Raw Vegan Pineapple Mango Delight Smoothie (Fat Free Pina Without The Colada!)
Serves 1
Ingredients:
1 ripe ataulfo mango
1 1/2 cups fresh pineapple (or frozen if needed)
1 medium ripe banana
handful of ice cubes (or none if using frozen fruit)
1/3-1/2 cup water to blend
Directions:
Place ingredients into blender in the order listed and blend until smooth. Serve with a pineapple wedge if desired and enjoy!
Wow that was easy wasn't it! For variations you could also scoop in some fresh young coconut meat, or add some coconut water instead of the water for a really raw Pina Colada!