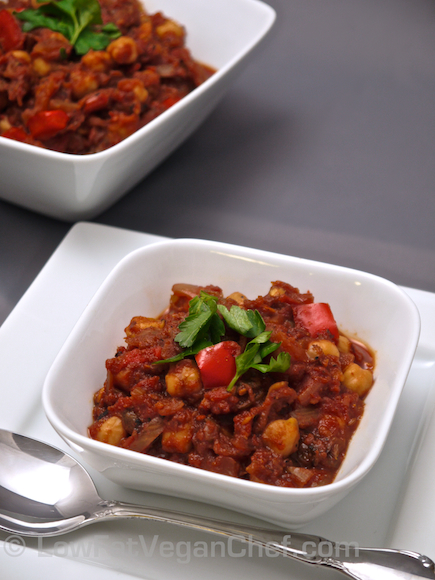 Fat free vegan cooking is really easy, once you know how to skip the oil and prepare delicious home cooked meals that taste just as good if not better without the extra grease and calories.
I love eggplant (aubergine) and eggplant curries, I also love chickpeas in almost everything. The bad thing about Indian food is that it is normally so oily and greasy and this can make it unhealthy and too rich. Eggplant absorbs MORE oil than ANY other vegetable just from sautéing in oil. If you cook it in oil on the stove it absorbs it so well that it becomes 50% fat by calories just like a potato chip. So I suggest to not slather oil on your eggplant or deep fry it, ever… Regardless of how delicious it may be. Your waistline and arteries will thank you.
The best Indian food I've ever had, has actually come from my kitchen. Not because I am an awesome Indian cook or anything, but because I use the freshest ingredients, and absolutely no oil, and we feel awesome after eating it, not like taking a nap as you do from take out. Any time we eat Indian food at a restaurant, we almost immediately regret it. Despite pleading with them to use very little oil, it is still very greasy. Indian and Chinese food in general are prepared with so much oil to keep things from sticking to the pan and slide out easily onto the plates. Also because people kind of expect it to be greasy.
There aren't too many already vegan Indian staple dishes but Baingan Bharta (Eggplant Curry) and Chana Masala (Chickpea Curry) are two of them, and of course my favourites. I have made them separately before, but I wanted to start practicing my photography for a new cookbook I'm working on, and this means I pretty much have to shoot in portrait style. As I am mostly a landscape photographer, this is difficult for me to get used to and setting up the shot. As you have way more background in it, you need to add things to decorate.
This isn't my best. I need some more props, but I didn't have white rice, or dal or anything to put in the background, so it's a little sparse.
I will continue practicing, and I spent the evening ironing all my pretty coloured napkins so they are ready to go for next time.
This recipe is not an original of mine, it is adapted from Fat Free Vegan. I also doubled the recipe as this was my main I and served it with rice and saved the leftovers. Another good reason to double recipes, is that it doesn't really take more time to make more of it, and then if you have left overs you can eat it for lunch, or even use this as filling for a delicious wrap on the go! The recipe below is the single version.
Fat Free Vegan Eggplant Chickpea Curry
Serves 4 as a side dish
Ingredients:
1 large eggplant/aubergine, or two small (this needs to be prepared in advance)
1 medium onion, chopped
1/2 red bell pepper seeded and diced
1 1/4 teaspoon cumin seeds
1 1/4 teaspoon ground roasted coriander (or regular)
1/2 teaspoon turmeric
3 cloves of garlic, minced
14 oz can Muir Glen Fire Roasted diced tomatoes (or regular)
2 tsp of ginger root, finely minced
1-2 tsp sugar or sweetener (to balance acidity, or as desired)
1/2-1 tsp herbamare or salt
1/8-1/2 tsp cayenne pepper (I don't like spicy, so I use very little)
15 oz can chickpeas (like Eden Organic) , rinsed and drained (low sodium) or 2 cups cooked chickpeas
1/2 -1 cup water, to keep mixture from sticking
1/4 cup minced cilantro
1/4 teaspoon garam masala (start with less and add more to taste)
non stick spray
Directions:
1. Preheat oven to 400 degrees. Prick the eggplant(s) with a fork all over and place on a baking sheet. Bake for about 50-60 minutes, until the eggplant(s) is/are collapsing and soft in the middle. Remove from the oven when done and set aside until cool enough to handle. Slice open the peel, pull the peel off and chop the eggplant flesh into cubes.
2. Heat a non-stick skillet and then spray it lightly with non stick spray (normally I do not do this, but as it's going to cook for a while, mine started sticking and burning as I have a gas stove). Add the onion and cook until it begins to turn golden about 5-6 minutes.
3. Add the bell pepper and cook for a 3-4 minutes. If anything starts sticking use a tbsp or 2 of water.
4. Clear a spot in the center of the skillet and sprinkle the cumin seeds directly on the hot surface. Stir and toast them gently for about a minute, until they are browning.
5. Stir and then add the coriander, turmeric, garlic, tomatoes, ginger, and cayenne (if desired).
6. Add the eggplant and cook over medium heat, for about 10 minutes. Add water if necessary to keep from sticking.
7. Add the chickpeas and enough water or chickpea cooking liquid to keep the mixture moist, cover tightly, and turn heat to low. Cook for at least 10 minutes, stirring periodically, until sauce has thickened and flavors have blended. Don't let it burn. (You can hold this dish on low for up to 45 minutes while you prepare the rest of your meal, but add additional liquid as needed and don't forget to stir, scraping the bottom.)
8. Add sweetener (if desired), herbamare or salt and garam masala. Always use a lower amount first and then taste test, so you don't use too much of either. Season as desired.
9. Scoop into bowls and garnish with fresh cilantro.
10. Serve with basmati rice or dal.
 Additional Tips: 
Fire roasted tomatoes make every recipe that calls for canned tomatoes, even better. There is a huge difference. My favourite are Muir Glen fire roasted diced tomatoes (now BPA free). If you don't have time to make your own chickpeas, Eden Organics also come BPA free too. Roasted coriander has a nicer flavour than regular, McCormick (available at many regular grocery stores) makes a great selection of roasted spices. You can make your own roasted spices if you want too. If you have coriander seeds, you can toast them in a pan dry and then grind them in a coffee grinder. Cumin powder can be substituted for cumin seeds if you like, the flavour will be a little different however.
I buy my garam masala from a specialty spice store. If you want to make your own Susan's V's recipe is here: 1 tablespoon black cardamom seeds, 1 cinnamon stick (about 2 1/2 inches long), 1 teaspoon cumin seeds, 1 teaspoon whole cloves, 1 teaspoon black peppercorns. Grind in coffee or spice grinder until powdered. Heat a small, dry pan. Add spices and toast just until fragrant, about 1 minute. Remove from heat, transfer to a bowl, and allow to cool. Once cool, store in a sealed jar for future use. Garam masala is always used after cooking is complete to control the spiciness of the dish. Do not add it in while a dish is cooking as you may over spice it and make it too hot.
What do you think of this dish? What's your favourite use for eggplant or chickpeas?