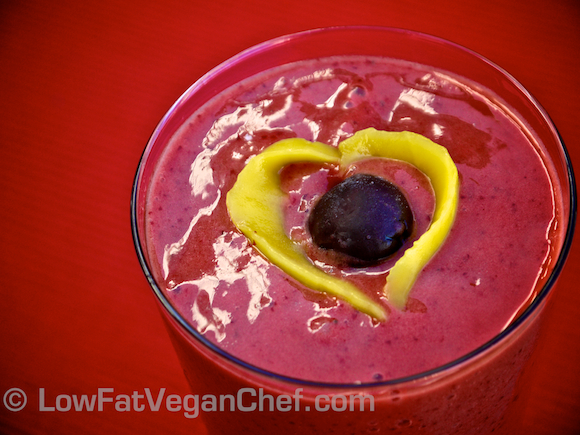 Whether or not you have a sweetie on Valentines Day this year, you can make your own 80/10/10 style holiday meal pretty easily. Make a beautiful breakfast smoothie for yourself or your loved one, or slice up some mangoes into heart shaped pieces. There you go, festive and edible!
It's just starting to become mango season, you will see them available at grocery stores slowly, but they will be in full availability starting in April.
I got these mangoes from Costco and they are starting to ripen up.
How To Cut Mangos Into Heart Shape Pieces
To make heart shaped mango slices, you're going to need a really sharp preferably thin knife. Slice off the cheeks of the mango (around the inner woody pit) and trace an outline on the skin in a heart shape, or any desired shape.  Carefully cut out the mango trying to be as smooth in your cuts as possible. When you're done you can trim any choppy bits after to make it look more streamlined.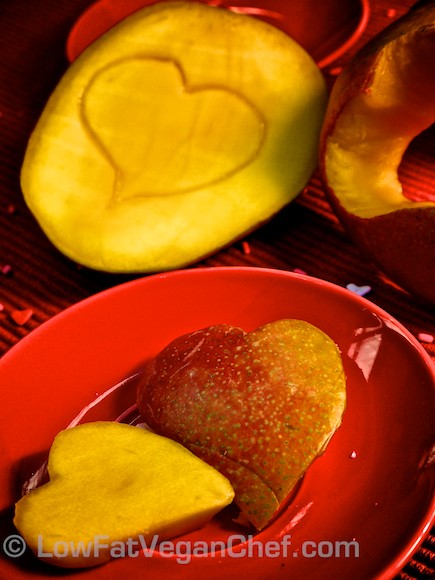 Serve your mango pieces on top of a fresh fruit salad or smoothie. You can use any leftover scraps in a delicious smoothie as well. I saved mine for the smoothie below.

Raw Vegan Valentines Day Smoothie: Cherry Mango Love
Serves 1
Ingredients:
2-3 ripe bananas (spotted all over)
2 ripe mangoes (very soft and wrinkly all over)
1-2 cups frozen black cherries (Dole, H-E-B and Costco all have these available. Costco in Canada)
Directions:
Place mangoes in the bottom of your Vitamix or blender, then bananas and then frozen cherries on top. If you need to you can add a little water to make it blend easier, but I like my smoothies thick. Blend until smooth.
Serve and garnish if desired.
Additional Tips:
If you don't have frozen black cherries, you can use frozen raspberries. Strawberries are a possibility, just make sure they are sweet.
You can easily make this a green smoothie by adding some spinach to it.  The cherries will mask the green colour and make it look more purplish.
 What do you think of this recipe? Are you doing anything special for a raw vegan Valentines Day?