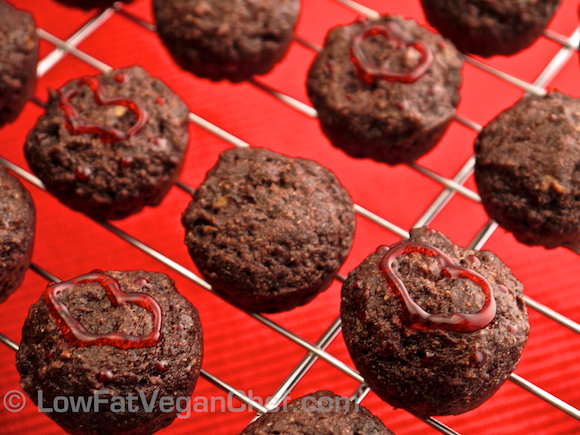 Happy Valentine's Day Everyone!
Not that I am much of a Valentine's Day person. It was probably my most dreaded holiday actually! Being single on Valentines Day kinda sucks a little more than just a normal bad day, but cheer up! I have a treat for you… These deliciously fat free vegan Two-Bite Banana Brownies! And if you do have a Valentine this year, they will love you if you make these for them!
My sweetheart told me for my Valentine's Day gift he was going to clean the whole house for me and take me out to dinner, so I surprised him with one of these yesterday. I'm not much for material things, so thoroughly enjoy being able to just relax after making a big mess in the kitchen after cooking and photographing for you… 🙂
I was tinkering around yesterday trying to come up with something that would still be tasty even when I sucked all the unhealthy fat out of it. We have a winner  for fat free vegan brownies and a great compromise for those that like to have a little treat after dinner, but not something too big or too rich.
The secret to these babies' extra flavour is the bananas. I have to admit I am totally devoted to banana bread and always will be. And I just love packing banana into whatever baked goods I can, because honestly I never bake. I only bake for you!
Normally you'd expect a really dense rich brownie, or muffin with a chocolate chips in it, but these taste great on their own. They're also really easy to make and even kids will love them too!
This is what they look like un decorated.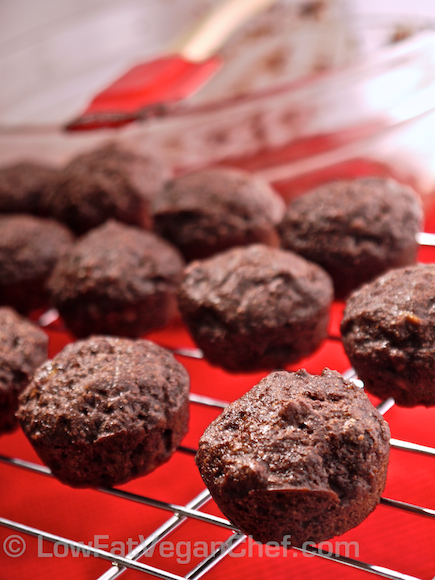 Mmm… Is your mouth watering yet for my fat free vegan brownies?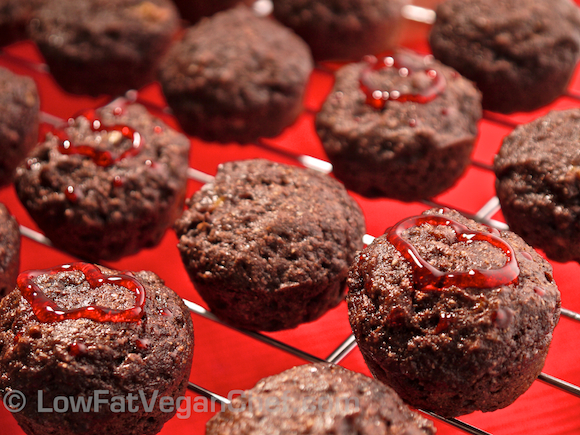 Fat Free Vegan Two-Bite Banana Brownies
Makes 24 mini muffin tin brownies
Ingredients:
1/2 cup plus 3 tbsp whole wheat flour (or gluten-free flour, see note)
1/2 cup brown sugar
1/4 cup cocoa powder, unsweetened
1 1/4 tsp baking powder
1/2 tsp salt
1/2 tbsp ground chia or flax seed
2 tbsp water
1/2 cup plus 3 tbsp ripe mashed bananas (about 2 large) or applesauce
1 tbsp vanilla extract
Non stick cooking spray
*Note, if making these gluten-free I suggest adding 1/4 tsp of xanthan gum to the recipe to help the batter stick together.
Directions:
1. Preheat oven to 325 degrees F.
2. Combine dry ingredients, except brown sugar and chia in a medium sized bowl.
3. Add 2 tbsp water to a small bowl. Shake in ground chia and stir until combined.
4. Add wet ingredients and brown sugar to another bowl and stir in chia.
5. Add wet ingredients to dry ingredients and stir just until mixed
6. Spray a mini muffin tin with non stick spray.
7. Spoon a teaspoon size amount into each cup, filling about 3/4 full.
8. Bake for 15-16 minutes, or until done in the centre with a toothpick.
9. Let brownies cool in the pan for 10-15 minutes to set up.
10. Remove and place on wire rack to finish cooling.
Additional Tips:
If you don't have chia or flax, you can try using egg replacer mixed with water, use the equivalent of one "egg". Really ripe bananas are best for this as they are sweeter and will add depth to the brownies. Almost as dark as you would use for banana bread is good. If you want to substitute applesauce you can, but they will be much plainer tasting and you might want to add a touch more sweetener. These are easily frosted or glazed if serving for a holiday or a kids birthday party. You can easily freeze these in ziploc freezer bags to have a quick treat ready to go.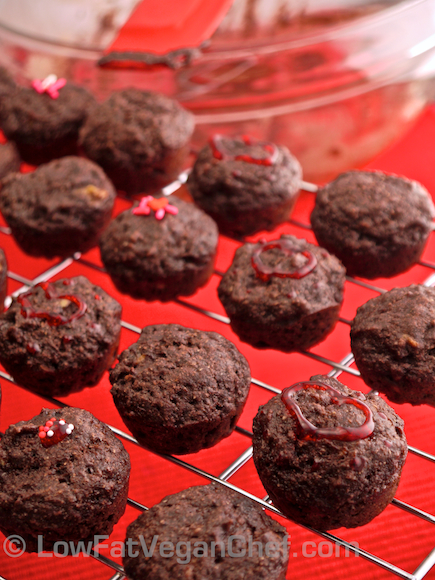 If you're like me and you're a "seconds" kind of dessert fan, fear not! These are packed full of fibre and are low calorie too.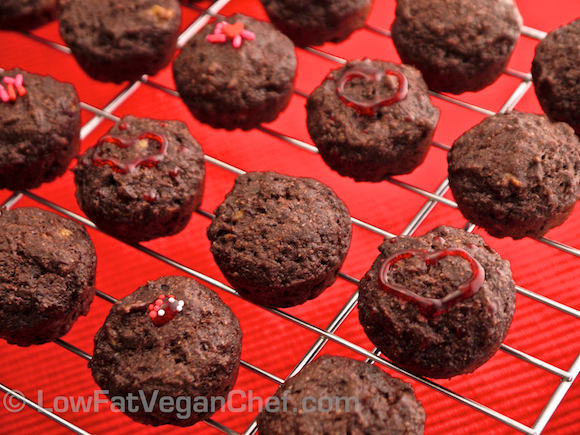 What are you doing for Valentines Day this year? Have you ever had a vegan two-bite brownie?