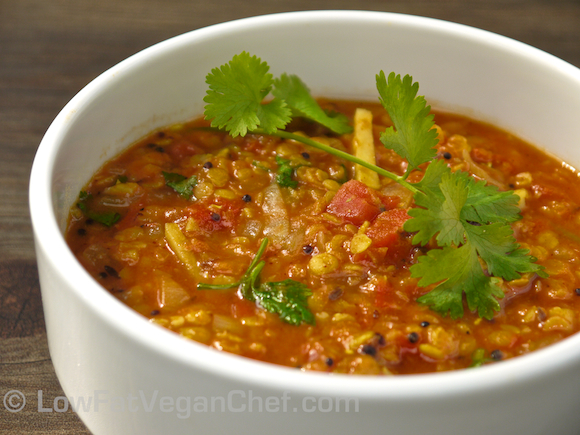 Now that the weather is cooling down, how about some delicious dal curries to warm things up?
This is another version of tarka (meaning tempered spices) dal using split red lentils. It is really simple to make, totally vegan and contains only a few ingredients. I make this recipe often when I'm looking for a quick dish and I always keep onions, tomatoes and red lentils on hand for just such an occasion. What's nice about this dish is you can take this basic recipe and change it up with different spices, add more or omit the chilies depending how spicy you like it and use it as a thick stew as it is or a curry to serve over rice.
The dal is cooked separately and then the tarka seasonings are fried on their own and added  after so they retain more of their flavor. If you're short on time you can throw everything in together, but it might be a little blander so you'll want to adjust the seasonings. Normally the spices are tempered in ghee or oil, but since I don't use oil in my recipes I've added slightly more whole dried spices to this recipe and used some water instead.
This is a beautiful dish that is great for entertaining and also a nice way to introduce lentils to your friends and family that may be skeptical of them. Red lentils are very mild and don't have any flavor when they are cooked so they absorb the flavors they are cooked in very well. I prefer using split red lentils over regular whole brown lentils for this recipe as they are lighter and smoother tasting.
Feel free to try using other lentils, but you will need to cook your dal much longer as whole lentils will take twice as long to cook.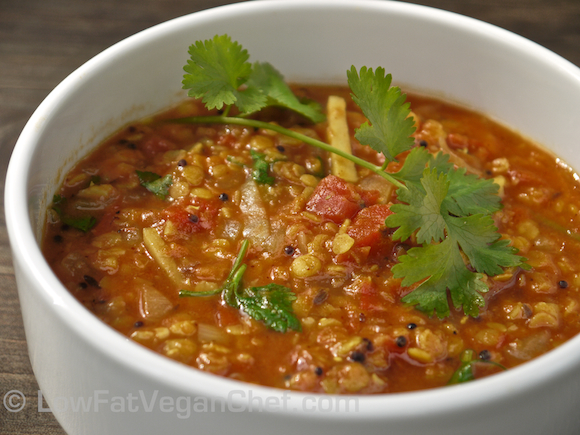 Fat Free Vegan Red Lentil Tarka Dal (Indian Lentil Curry)
Serves 4
Dal Ingredients:
1 cup red lentils (split)
1 large onion, diced
2 large tomatoes, diced (or 1 15 oz. can diced tomatoes)
2-3 cloves of garlic, minced
1/4 tsp turmeric
1/2 – 3/4 tsp Herbamare or salt to taste
3 cups of water or vegetable broth (low sodium)
1-2 tbsp lemon juice
3/4 tsp roasted ground cumin
1/2 tsp roasted ground coriander
1 handful cilantro/coriander, chopped for garnish
Tarka Tempering:
2-3 inches of ginger peeled and sliced in long strips
1 tsp cumin seeds
1 tsp mustard seeds (black)
1 dried red chilli, chopped (more if desired)
4-6 curry leaves *optional
Directions:
1. Place lentils into a mesh metal strainer and rinse under cold water until water runs clear. *To cook your lentils faster you can soak in warm water while you prep the rest of your vegetables.
2. Heat a medium saucepan or wok over medium heat and add the onions, garlic and turmeric. Sprinkle a little salt on the onions to get them to sweat. Saute for 2-3 minutes and then add the tomatoes and continue cooking until the tomatoes are soft.
3. Add drained lentils and 3 cups of water or vegetable broth. Stir and bring to a boil uncovered. Turn heat down to medium low and and cover with a vented lid (or leave lid cracked to let steam escape) cook for 20-30 minutes until the lentils are soft and to desired tenderness.
4. In another pan, add a little water and fry the slices of ginger, chilies and curry leaves. Stir the ginger. When the water dissipates, add the mustard seeds and toast until they pop. Then add the cumin seeds and toast for a minute or two.
5. Add the tarka seasonings, lemon juice, cumin and coriander powder to the dal and stir in. Add Herbamare or salt to taste and adjust seasonings if desired.
6. Serve and garnish with chopped cilantro.
Additional Tips:
If you like you can use different lentils, but keep in mind that whole lentils will take longer to cook, so you may need to cook this dal for around an hour until they are soft.
What's your favorite way to use lentils?