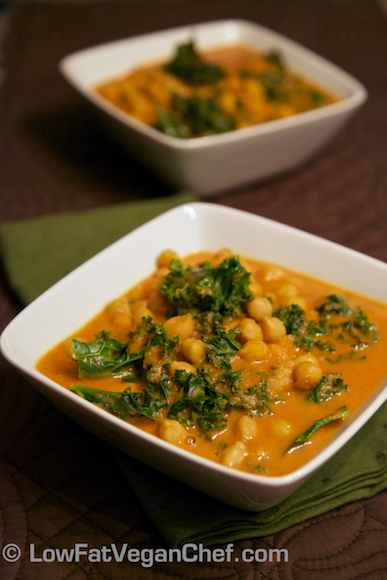 I had a really bad craving for a creamy plant-based chickpea curry recipe – BUT I still wanted to make sure it wasn't too decadent so this turned out to be a wonderful compromise. I usually make an all tomato based chickpea curry aka Chana Masala, but I wanted to step out of the box a little, not to mention I had a ton of kale sitting in the fridge. I thought about serving it on the side, but you know what? Kale goes extremely well in a creamy curry sauce too so in it went into the curry!
I used light coconut milk in this recipe, but I do limit the frequency I use coconut milk in my recipe due to the higher fat content. If preferred you can use another plant based milk instead, I just really enjoy a hint of coconut flavour in this curry.
There's also a special spice mix I blended up which was a nice change from regular old curry powder or garam masala mixes. I like trying something different! So if you can find these whole spices give it a try and use a coffee grinder and make your own spice mix it's really fast and easy too (not to mention cheaper to make your own spice mixes once you've bought your whole spices).
This was a fun recipe to make and it's definitely going into my regular repertoire, the leftovers were fantastic for lunch the next day too!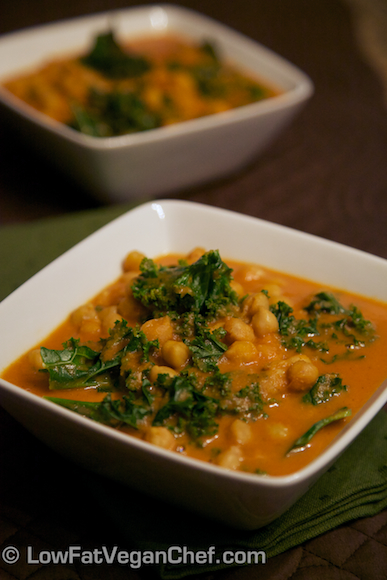 (Vegan) Creamy Coconut Kale and Chickpea Curry
Serves 6
Ingredients:
1 large onion, diced
6 cloves of garlic, minced
2 tablespoons (roughly) fresh ginger chunks, minced
2 15 oz cans diced tomatoes
1 16 oz can light coconut milk (or substitute another plant based milk)
2 1/2 tbsp spice mix (recipe below)
4-5 tbsp brown sugar *or as desired
1 tsp salt *or to taste
6 cups fresh cooked or 3 15 oz cans of chickpeas, drained
1 bunch of kale destemmed and chopped
Directions:
1. In a large deep skillet, wok or pot sauté the onions, garlic and ginger dry or in a little water or vegetable broth for 5-6 minutes until translucent and fragrant.
2. Add tomatoes and cook until softened about 10 minutes.
3. Add tomatoes and onions to a food processor or Vitamix along with coconut milk and blend until pureed.
4. Add remaining ingredients and simmer together until the kale is softened. Taste test and adjust seasonings as desired.
5. Serve with rice or Indian flat bread.
Spice Mix
3 tsp whole cumin seeds
3 tsp whole coriander seeds
2 star anise
1/2 tsp black pepper corns
1 green cardamom pod
1 tsp ground turmeric
1 tsp roasted or regular cinnamon
Directions:
1. In a dry skillet toast the cumin seeds, coriander seeds, star anise and black pepper corns until fragrant. Be careful to not burn them and remove once lightly toasted and fragrant.
2. Add to a spice grinder with remaining spices and combine until powdered.
3. Store in an spice jar and use as desired in curries.
What's your favourite curry recipe and what do you serve it with?