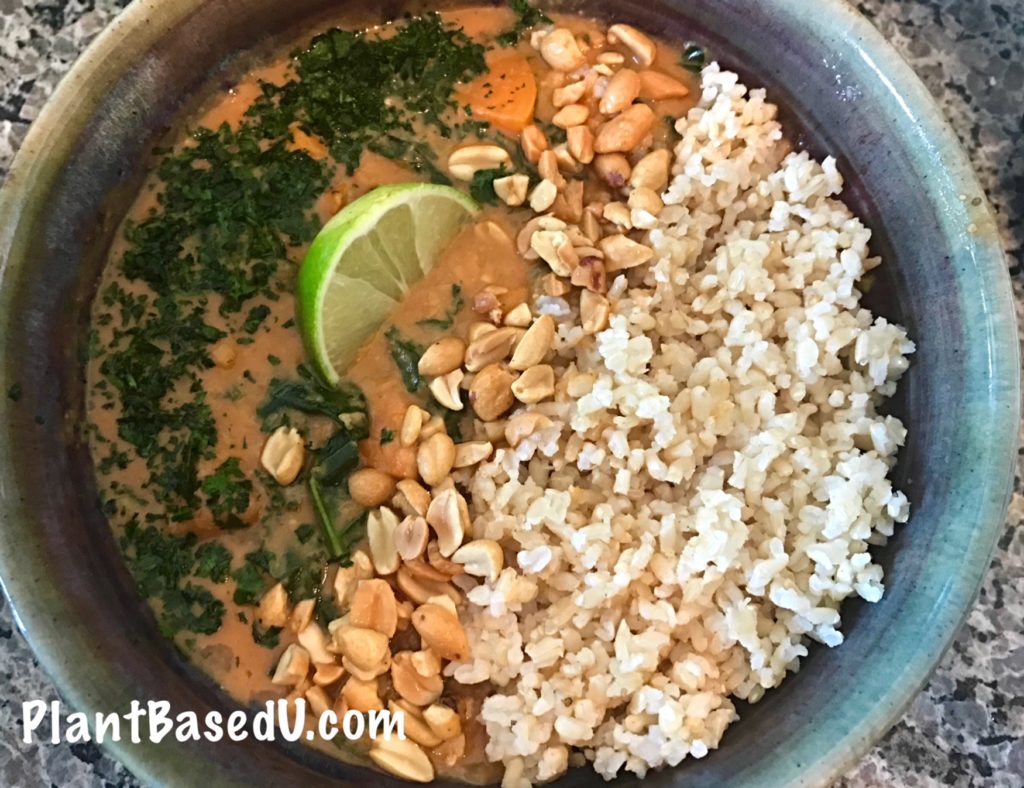 Peanut Stew is something I've been wanting to make for a long time because it's so delicious and satisfying. I was perusing online for inspiration and came across One Pot African Stew from MakingThymeForHealth and used that as the basis for my version.
Once you try it I think you'll agree that it's incredibly delicious and maybe even inspiration to use as a base recipe for other veggies. I can see white potatoes, zucchini, winter squash, bell peppers and carrots going well with this too. It is ready in about an hour over the stove, or you can try using a crockpot and cooking it slowly while you're away from work.
Another note: Personally I'm not a fan of super spicy food or jalapeños so I omitted them. If you really love jalapeños then please add them as your heart desires. 🙂
Please give this a try and let me know what you think!
Plant Based African Ground Nut Stew
Ingredients:
1 large onion, diced
5 cloves of garlic, minced
3-inch fresh ginger, peeled and minced
3 teaspoons of roasted ground cumin
1/4 teaspoon of cayenne pepper (or more to taste)
3 tablespoons of tomato paste
1 large yam/sweet potato, peeled and diced into small cubes (1 lb)
3/4 cup of smooth peanut butter (look for low sodium and sugar free)
4 cups of low sodium vegetable broth (plus more for cooking or use water)
1-2 cups of water, depending on desired thickness
1 bunch of kale/collards/spinach*, stems removed and chopped into bite sized pieces
To Serve:
3 cups cooked brown rice
roasted peanuts, broken into pieces (optional)
1 bunch of fresh cilantro, chopped
2 limes, cut into wedges
Directions:
Add water or vegetable broth to a large pot and heat over medium. Add the onions and spices and cook until the onions are translucent, about 5 minutes.
Stir in the tomato paste, yam/sweet potato, peanut butter, broth and water until well combined and bring to a boil.
Reduce the heat to medium low and cover for about 15 minutes. If using collards, add them now and continue cooking another 15 minutes. If using spinach or kale add them when the yams/sweet potatoes are fork tender (after about 25 minutes) and let cook only a few more minutes.
Using a potato masher or ladle, crush some of the yam/sweet potato up and thicken the broth. Cook for another few minutes until creamy.
Serve over brown rice and garnish with peanuts, fresh cilantro and lime juice.
(I cook my rice in a Zojirushi rice cooker)
I'm not sure how this recipe would turn out for those wondering about using PBFit Peanut Butter Powder. If you do try it let me know how it turned out.
Have you ever made a peanut based curry before? What other veggies do you think would go well with this?