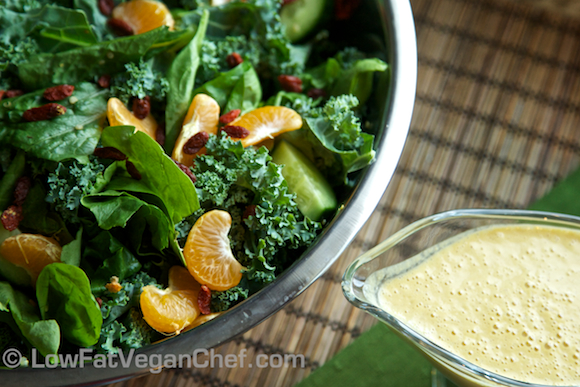 Have you ever had a craving for a deeply satisfying and hearty kale salad? But you don't want just a big pile of kale…. no you want all sorts of yummy textures and flavors in your kale salad to keep things interesting.
This is that salad.
It's perfect for a dinner entree, a potluck, or a weekday take along for lunch. I like to make up big salads and then keep the dressing on the side that way I can have as much or as little dressing as I like and save any remaining salad in a sealed container in the fridge.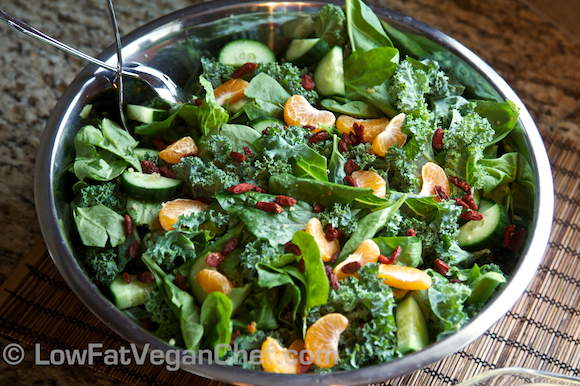 Most kale salad recipes are heavily dressed with oil and salt and I find it hard to stomach. I want to taste my greens and not the oil so I paired this with a delicious homemade citrus ginger cashew dressing. It has some natural sweetness and creaminess from the cashews and is super easy to whip up in the blender with some fresh ginger and orange juice. Fresh squeezed orange juice is a great choice for liquid in salad dressings because it has some natural sweetness, and acidity and you can toss almost any fruits or veggies and/or nuts and seeds into it and blend it up.
So make up a big bowl of this hearty kale salad and you'll have a light yet satisfying entree salad for 3-4 or a delicious side salad to serve along with baked potatoes, rice pilaff, pasta marinara and more. Enjoy!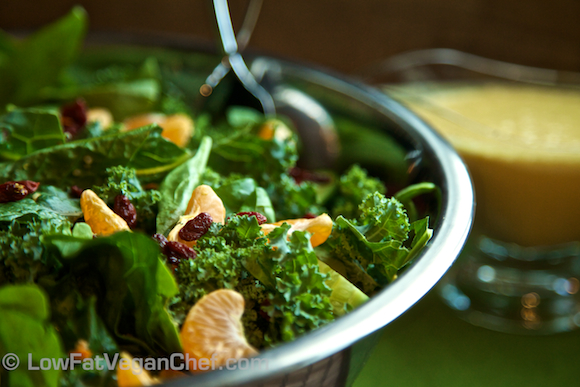 Raw(ish) Vegan Kale, Mandarin Orange and Goji Berry Salad
Serves 6-8 side servings
Ingredients:
1 head of kale, stems removed and chopped
1 head of romaine, chopped
3 cups loose packed spinach
1 english cucumber, sliced
4-5 mandarin oranges, peeled and sectioned
3 tbsp goji berries soaked and patted dry
2 cups cooked quinoa (I seasoned mine with vegetable broth) *can omit if you desire a 100% raw dish
Directions: 
1. Arrange salad greens in a large bowl and mix together.
2. Garnish with remaining ingredients.
3. Serve with dressing on the side, or toss dressing with salad for a marinated salad.
Raw Vegan Citrus Ginger Cashew Dressing
 Ingredients:
1 cup fresh squeezed clementine or sweet mandarin juice
2 medjool dates, pitted
1 tbsp Spicy Pecan Vinegar (or other fruit vinegar)
1 tbsp fresh ginger, minced
1/2 cup raw cashews (unsalted)
Dash of salt and pepper *optional
 Directions:
1. Blend dressing ingredients together. Best used within 3 days (due to fresh orange juice which is perishable).
Additional Tips:
If you prefer to make this your weekday lunch salad for 5 days a week, arrange the salad in 5 sealable containers and store the dressing in small airtight containers.
What are your favorite ingredients to toss into your kale salad?