Beans and rice are and eaten throughout the Caribbean and Latin America and it's easy to see why! Beans are so easy and versatile to use in many dishes and can absorb all kinds of delicious flavors when seasoned with delicious spices and herbs. It's also an extremely affordable and satisfying dish that pretty much anyone can make!
This Rainbow Black Beans and Rice is my take on an old staple, but it will also work for pinto beans or kidney beans so feel free to get creative and use what you have.
And aren't you cooking fresh beans weekly by now with your EZ Bean Cooker or Digital Pressure Cooker? Aren't you? I hope so. With weekly fresh beans you have to put them to use and start incorporating them in new recipes! Hopefully 🙂
Also if you'd prefer to just buy pre cooked brown rice to always have on hand you can check out Uncle Ben's Ready Rice Pouch or Steamed Brown Rice Bowls and use it for this recipe.
Video below:
For more delicious recipes please check out my cookbook Vegan Comfort Foods From Around The World here (and pick up an apron while you're at it too!) To subscribe to my Youtube channel please click on the video to open it in a new browser and hit the subscribe button beside LowFatVeganChef just under the video. Likes are always appreciated as well! The recipe follows below.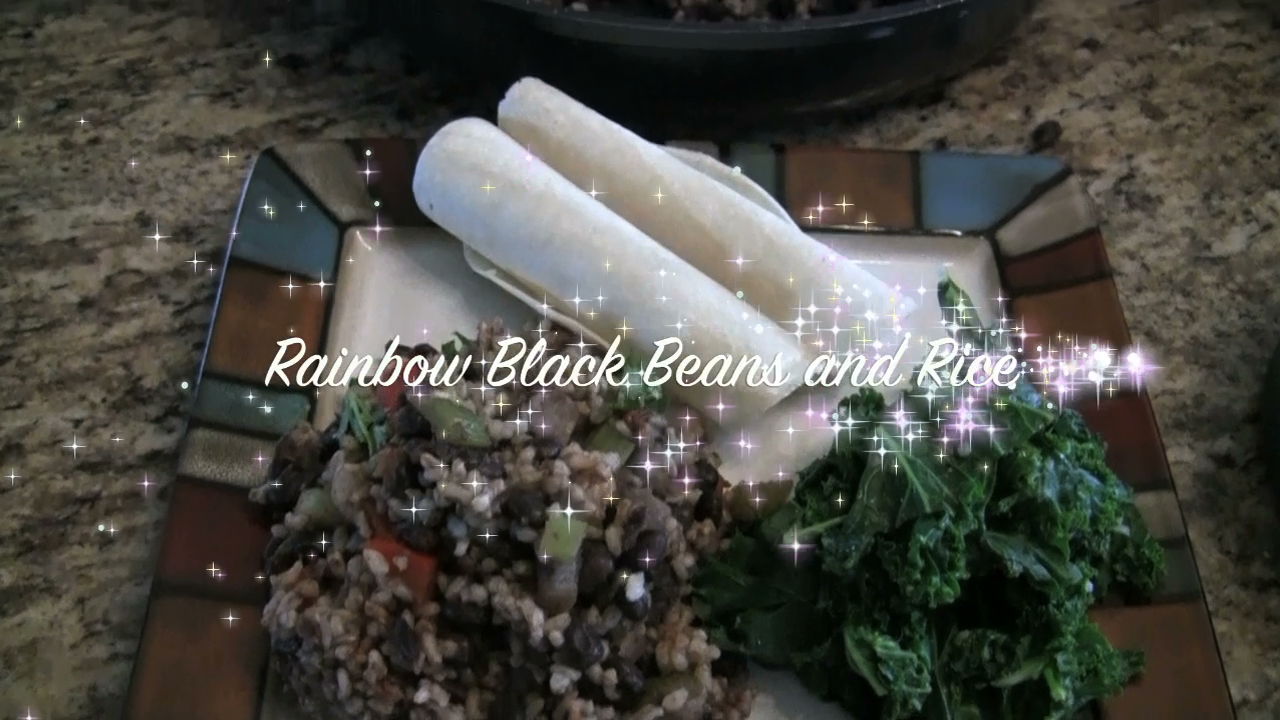 Vegan Rainbow Black Beans and Rice
Serves 4
Ingredients:
1 onion chopped
4 cloves of garlic minced or pressed
1 tomato, diced
2 stalks of celery, chopped
1/2 bell pepper, chopped
2 15 oz can black beans or 3 1/2 cups fresh cooked in a little bean liquid
2 1/2 tsp cumin
1 1/2 tsp Trader Joe's 21 Seasoning Salute or Mrs. Dash (salt free seasoning)
1 1/2 tsp smoked paprika
1/2 tsp chipotle chili powder
1/2-3/4 tsp Herbamare or salt *or to taste
Fresh ground pepper to taste
handful cilantro, chopped
3 cups pre cooked brown rice (about 1 1/2 bags)
8 Corn tortillas *optional
Garlicky Citrus Kale
Ingredients:
1 large bunch of kale, stems removed
4 cloves of garlic, minced or pressed
1/4-1/2 lime juiced
Pinch of salt
Fresh ground pepper to taste
Directions:
1. Add the onions, tomatoes and garlic to a pan over medium high heat and cook for 2-3 minutes.
2. Add the bell pepper and celery and cook for about 5-7 minutes just until the  celery is just tender.
3. Add the beans, a little bean liquid and the seasonings and let cook 2-3 minutes.
4. Meanwhile, gently steam the kale and minced garlic in a little boiling water for 2-3 minutes just until cooked and set aside.
5. Add the cooked brown rice to the beans and veggies. Stir gently and heat for a minute. Taste test and adjust seasonings if desired.
6. Drain the kale and season with lime juice, salt and pepper.
7. Quickly heat the tortillas in a microwave (30 seconds) or in a flat pan just until warm and pliable.
8. Serve and Enjoy!
Have you ever made rice and beans? What are your favorite seasonings to add?