This plant-based peanut soba noodle dish is a recipe I decided on making after rummaging through my dried goods and freezer. I had bought a package of soba noodles so long ago I don't remember when and I thought, you know I haven't made any vegan Asian noodle dishes since my Vietnamese Vermicelli Noodle Salad (which is omg delicious btw). So I started looking online for something with noodles and butternut squash and I found this recipe online by  Bryanna Clark Grogan of Vegan Feast Kitchen which is not really what I made, but it gave me the idea of putting butternut squash with kale, noodles and peanut sauce. Yum! 🙂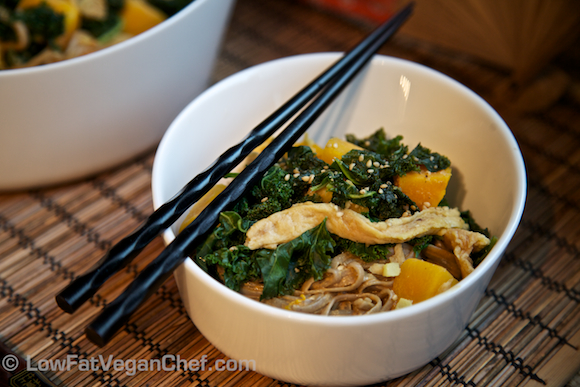 I decided to make this recipe lower in fat and steamed the butternut squash and kale (instead of roasting in oil) and I used a lower amount of peanut butter for my sauce. I also added some Soy Curls to it which actually make it taste a little like chicken noodle salad. Soy Curls are made from non-GMO soy and are really easy to make. Just soak in water to rehydrate and sauté in a pan with seasonings. It's totally optional for this recipe, you can choose to use some tofu or tempeh instead if you like.
Feel free to use any kind of noodle you like, green or starch. This soba noodle recipe is very versatile and I'm sure you can come up with lots of variations to make use of what you have on hand. Scroll down for the recipe!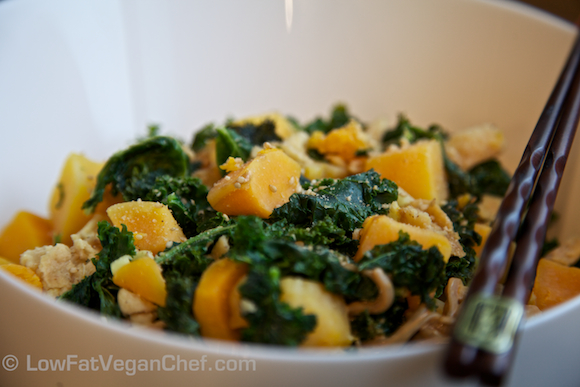 Vegan Soy Curl, Squash and Kale Soba Noodles in Peanut Sauce
Serves 4
 Ingredients:
1 cup Soy Curls/1 package smoked tofu/1 package tempeh
1 9.7 oz/ 275 g package buckwheat soba noodles (I used Organic Sweet Potato & Buckwheat Noodles) or other egg free noodles
1 bunch of kale, de stemmed and cut into bite sized pieces
12 oz/340g package cubed butternut squash or 1 lb peeled and cubed (or 1 large sweet potato/yam peeled and diced)
2 cloves of garlic, minced
Salt and pepper to taste
Sesame seeds to garnish *optional
Plant-Based Peanut Sauce:
1/2 cup peanut butter or almond butter
1/2 cup water
2 1/2 tbsp maple syrup or other liquid sweetener
1-2 tbsp low sodium soy sauce or gluten free tamari *or to taste
2 tbsp rice vinegar
1 tbsp minced ginger
2 cloves of garlic
1 tsp Sriracha or other hot chili sauce *or to taste
Directions:
1. Soak Soy Curls in warm water with a little salt and garlic powder or no salt seasoning if desired.
2. Blend sauce ingredients together
3. Bring a large pot of water to a boil.
4. Next water sauté or use low sodium vegetable broth to cook kale, squash and Soy Curls (or tofu or tempeh) in a large skillet or wok. Season with a little bit of salt and pepper as desired.
5. Meanwhile, cook noodles in pot of water according to directions on package and drain in a colander and set aside.
6. In a large bowl or pot toss the noodles with the blended sauce and plate. Garnish with sautéed kale, squash and Soy Curls. Sprinkle with sesame seeds or Gomaiso if desired.
7. Serve.
I hope you try this delicious recipe! What's your favorite asian noodle dish? Do you make anything at home?