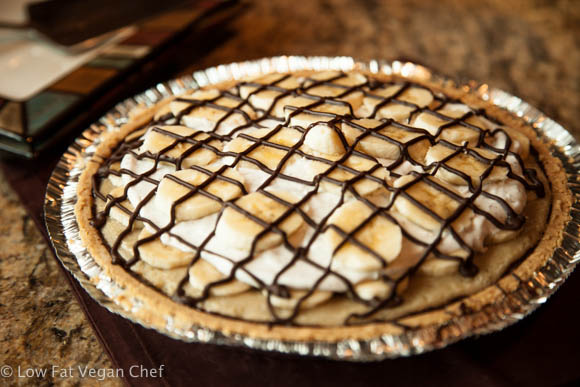 Ok so you may or may not know but I try not to make desserts very often! You see I don't like to tempt myself by keeping things like this in the house as I used to be addicted to candy and baked goods as a kid. But occasionally I make desserts for special occasions or for guests and I came up with a healthier version of one of my favorites. Chocolate banana cream pie.
You see plain old banana cream pie doesn't do it for me… no, no I like to coat the crust in a little melted dark chocolate and drizzle some on top for good measure. But this is a special treat! I don't eat chocolate every day and certainly not desserts.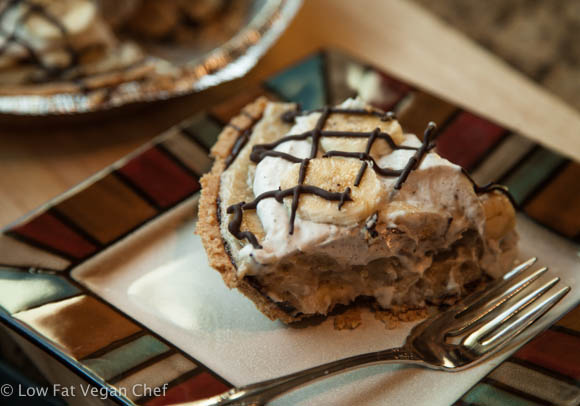 Here's what the final product looks all sliced up and pretty!
I also made a coconut milk whipped creme to top it off with as well, but this is optional. If you are looking for a lower fat dessert you can certainly skip the coconut milk whipped cream. I have never made coconut whipped creme before so I wanted to try my hand at it. Turns out it helps to actually own egg beaters! (which I don't… hah) So mine ended up being a little flat and not really whipped… but it still tasted great nonetheless. So I recommend using egg beaters (the kitchen tool not the product!) to make whipped cream.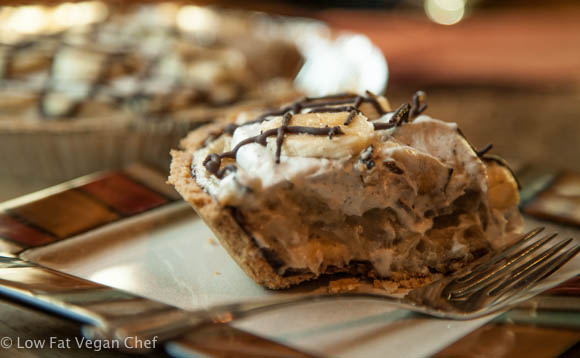 Ok so now I'm going to show you how you can make a basic banana cream pie with fresh ripe bananas, almond milk and vanilla pudding. Then I'll give you the option of using dark chocolate and/or coconut whipped cream. That means you can totally choose how to build your banana cream pie to your tastes and dietary needs. So if you are on a strict diet don't throttle me please! This is a special occasions recipe and sometimes you want to blow your guests away with a totally vegan and plant based treat.
Compared to the original non vegan recipe this is definitely "reduced in guilt". 🙂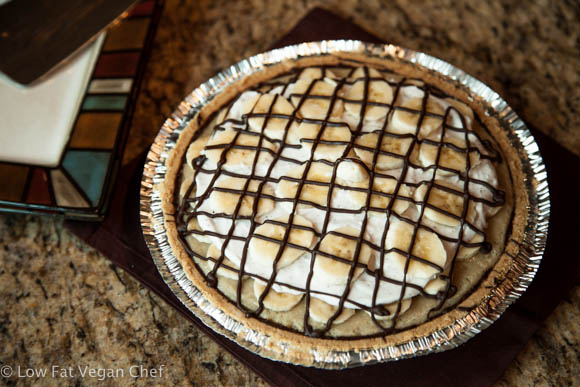 There's a new print function installed on the blog, click the print icon at the top of the post and you can edit the text to print and remove the photos if you like as well.
Vegan Chocolate Banana Cream Pie
Serves 8-10 (depending how big the slices are)
Pie Ingredients:
1 graham cracker pie crust (look to see if it contains honey- if concerned, many don't)
3 oz. semi sweet baking chocolate (dairy free)
3 bananas, ripe
2 cups almond milk or other non dairy milk
1 package vanilla pudding mix (not instant the stovetop kind)
Coconut Whipped Cream Ingredients *optional
1 can coconut milk (regular, not light)
2-3 teaspoons maple syrup or confectioners sugar
1/2 tsp vanilla extract or vanilla powder
Chocolate Drizzle Ingredients *optional
1 oz semi sweet baking chocolate (dairy free)
Pie Assembly Directions:
1. Remove graham cracker crust lid. Melt chocolate in a microwave safe bowl for 1 1/2 to 2 minutes.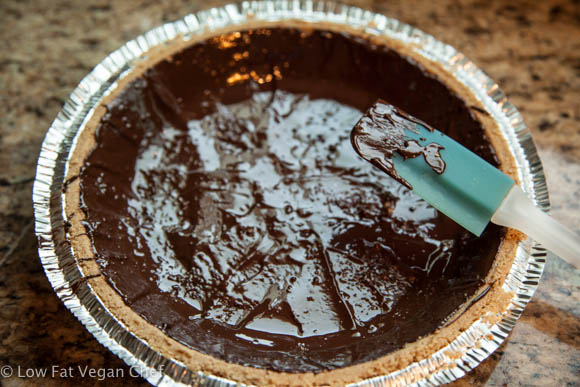 2. With a spatula carefully spread chocolate mixture over crust, gently dragging it up the sides. Set crust in refrigerator to harden.
3. When chocolate is firm, slice one of the bananas and place half of it on the bottom of the crust. Reserve the other half banana.
4. Blend 2 remaining bananas with 2 cups almond milk in a blender. Add to a saucepan with vanilla pudding mix and cook as directed on package. This makes the vanilla pudding turn into banana pudding with no artificial flavors. (Bring to a boil over medium to medium high heat, stirring constantly until mixture boils.)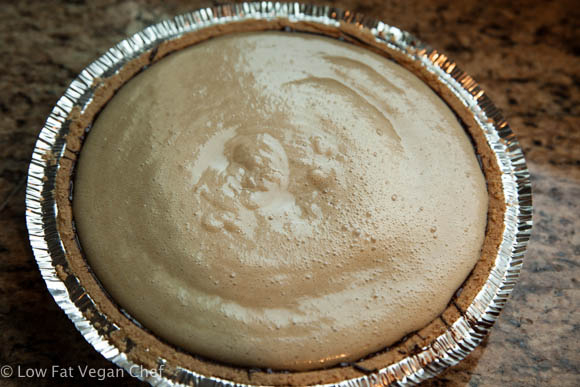 5. When thickened pour into pie crust and cool until chilled and set.
6. Garnish top of pie with remaining banana slices. Cover and refrigerate for 2-3 hours until set.
7. If desired top with coconut whipped creme and chocolate drizzle, or serve as is for a lower fat version. Instructions below.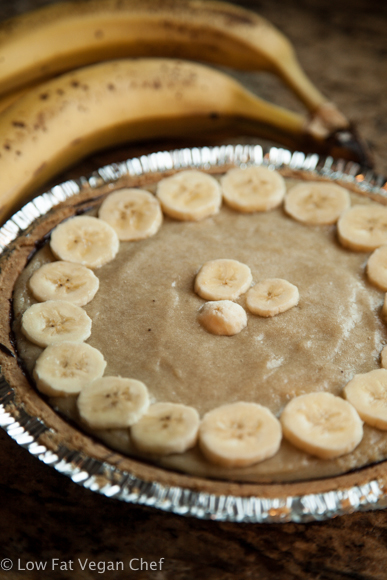 Coconut Whipped Cream Directions:
1. Place the can of coconut milk in refrigerator for 6-8 hours, or in freezer for 3-4 hours until really really cold.
2. Place metal bowl and egg beaters or immersion blender stick in freezer for a few minutes.
3. Remove the can of coconut milk from the freezer and turn upside down. Open the can and pour off coconut water. (reserve for another recipe such as a smoothie!)
4. Remove the bowl from the freezer and scoop out the coconut cream with a spatula and add it to the chilled bowl.
5. Whip cream until light and fluffy. Add maple syrup or vanilla extract if desired. Whip again until combined.
6. Garnish or serve.
Chocolate Drizzle Directions
1. In a microwave safe bowl melt chocolate (1-1/2 minutes on high).
2. Drizzle over pie or dessert and serve.
 Have you ever had chocolate banana cream pie before? Have you ever made a vegan pie at home?