I've been doing some list making over the past few weeks as you might have noticed because a lot of you are finding it really helpful to have a bigger picture overview for tools, gadgets and easy recipes. I like being helpful so this is fun for me sharing my top 10 favorite fast vegan recipes with you as well! 🙂
I don't cook fancy all the time, in fact most of the time I'm just like everyone else and want to get a healthy meal on the table quickly. So I've compiled a little list of the top recipes I fall back on when I don't know what else to make, or am running low on new or "exotic" ingredients. I usually have all the staples necessary for these recipes on hand and it makes it easy for me to make again and again.
Sometimes I don't follow the amounts of vegetables or seasonings exactly each time and season to taste as it's easier than measuring everything out. So I wanted to share with you what I make when I can't think or don't have time to think of coming up with something new.
Most of these are dinner recipes but there's a few you can use for breakfast or lunch as well.
Let me know if I picked any of your favorites!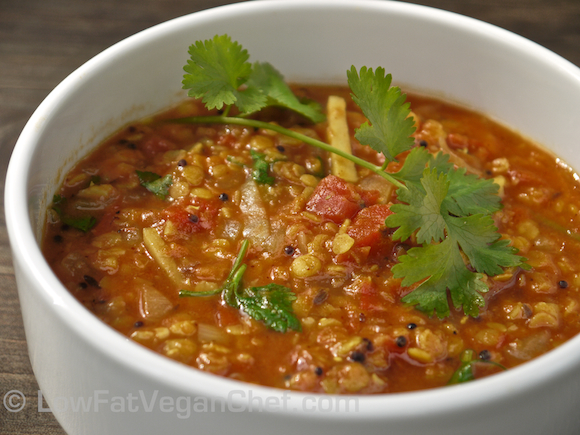 I really love this curry because it's so fresh and flavorful and doesn't require any fresh vegetables. So I make this when I'm down to things like onions, ginger and garlic and if I'm lucky I have some left over cilantro in the fridge. This dal is super simple and you basically only need red split lentils, canned or fresh tomatoes and water or vegetable broth and Indian spices. I serve it with Basmati or brown rice. It's truly a delicious fat free meal.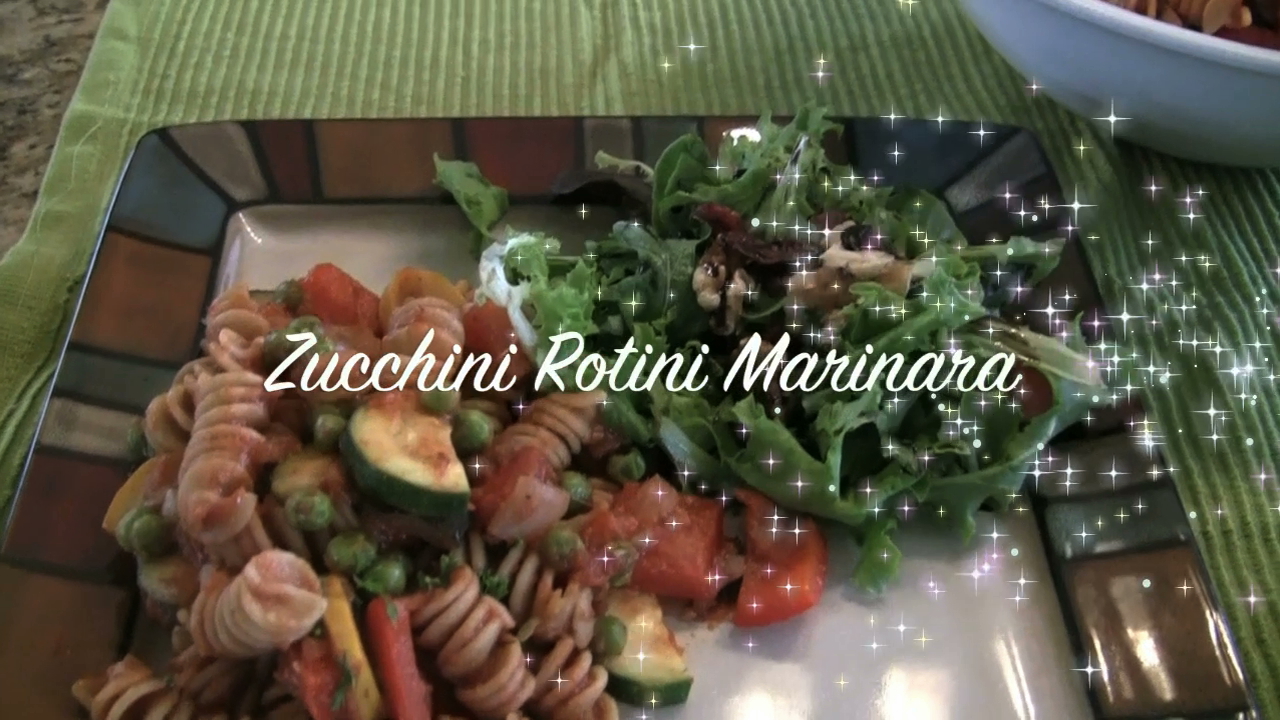 2. Rotini Marinara with Vegetables
Once upon a time I bought this giant box of whole wheat rotini from Costco and I STILL am eating from the same package. Buying 1 box of pasta at Costco pretty much negates needing to buy any more or any other kind of pasta for a long time lol, so every week or two I make rotini marinara or pasta primavera with fresh or frozen vegetables. It's really nice to mix it up and use whatever I have left and it never gets old, it's still one of my favorite quick recipes.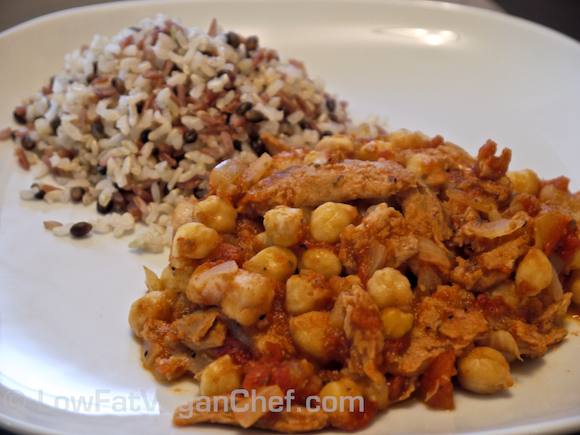 3. Soy Curls with Chickpeas in Tomato Sauce
Canned tomatoes or tomato sauce is well utilized in my kitchen as it's an easy way to create a delicious fat free sauce and it can be seasoned with Mediterranean, Indian or Mexican spices really easily. I always have some chickpeas on hand and dried Soy Curls (which I pick up every time I go to Portland). You can use tempeh or tofu or skip it all together, but I like the texture of soy curls as it is a little meaty and goes really well with chickpeas in this recipe. Soy curls are also nice because they are compact and can be rehydrated so one package actually lasts for quite a few meals. If you like Chana Masala or Chicken Cacciatore you'll like this.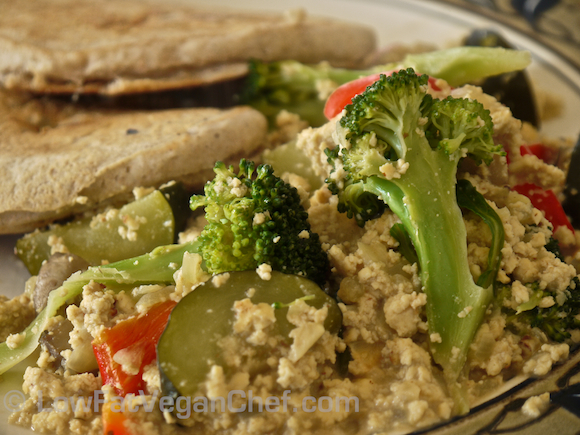 I don't really make or eat breakfast, but on weekends sometimes I make brunch. Whenever someone wants a hot breakfast or brunch I make this and it's great for using up leftover veggies in the fridge, as I usually have half a bell pepper, or zucchini or some broccoli or mushrooms. You can also use whatever leftover veggies and greens you have in your fridge and throw this together. To make this faster I like to use pressed tofu (you can find it organic) as it's already firm and doesn't have much moisture in it so it's great at absorbing flavours.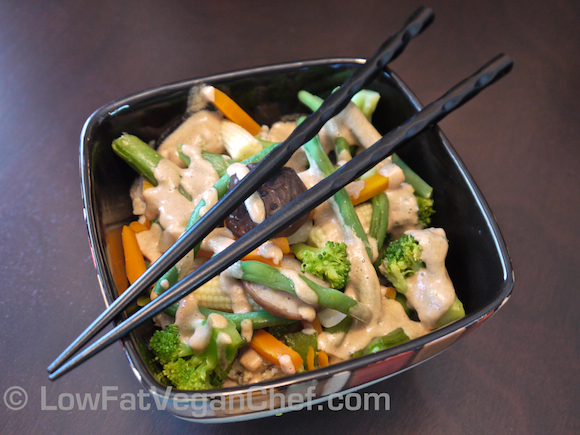 5. Vegetable Stir Fry with Tofu and Tahini Sauce (sometimes I add pressed or smoked tofu as well)
Stir fry is probably the easiest thing to make especially if you have some frozen vegetables and dried rice. I like to change it up and make a little tahini sauce from scratch to top it with instead of using bottled sauces. I don't use any Asian bottled sauces as most of them contain MSG and have a lot of sugar and sodium in them. This way I can control the flavor of the sauce and make it to my tastes with things like fresh garlic, ginger, soy sauce and spices. You can also change it up by using different fresh or frozen veggies and different nut butters.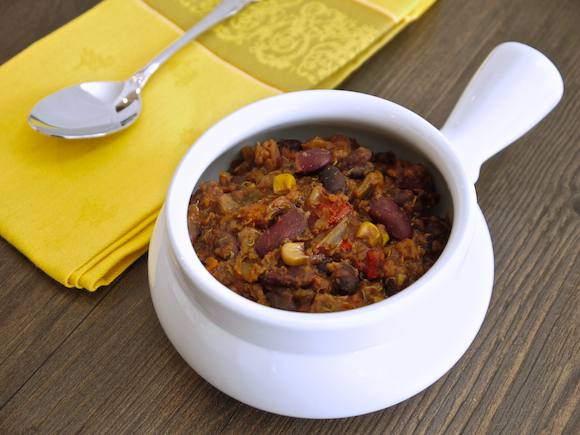 This is my most used slow cooker recipe. Whenever I have to feed a lot of people for a potluck or a family gathering I make this. My chili is super hearty with fresh cooked quinoa, black beans, kidney beans, corn, bell peppers, carrots, celery and tomatoes. I've fed it to many non vegetarians and they honestly don't miss the meat. The quinoa is a great ground beef substitute because of it's small and spongey size and it's a great alternative to fake meat or soy protein for those who can't have soy. Did I mention it's also gluten free? Yeah so I make this recipe because it suits almost everyone's dietary needs.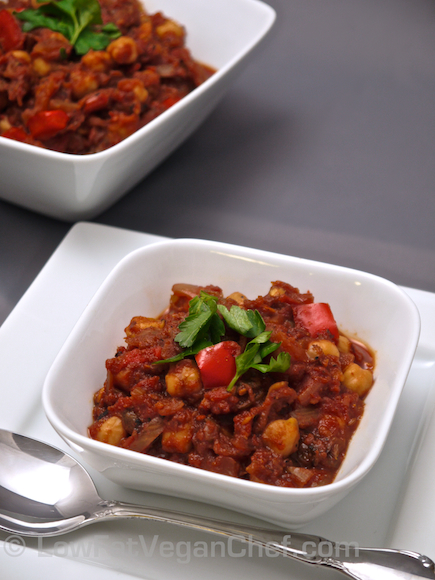 7. Chana Masala from Vegan Comfort Foods From Around The World or Eggplant Chickpea Curry
Another one of my favorite curries is a chickpea curry in tomato sauce. It's also extremely easy to make if you don't have any vegetables left and are down to canned chickpeas or canned tomatoes. Or you can use fresh cooked chickpeas by using my favorite new tool the EZ Bean Cooker and keep this recipe truly fast and affordable. Don't be intimidated by curries, this one is extremely easy to make and you're going to be thrilled with how tasty and filling it is.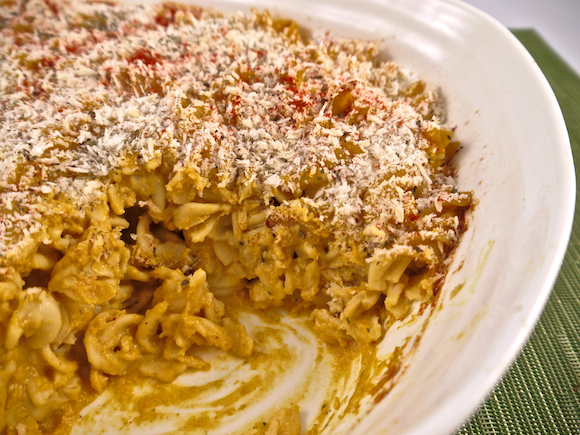 8. Baked Butternut Squash Mac and Cheezy
This mac & cheese is my favorite recipe as you'd never guess that there is butternut squash in it and it is very satisfying being baked with panko breadcrumbs.The secret is using miso paste, nutritional yeast and smoked paprika for a delicious vegan cheese sauce. It's one of my most complimented recipes by family and readers alike, so I hope you try it!
9. Smoothies!
I make smoothies for breakfast, or lunch whenever I don't have time to make anything else, or I have ripe fruit to use up. Check out my smoothie selection on the blog and get some ideas for easy and tasty fat free smoothies you can enjoy for a quick meal.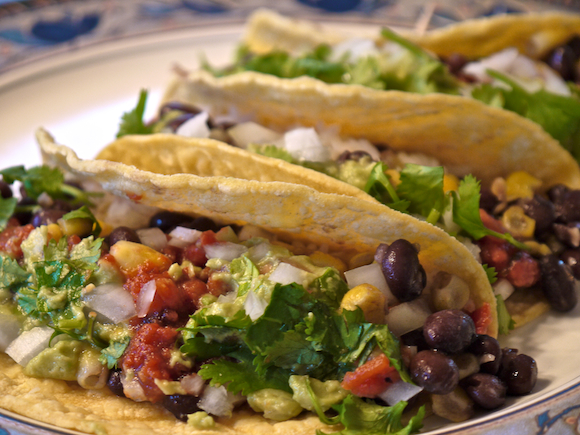 Someone once joked to me that I must only eat tofu tacos as a vegan, and I kind of laughed because I actually have never had tofu tacos. I always make black bean and corn tacos because they feel naturally Mexican, simple and fresh. I serve these tacos often when I don't have a lot of time and have a lot of people to feed. Then I make up some fresh guacamole and pico de gallo and everyone has a blast loading up their tacos with their favorite toppings. Long gone are the days of boring Old El Paso recipes from a box (like we do in Canada and parts of the USA). Have some real Mexican food the healthy way. Who doesn't love tacos right?
I hope I've given you some inspiration for fast recipes you haven't thought of before. Which recipe are you most looking forward to trying?