20 Minutes To The Table: Mexican Black Bean Corn Tacos & Costa Rican Cabbage Salad
Hi everyone! I had an idea the other day of putting together quick delicious meals for those of you short on time. This recipe is a great midweek recipe, if you can open a can and use a knife you can make this recipe very easily! I'll start off by showing you how to make the raw Costa Rican Cabbage Salad recipe, and then the Mexican Black Bean Corn Tacos (this is a variation on my recipe in Vegan Comfort Foods From Around The World.)
If you'd like order one of my cooking aprons or my cookbook my store is here: http://lowfatveganchef.storenvy.com
I'd like to point out that I used canned ingredients in my first video to show how anyone, no matter where you are, can make this recipe. You can also use home cooked beans and fresh corn (or frozen) if desired and using organic foods is your choice as well. This new series is going to show easy plant based recipes that absolutely everyone can make with ease, when pressed for time. That's why I list the short cuts. Most of the time I cook from scratch, but I know this is not feasible for everyone, especially on a week night after work. Please of course feel free to use fresh cooked beans, organic fresh corn and your own homemade corn tortillas if you are a scratch cooker, but of course this will add to the prep time and take much longer than 20 minutes. Enjoy 🙂
Recipes follow below.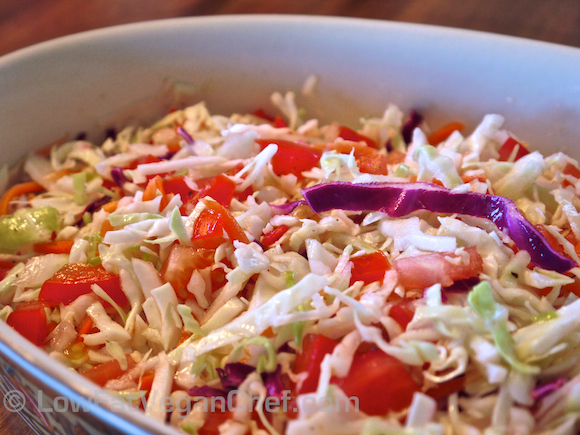 Raw Vegan Costa Rican Cabbage Salad
Serves 4
Ingredients:
1/2 green cabbage shredded (or 5 cups bagged slaw mix)
1 medium (ripe) tomato, diced
1/2 white onion, chopped
1 glove garlic, pressed or minced
1 handful fresh cilantro/coriander roughly chopped (or to taste)
1 – 1 1/2 large limes juiced (use your discretion to balance with salt)
1/4-1/2 tsp Herbamare or salt (use your discretion to balance with the lime)
1/4 tsp fresh ground pepper (or to taste)
Directions:
1. Toss ingredients into a large salad bowl (mine was a little small but I used it as it was clear to show you) and massage well for a minute or two, scrunching the cabbage to help soften it.
2. Adjust lime, salt and pepper to your tastes. If it's perfectly seasoned it should taste neither of just salt or lime, but a nice mix between the two.
3. Place in refrigerate to marinate until needed.
To spice things up: Add a sliced fresh jalapeno or chili pepper.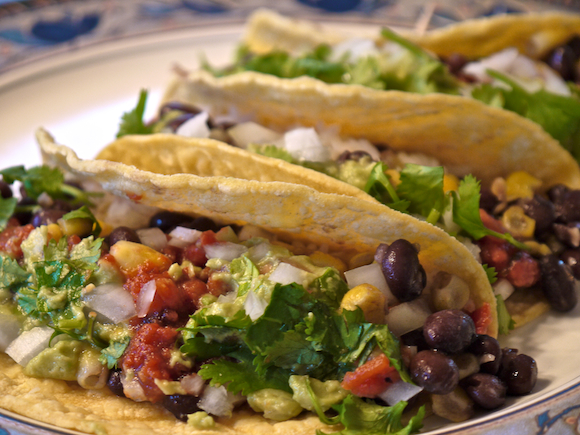 Based on my recipe in Vegan Comfort Foods From Around The World
Vegan Mexican Black Bean & Corn Tacos
Serves 2-4 (depending how ravenous you are!)
Ingredients:
19 oz. can no sodium black beans or pinto beans (or 2 1/3 cups cooked fresh)
12 oz. can no sodium/no sugar corn or 1.5 cups frozen or fresh cut
4 cloves of garlic, pressed or minced
3/4 tbsp maple syrup, maple sugar or honey – I don't use agave (*optional to add flavor to the unsalted beans)
1.5 tsp roasted cumin (or regular, but roasted is much more flavorful)
1/4-1/2 tsp Herbamare or salt (or to taste)
Pinch of fresh ground pepper
1/4-1/2 lime juiced (or to taste)
8-12 corn tortillas (depends how full you load your tacos)
Salsa of choice (I always look for the lowest sodium on the shelves, you'd be surprised how much sodium is in salsa)
Directions:
1. Heat a pot over medium heat. Drain the corn (if applicable), add some black bean juice to the pot and the garlic and cook for 3-4 minutes.
2. Add the black beans, corn and seasonings (leave the lime juice until the end) and heat for 5-7 minutes to let the flavors meld together.
3. Meanwhile heat your corn tortillas over medium heat in a crepe pan, griddle or frying pan just until warm and place in a tortilla warmer, tinfoil or tea towel to insulate. Alternatively you can heat them over a gas flame until slightly charred or microwave just at the end all together for 30 seconds. (Any longer and it won't be good…)
4. Add the lime juice to the beans and corn and taste test. Adjust seasonings to taste.
5. Assemble tacos, starting with a layer of black beans and corn, some salsa and then top with your marinated Costa Rican Cabbage Salad. Sometimes I like to add some fresh guacamole for variety as well.
6. Enjoy!
Make it spicy: add some chipotle chili powder, cayenne or a sliced jalapeno to the black bean and corns. Use your discretion.
Corn tortillas are fairly common in the USA and easy to find at most grocery stores and health food stores. I use corn tortillas because they usually have only 3-4 ingredients (but read the label to make sure there is no oil or lard) and are lower calorie than wheat tortillas. Wheat tortillas are more for burritos. If you're in Canada check your health food store or google mexican/latin groceries in your area. I found several in my city of Calgary that had homemade corn tortillas. I will post a video later on show you how to make your own corn tortillas with masa (corn flour).
This makes a fairly light meal, if you're family or dinner guests are ravenous I would recommend serving some fresh seasoned rice on the side to round it out, or double wrapping your tacos (use 2 tortillas) and load them up with beans and corn. 🙂
I hope you enjoyed my first episode of 20 minutes To The Table. I filmed this in my kitchen with a camera, a tripod and a lot of books lol.  Let me know what you think by posting below!