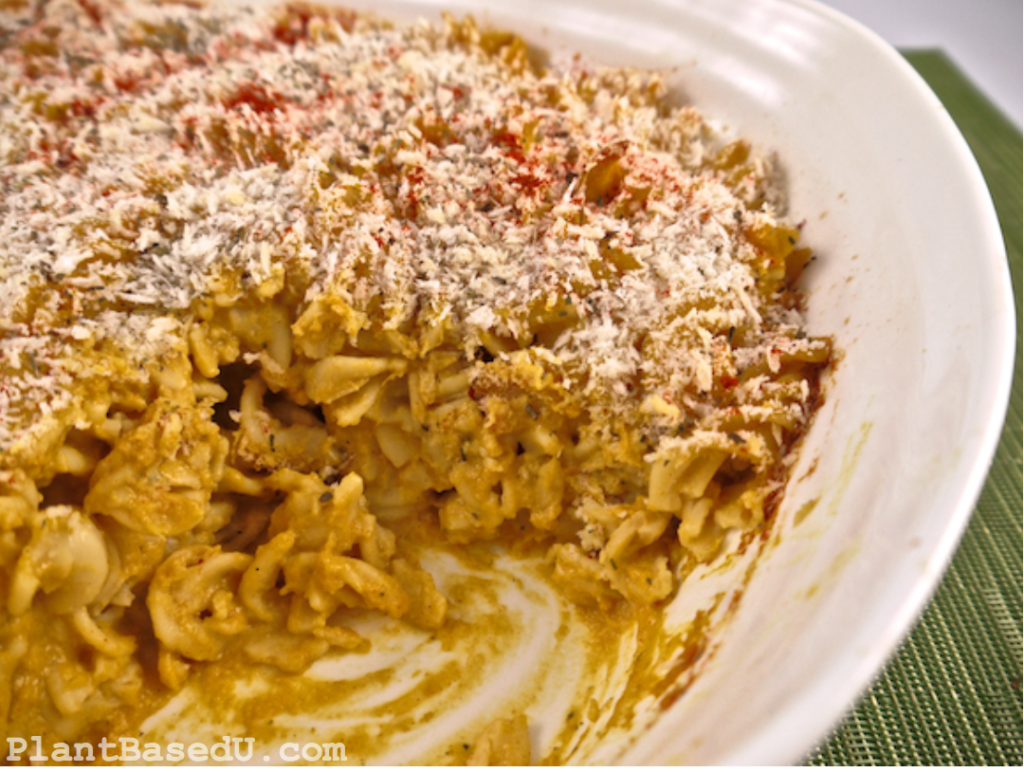 Vegan Baked Butternut Squash Mac and Cheese is one of my faaaaavorite recipes in my new ebook. I make it quite often for my friends and family and it's super pretty to serve with the panko topping and red and green spices on top.
This is one of my favorite recipes I created for my cookbook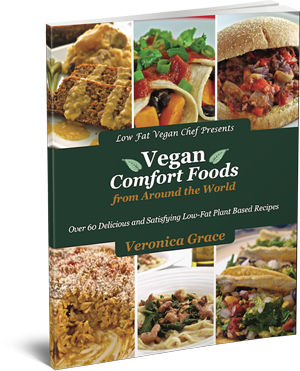 And the winner of my new ebook Vegan Comfort Foods From Around the World is…..
Missy!
Congratulations Missy! You will receive a copy of my new recipe ebook Comfort Foods From Around The World.
Now on to my delicious recipe of the week… This one was mentioned numerous times by you guys as one you just HAD to have. So I'm giving you a sneak peek this week before my ebook goes on sale next week.
A delicious vegan mac and cheese recipe can be quite elusive to find. I had actually never eaten vegan mac and cheese until I started playing around with recipes and made one myself. But later whenever I saw vegan mac and cheese while traveling around Canada and the USA I tried some because I was curious what other people had come up with. Generally speaking it's not that special. Most vegetarian restaurants serve macaroni tossed in oil and a bit of seasoning and then top it with fake (vegan) cheese and then bake it and you end up with a slightly greasy, fairly salty overcooked macaroni that leaves much to be desired. I have yet to be impressed.
I think what makes a great mac and cheese regardless if it's vegan or not is having some actual cheese sauce in it. All of these vegetarian restaurants skipped this essential part! (I am still baffled as to why they would do this, when classic recipes always have a cheese sauce.)
My vegan mac and cheese recipe actually doesn't contain any oil or fake vegan cheese at all. I wanted the "cheese" sauce to be amazing and give all the flavour to this classic casserole dish without the need for high fat vegan cheese. I've even served this to my mom's friends and they had NO IDEA that it was vegan or that it didn't contain cheese. Needless to say whenever I am cooking for people who are skeptical of vegan food this is one of my top 3 go to dishes. (My others are Quinoa Veggie Chilli and Greek Stuffed Peppers which are also in my Comfort Foods From Around The World recipe ebook).
What I love about using squash in the cheese sauce is that it's a natural thickener because of the high starch content, that way you can easily create a thick creamy sauce without any extra oil or fat and it holds it together nicely.
The 2 essential ingredients for flavoring this recipe would be miso paste and smoked paprika. Miso paste is what gives this sauce a really cheesy flavor, because it's fermented and tangy. (Nutritional yeast also helps, but you need the miso paste for it to taste like cheese.) My favorite is Genmai brown rice miso paste, you can find it at the health food store in the refrigerated section near the tofu and fake meat products. I have tried using different miso pastes like white (shiro) and yellow miso but they are much milder and I found I had to add a lot more to my recipes. So keep this in mind if you use a different kind of miso paste and use as much as you feel you need when taste testing your sauce. The other ingredient is smoked paprika, I think this is a vast improvement over regular paprika (which I never liked as a child) and I like to include it in any recipes that I'd like a nice mild smokey flavor to. Plus it's absolutely gorgeous for sprinkling on top of recipes as you can see as well. So do try and find smoked paprika, once you do you'll want to put it on everything! (and of course check Amazon if you can't find it locally.)
I know this is recipe is one you're going to want to make for your family again and again because it's delicious, yet light. It has all the decadence of mac and cheese without the guilt or the excess calories and you easily serve it with a side salad or steamed vegetable like broccoli to make an even more balanced meal.
This is by far the BEST vegan mac and cheese I've ever had (and I've tried a lot). It's so good that all your vegan and omnivore friends will be begging you to make it again and again. And best of all it is very low in fat and much healthier than the original classic.
Vegan Baked Butternut Squash Mac & Cheese
from Comfort Foods From Around The World
Serves 6
Ingredients:
½ medium butternut squash (or 1 2/3 cups cooked and mashed)
16 oz/454 g package elbow macaroni or spirals (for GF use Tinkyada brown rice pasta for best results)
1/4-1/2 tsp. salt (*optional for pasta)
1/2-3/4 cup vegetable broth (for cooking)
1 large onion, diced
4 cloves garlic, minced
3 tsp. brown rice miso (use more if using shiro/white/yellow miso)
3 cups almond milk (unsweetened original)
2 tbsp. flour or cornstarch
3/4-cup nutritional yeast flakes
1/4-1/2 tsp. black pepper
1/2-1 tsp. smoked paprika
1/2-3/4 tsp. salt (*optional for sauce)
Topping:
2/3 cup panko breadcrumbs (or GF)
1/2 tsp. dried basil
1/4 tsp. dried oregano
1/4 tsp. smoked paprika
Directions:
1. Peel and cube the butternut squash and bring to a boil and steam just until soft. Alternatively you can cook in a pressure cooker at high pressure for 5-7 minutes. Drain well. (Tip, if your squash is hard to peel or cut, pop it in the microwave for 3-4 minutes to soften the skin to make it easier to slice.) Measure out 1 2/3 cup of mashed squash and set aside.
2. In a large pot, bring water to a rolling boil and then add salt if desired. Add pasta and cook just before tender. Generally it's about 5 minutes. Drain well in a colander and rinse in cold water. (Do not overcook the pasta.)
3. Preheat oven to 350 F/ 177 C.
4. In a large saucepan heat vegetable broth over medium heat and add the onions. Cook for 5-6 minutes until tender adding broth when needed to prevent burning.
5. Add cooked onions and any remaining broth from pan into Vitamix or food processor, add mashed squash and miso and blend until combined. Set aside
6. In the same large saucepan add 1 cup of the almond milk and sprinkle 1 tbsp. of the flour or cornstarch when hot and whisk in. Add the remaining 2 cups of milk and sprinkle in another tbsp. of flour. Whisk this together fast. It's ok if there are a few small bits of flour still.
7. Cook the sauce for a minute or two until hot and quickly add the squash mixture and whisk in. Heat through another minute or two and then add the nutritional yeast and whisk in. Turn off heat and add remaining seasonings starting with the lower amounts. Taste test and add additional seasonings to your liking.
8. Add drained pasta to sauce pot and stir to coat. Spread out in a casserole dish. (If you want to add some vegan cheese like Daiya cheese you would layer some in now and mix it in, but I don't feel the need to add it personally.) Sprinkle breadcrumbs evenly over top. Sprinkle basil, oregano and paprika to cover.
9. Bake for 20-30 minutes just until pasta is tender. (20 minutes if you slightly overcooked your pasta, 30 minutes if you didn't)
10. Serve with steamed broccoli or a green salad.
Additional Tips:
To save time you can use frozen cubed butternut squash and then cook it and mash it, or use canned butternut squash. Both are sold at health food stores in North America.
Smoked paprika (also called Spanish Paprika) is much more flavourful than traditional paprika, it lends a nice smokey flavor to this cheesy sauce. McCormick makes one, or you can get it at some ethnic or Indian markets.
To reheat you will want to either microwave it and then toast it in the oven or toaster oven to crisp up the breadcrumbs again, or just reheat in the oven until warm.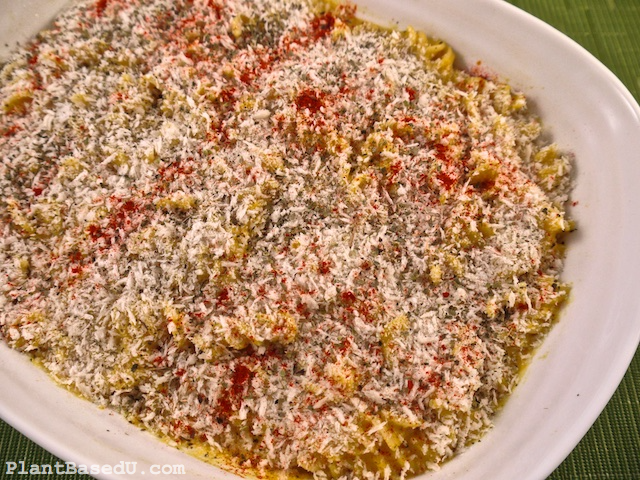 What do you think of this recipe? Have you ever tried vegan mac and cheese before?
This is just 1 of 60 other delicious recipes in my new recipe ebook Comfort Foods From Around The World. It's going to be released shortly, so make sure you are subscribed to my mailing list to keep up to date on it's release!