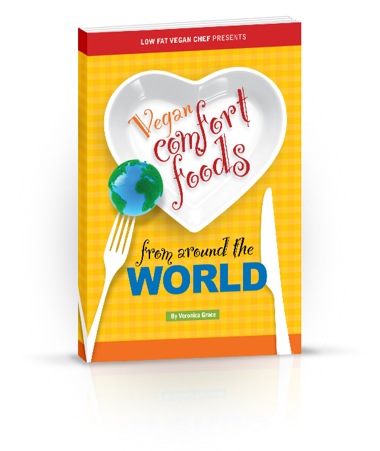 My new recipe eBook Vegan Comfort Foods From Around The World is now available!
I originally wanted to release this in the spring, but I decided to double the amount of recipes included in it and take more delicious photographs! It's got over 60 recipes in it. All are 100% oil free, low in fat and based on whole foods like potatoes, yams/sweet potatoes/ rice, beans and lentils. There's absolutely NO fake meat and no fake cheese in these recipes either!
I also teach you how to cook brown rice, Indian rice, quinoa and pasta so you can have delicious side dishes.
Oh and did I mention there are 5 different gravy recipes too? As well as cheezy sauce, hummus, baba ghanoush, roasted red pepper hummus, tangy ranch dip and queso sauce, so you'll never again wonder what to put on your vegetables!
Some of my favorite recipes include:
and more!
So check it out: