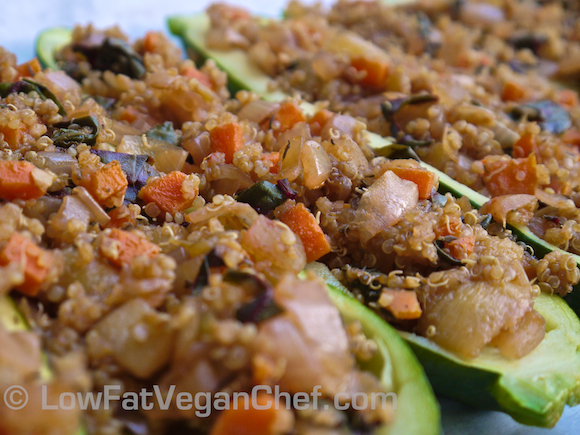 These vegan quinoa stuffed zucchini boats would make a delicious entree for a special dinner or any holiday occasion. I really think it's important to have a nice entree when serving a holiday meal without meat so those who are not used to eating vegan feel more comfortable eating something more eye catching and filling than a plate full of vegetable sides.
Honestly I think that's the major problem with people's perception of a vegan diet. When you take away the meat, they assume they are supposed to just eat salad, a side of steamed vegetables and maybe some rice or a potato and this can get rather mundane day after day. I find that most traditional restaurants have no clue how to make a vegan plate and often just take take take without giving anything back. No meat, no cheese, no creamy sauce/dressing and you're left with a tiny plate of vegetables with little calories (so you're starving 30 minutes later).
Don't let this happen to your family or dinner guests! If you want to serve them a delicious vegan dinner, why not have a beautiful entree like a stuffed vegetable? I have made Greek Stuffed Eggplant on the blog here, Greek Stuffed Peppers and Holiday Stuffed Acorn Squash in my new ebook here. All of them contain rice, so let's switch it up and try quinoa instead of rice for a change?
Now quinoa can be quite bland on it's own so it's nice to serve with saucy vegetables, or season it while it cooks (which is what I did in this recipe.) Then I sautéed it with cooked vegetables to let the flavors meld and then tossed in some chopped pecans and cranberries for good measure to add some more flavor and texture to it.
Most recipes I've seen on the internet for zucchini boats are based on ground beef and then topped with cheese and let's face it, zucchini doesn't have to be completely hidden by overpowering flavors for people to enjoy it! Zucchini lovers unite! Show everyone how delicious it can be on it's own without being covered in meat and cheese. 🙂
Check out my recipe below: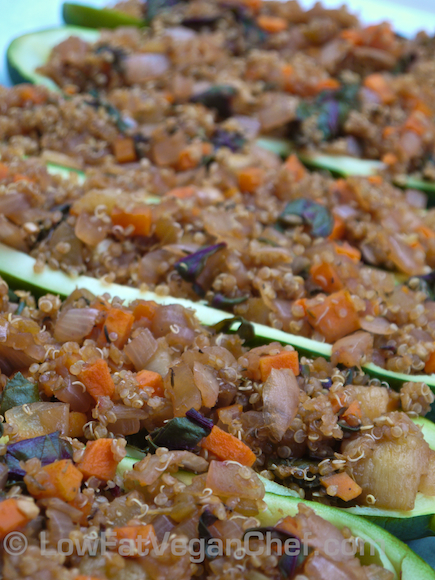 (Vegan) Quinoa Stuffed Zucchini Boats
Serves 8 
Ingredients:
Quinoa:
1/2 cup quinoa
1/2 cup vegetable broth low sodium or homemade
1 tbsp balsamic vinegar
1/2 tbsp fresh or 1/2 tsp dried thyme
1/4 tsp salt
Fresh ground pepper (as desired)
Zucchini Boats:
4 medium zucchini, washed
1 medium sweet onion, diced
4 cloves of garlic, minced
1 medium carrot, diced
1 stalk of celery, diced
1 handful of greens like spinach, chard, beet greens etc. chopped
1/2-1 cup vegetable broth low sodium or homemade (to cook with)
2 1/2 tbsp balsamic vinegar
1/2 tbsp fresh thyme or 1/2 tsp dried thyme
1/4 cup pecans, chopped
2 tbsp cranberries (apple juice sweetened)
1/4 tsp Herbamare or salt (or as desired)
Fresh ground pepper
Directions:
1. Soak the quinoa in a bowl of cool water for 15 minutes.
2. Fill a large 6 quart/litre pot with water and bring to a boil.
3. While waiting for pot to boil, drain quinoa, add vegetable broth 1 tbsp balsamic vinegar, thyme and salt and pepper to a small pot. Bring to a boil and then cover and reduce heat and cook for 25 minutes. Remove from heat, fluff and set aside.
4. Preheat oven to 375 F / 191 C and add zucchinis whole to the large pot of water and boil for 15 minutes until tender. Set aside on racks to cool.
5. Slice zucchinis in half and scoop out the middle seeds, leaving enough flesh to hold the zucchini together. Chop the flesh and set aside. (You can use or discard the seeds if you wish. I discard most of them in favor of the other diced vegetables I'm using)
6. Meanwhile in a large skillet or wok add 1/2 cup vegetable broth and heat over medium high heat. When hot, add onions carrots and thyme. Sauté for 2 or 3 minutes and then add celery, some of the zucchini pulp, balsamic vinegar and garlic. Continue cooking until tender. Add more broth if needed to prevent sticking. Toss in pecans, cranberries, and quinoa and season with salt and pepper as desired.
7. If desired sprinkle some balsamic vinegar and/or salt lightly on the inside of the zucchini boats. Stuff the zucchini with filling mixture. Bake for 20-25 minutes until tender.
8. Serve warm.
Please note: you will not have room for all the other vegetables and quinoa if you use all of the zucchini pulp and seeds. So i just use the pulp and chop it and discard the heavily seeded parts.
I served these with traditional Thanksgiving sides like Garlic Mashed Potatoes and stuffing. For more Thanksgiving and other delicious entree recipes check out my new recipe ebook Vegan Comfort Foods From Around The World. (Some favorite holiday recipes include Holiday Stuffed Acorn Squash, Garlic Mashed Potatoes With Mushrooms and Onions, Cranberry Pecan Holiday Stuffing, Holiday Yam Pecan Casserole, The Best Cabbage Rolls and more.)
Have you ever had stuffed zucchini before or any other stuffed vegetable?