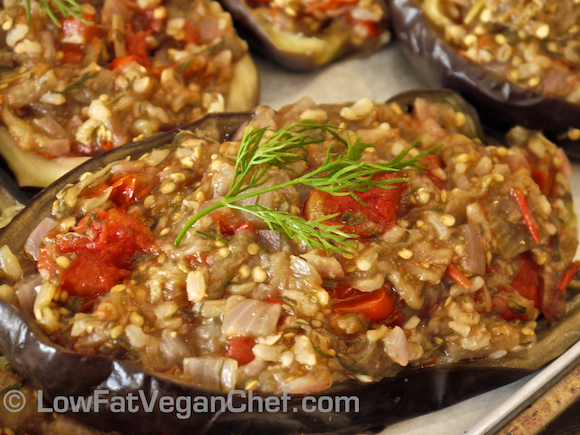 This summer I had some girl friends over for an end of summer vegan dinner party. I wanted to make something special and I decided on stuffed eggplant. Many people have tried stuffed peppers, but few have had stuffed eggplant, let alone delicious succulent Greek stuffed eggplant.
When I was traveling around the world I fell in love with rustic Greek cuisine. It's nothing like you find in North America and it's not all about souvlaki and rack of lamb. Many classic Greek dishes are vegan or vegetarian in nature, so it was a pleasant surprise to find delicious homemade dishes at local tavernas. These are called Melitzanes Papoutsakia or "Little Shoes". They are often served luke warm or room temperature as is customary in Greece.  They believe that room temperature food is the best for health and this may be why their mezze platters are so popular, where a variety of items can be eaten together at the same temperature.
This is my vegan spin on Greek Little Shoes and you can find it with and without rice. Since this was a main entree I decided to add rice to it and I had some delicious pre cooked brown rice from Hinode in the cupboard so this was pretty easy to throw together.
I have found that it makes a difference in cooking time to precook the eggplant before baking and this way the flesh can soften without having to be cooked with oil. It's got all the flavor you need by adding fresh herbs without any of the fat.
I served this with salad and my Tuscan Roasted Tomato Chickpea Soup that's featured in my Comfort Soups To Keep You Warm recipe ebook.
Greek Stuffed Eggplant (Little Shoes)
Serves 8
Ingredients:
4 medium eggplants/aubergine
1 cup vegetable broth (low sodium or homemade)
1 large red onion, diced small
5 large cloves of garlic, minced
4 cups of fresh tomatoes, diced small
1 1/2 cups cooked brown rice (I used Hinode)
3 tsp lemon juice
1 1/2 tbsp fresh oregano or 1 1/2 tsp dried
1/2 cup of fresh dill or parsley, chopped
2 -3 tsp of honey/maple syrup or pureed dates
1/2 tsp salt
Fresh ground pepper
olive oil for greasing pan and sprinkling on eggplant
Directions:
Step #1: Cut tops off of eggplant and slice in half. Bring a large pot of water to a boil and boil eggplant skin side down for 15 minutes. Depending on how large your pot mouth is and your eggplant you may have to boil 4 halves at a time.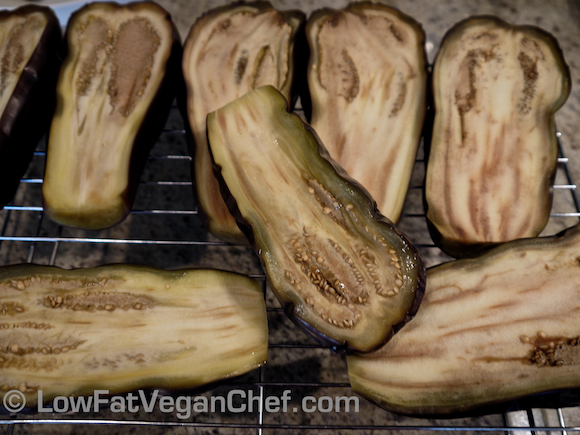 Step #2: Once done, take out eggplant and set aside to cool before handling.
Step #3: Preheat oven to 350 F/177 C. Scoop eggplant out of shell carefully and leave a small layer of flesh inside to prevent skin from tearing.
Step #4: Heat a large wok or frying pan over medium heat and add the vegetable broth. Add the onions and sauté for 4-5 minutes. Add the garlic and tomatoes and sauté for 5 minutes.
Step #5: Cut the chunks of eggplant into smaller pieces or mash them. Add to tomatoes and onions and continue cooking.
Step #6: Meanwhile, chop the dill or parsley into small pieces.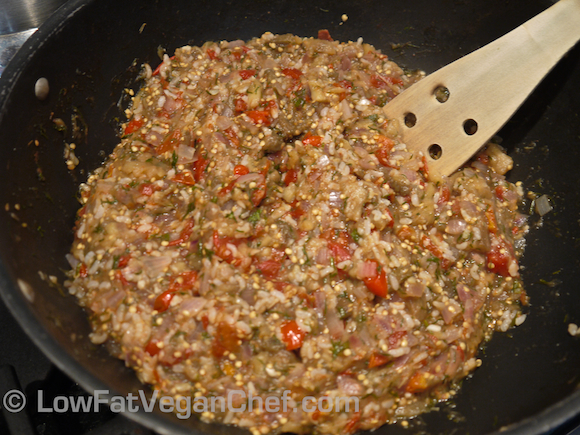 Step #7: Add cooked rice, dill/parsley, oregano, lemon juice and salt and pepper to eggplant and tomatoes. If your tomatoes are a little acidic, add honey or sweetener to balance the taste as desired.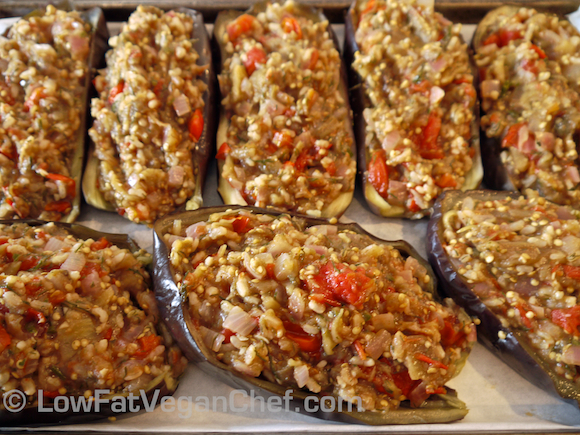 Step #8: Place a sheet of parchment paper on a baking sheet and place the eggplant shells skin side down. Fill with tomato eggplant mixture evenly.
Bake eggplant in oven until heated through, about 20 minutes.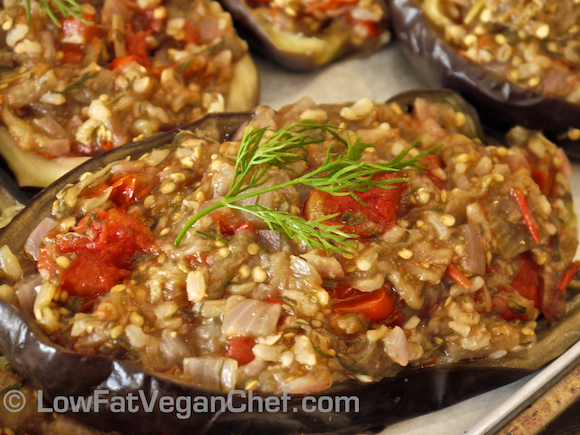 Serve warm with salad, potatoes, or pita and hummus.
Have you ever had eggplant before? What's your favorite eggplant recipe?