I would say this recipe reminds me a bit of chicken cacciatore and it's one of my favorite ways to make Soy Curls. I find Soy Curls need to be seasoned well and it's nice to have a sauce to cook them in for better flavor. Sometimes I add sautéed eggplant to this recipe, but I didn't have any today, so it's just onions, soy curls and chickpeas in tomato sauce. I served mine with multigrain rice from Trader Joe's but you can also serve this over pasta, couscous, quinoa or another rice of your choice.
Soy Curls are a non-GMO product made by Butler Foods and come from Portland, Oregon. So if you're in Portland you will find them at Food Fight Vegan Grocery, Whole Foods and other health food stores. You can also sample them in dishes at places like Homegrown Smoker Food Cart, A N D Cafe, Blossoming Lotus Restaurant and many more.
There are a lot of different ways you can prepare Soy Curls. I like that they are a dry product that you can keep in the cupboard as opposed to having to refrigerate it or freeze it and it's unflavored so you can season it however you want.
Here is what the package looks like. One package will make 3-4 recipes for 4 servings.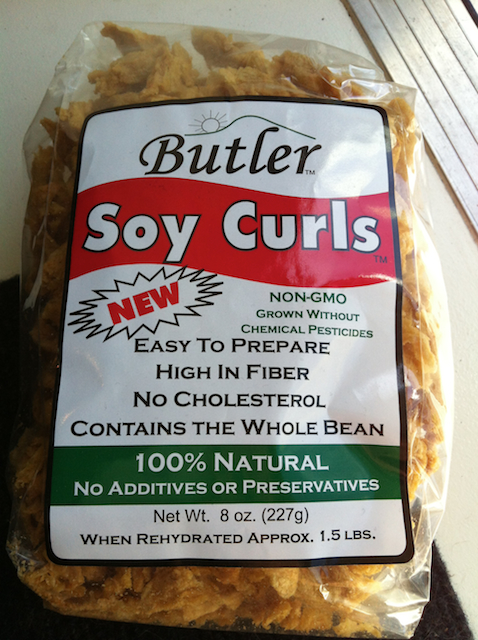 If you don't live in Portland you can buy Soy Curls online and have them shipped anywhere in the continental USA (my mom orders these and has them shipped to her place in Texas).
I prefer to not use the chicken style seasoning they sell as it contains hydrolized soy protein which is another term for MSG. (For more info on food ingredient terms that contain or mean MSG check out http://www.truthinlabeling.org/hiddensources.html)
Here is one of my favorite ways to prepare Soy Curls. You can use this recipe or adapt it to contain whatever seasonings you desire. You can even turn it into a curry if you want to add cayenne pepper or hot chilies too.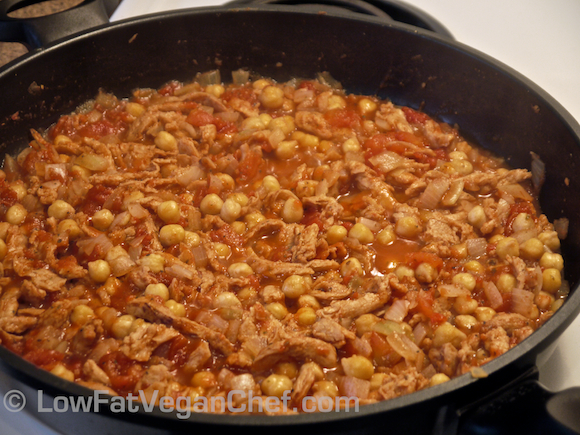 Soy Curls With Chickpeas In Tomato Sauce
Serves 4
Ingredients:
1 onion, diced
2-3 cloves of garlic, minced
2 14.5 oz cans fire roasted diced tomatoes (I use Muir Glen Organic)
1 15 oz can chickpeas, drained (I use Eden Organics Salt-Free)
1 – 1 1/2 cups Soy Curls (buy on Amazon here)
Trader Joe's 21 Seasoning Salute to taste (or other salt free herb seasoning)
Herbamare or salt to taste
Fresh ground pepper to taste
Directions:
1. Soak Soy Curls in a large bowl of warm water and sprinkle in some salt and 21 Seasoning Salute. Adding some salt will help give the soy curls some flavor. Leave for 8-10 minutes while you chop your onion and garlic.
2. In a large non-stick skillet or wok sauté onion and garlic dry for 4-5 minutes until soft.
3. Drain the Soy Curls, season with more 21 Seasoning Salute or salt free seasoning and add to the pan and sauté until the soy curls dry out a bit (4-5 minutes.)
4. Add tomatoes and drained chickpeas, and stir. Break up the tomatoes and season to taste with Herbamare or salt and pepper and any other desired seasonings.
5. Cook until tomatoes are soft.
6. Serve with rice, quinoa or pasta.
Have you ever tried Soy Curls before? What's your favorite way to cook them?