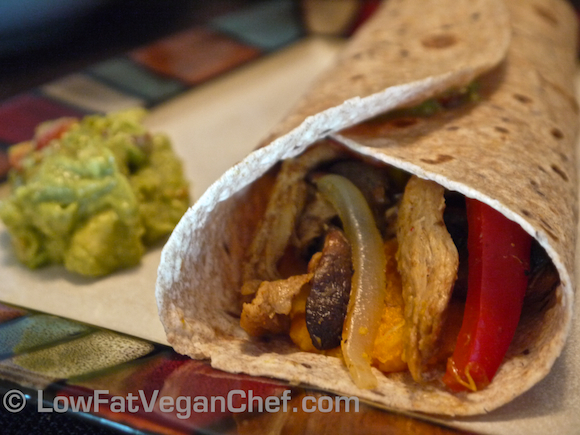 I don't often use "fake meat" substitutes and prefer to make almost everything from scratch.  But my favourite "just like chicken" product is Soy Curls because they do have a great taste and texture once they are seasoned.  They don't contain a lot of ingredients, just soy and they are gluten free (and GMO free as well).
So far everything I have put Soy Curls in has turned out delicious. You really can't screw up Soy Curls.  Essentially you take the dried product and soak it in warm/hot water for about 10 minutes to plump up and you drain them.  I like to add some salt and seasonings to them while they soak, or else they don't taste like anything. They do need some salt to have flavor.
Then you can just sauté these dry in a pan (they taste better if you cook some of the water out) I cook them for 10-15 minutes until they seem done and have a good texture. You can then add the Soy Curls to any recipe you desire, but they taste best if you season them or put a sauce over them. See my previous Soy Curl recipe here that is one of my favorites.
If you don't want to buy Soy Curls you can omit them and just use the veggies and yams in this recipe instead.
It's also really hard to make fajitas look appetizing when you have so many brown/beige colours with the whole wheat tortillas, mushrooms, onions and Soy Curls! At least my new colorful plates help…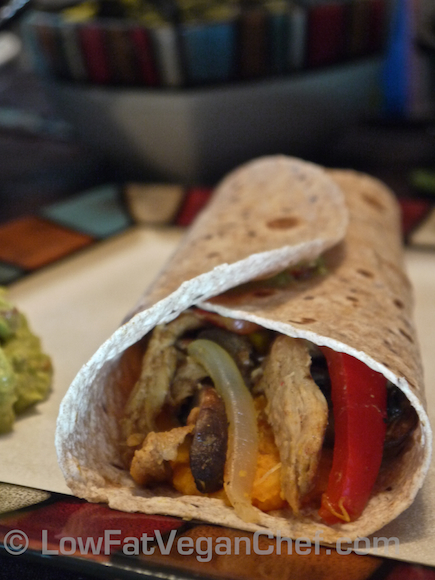 Vegan Soy Curl Fajitas With Mashed Yams (Sweet Potatoes)
Serves 4
Ingredients:
3 small yams (orange sweet potatoes/kumara)
Roasted cumin (I use McCormick's) to taste
Herbamare or Sea salt to taste
Chipotle chili powder or chili powder to taste
1 1/2 cups Soy Curls (dried)
1 sweet onion, sliced
2 bell peppers, sliced
1 cup mushrooms slices
9-12 small corn or small wheat tortillas
1-2 tbsp fajita seasoning (recipe found here)
Directions:
Peel and slice the yams. Place in a pot or steamer basket and steam until fork tender. 15-20 minutes depending on size. Set aside when done.
Soak the Soy Curls in warm/hot water for 10 minutes. Season with some salt if desired (I do). Drain.
In a large non-stick skillet or wok saute the Soy Curls over medium heat for about 10 minutes. Add the mushrooms and saute for another 2-3 minutes. Add the onions and peppers and season to taste with fajita seasoning. Cook until peppers and onions are at desired tenderness (about 1-3 minutes).
Place the yams in a bowl and mash them and season to taste with cumin, salt and chipotle powder. (Don't over season, just give it a little flavour.)
Lay out a tortilla, spread some mashed yams and add the fajita ingredients.
Serve with guacamole or salsa if desired.
Repeat with remaining tortillas.
Additional Tips:
For warm tortillas you can microwave them for a few seconds until warm or heat them in an oven wrapped in tinfoil on low while you prepare your ingredients.
Feel free to add other veggies as desired like zucchini or carrots. Cook longer if necessary.
Soy Curls can be cooked a lot without burning because they are so moist so keep cooking them until your vegetables are at desired tenderness.
What are your favorite ingredients in veggie fajitas?