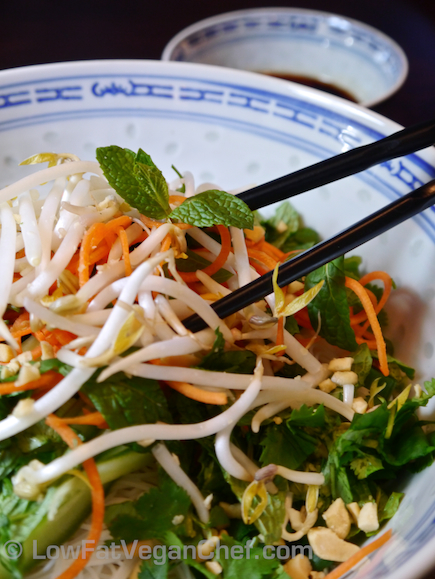 I love how fresh and light vegetarian Vietnamese food is. Vietnamese dishes don't tend to be very vegan friendly because many items have chicken stock or fish sauce in them, so you may not always be able to find something that is truly vegan at a Vietnamese restaurant. Bun Chay is a vegetarian vermicelli noodle salad seasoned with fresh herbs, bean sprouts and Nuac Chom (a fish based sauce.)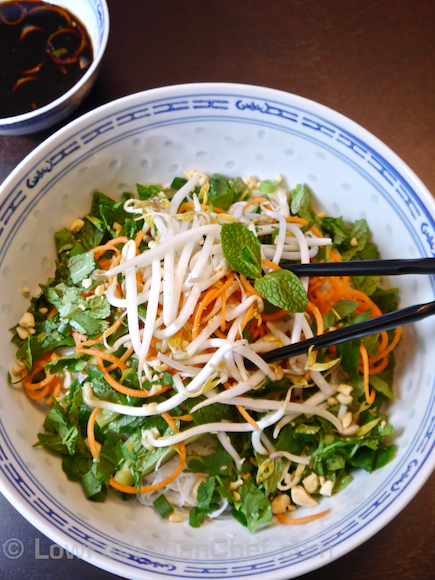 So I wanted to show you how you can make Bun Chay totally vegan at home. This is a really fun and impressive recipe to make for one, or even a dinner party. If you can slice some veggies and toss them together to make a regular salad, trust me you can make this! It's super easy and fresh and you can customize it with your favorite vegetables or proteins like tofu or tempeh as well.
This salad also keeps well and can be taken to work for a healthy lunch (just make sure to keep the dressing separate). If you're longing for a recipe to mix up your salad routine, this is it! It's very low in fat, as well as filling. I hope you like it!
Bun Chay (Vegetarian Vietnamese Vermicelli Herb Salad)
Serves 4
Salad:
250 g/8.8 oz package of rice vermicelli noodles (thin)
1 carrot, peeled and shredded or spiralized
2 Persian/small seedless cucumbers, julienned
1-2 cups fresh mung bean sprouts
1 cup fresh cilantro leaves, chopped
1 cup fresh mint leaves, chopped and/or 1 cup Thai basil leaves, chopped
4 green onions, thinly sliced
1/4 cup peanuts, crushed *optional
Vegan Nuac Cham (Sauce for Bun Chay):
1/4 cup lime juice (1 1/2 large limes)
1/4 cup vegetarian fish sauce (see recipe here)
1/3 cup hot water
1 tablespoon rice vinegar
3 -4 tablespoons granulated sugar
1 garlic clove, minced
1/2 – 1 thai chili, finely chopped *optional
2 tbsp shredded carrot *optional
Directions:
1. Bring a large pot of water to a boil. When boiling, turn off the heat and add the noodles and stir to break up.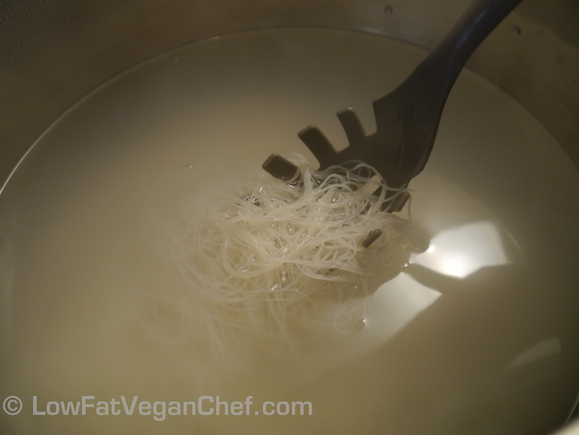 2. Let noodles sit for 2 minutes.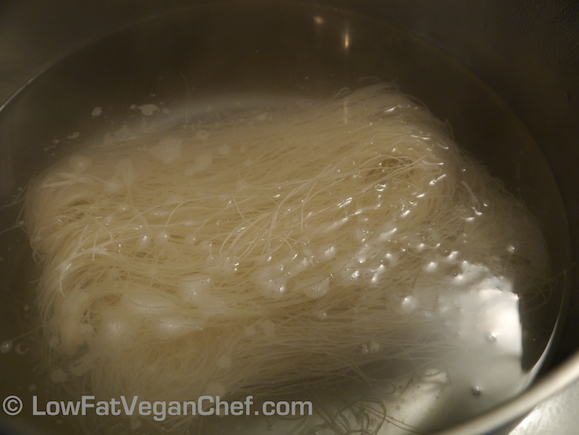 3. Drain noodles and run in cold water to shock them. Drain in a colander.
4. Prep veggies.
5. Arrange noodles in serving bowls. Garnish with carrots, cucumber, chopped herbs, mung beans and peanuts.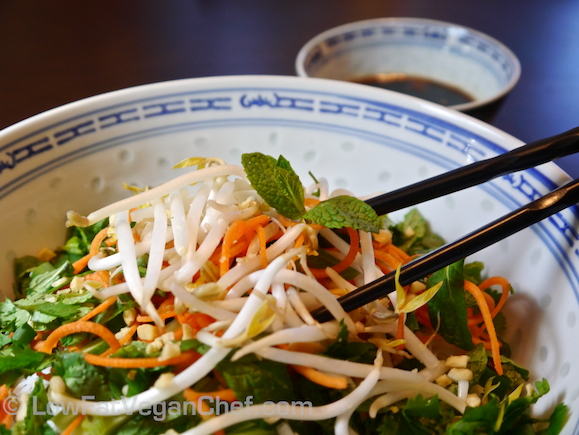 6. Combine ingredients for Nuac Cham sauce in a bowl and whisk until sugar dissolves. (You want it to be strong tasting as the noodles are bland and will soak up the flavor.)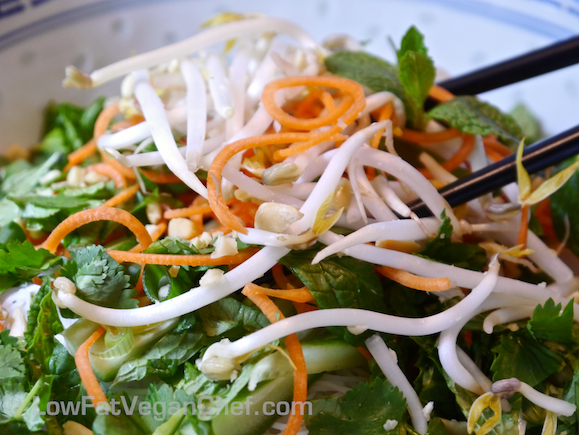 7. Serve Bun Chay with a side of Nuac Cham. Pour sauce over it and toss well to combine.
Additional Tips:
Please note that Thai basil has a very different taste than regular Italian basil, so if you cannot find it, please use mint and cilantro (coriander) instead. Thai basil has green and purple tipped leaves and has a very exotic flavor.
I used a Japanese turning slicer to spiralize my carrots. I find them prettier this way instead of just shredding them. This is what I used.
If you can't find Persian/Iranian (mini seedless cucumbers) use English cucumbers.
Make sure to put lots of herbs in this salad as it will be very mild tasting, you get most of the flavor from the Nuoc Cham sauce and the herbs. Otherwise it will mostly be rice noodles, carrots and bean sprouts.
If desired you can serve it with some hoison sauce (I tend to avoid as it has msg) or Sriracha hot sauce. You can find these at Asian stores and sometimes regular grocery stores as well.
Have you ever had Vermicelli salad or "Bun" before? What did you think of it?