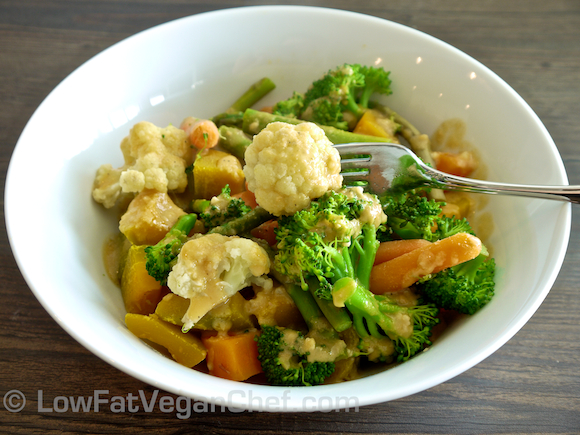 I wanted to have a quick and healthy lunch yesterday, but I did not have any rice ready. So instead I decided to serve my veggies over some delicious steamed yams (sweet potatoes) and Kobocha Squash (Thai/Japanese pumpkin). It's kind of Macrobiotic, it just doesn't have rice, beans, or fermented veggies. I guess it's like a lazy version of a Macrobiotic dish instead.
This is a nutritious and easy way to get a lot of veggies all into one dish. I've got broccoli, cauliflower, carrots, asparagus, yams (sweet potatoes) and squash, topped with a light peanut dressing to give it some nice flavour.
Basically my Rainbow Veggie Bowl is like a vegetable stir fry, but with steamed vegetables and nothing is fried! This is an easy meal idea for you when you're not sure what to make, but just want something that still tastes good while being healthy at the same time. It's also really easy to use up extra vegetables in the fridge, or use a whole bag of fresh mixed vegetables like I did and then they're already washed and chopped for you.
You can also make the peanut dressing in advance and then use it throughout the week if you want to make this even quicker.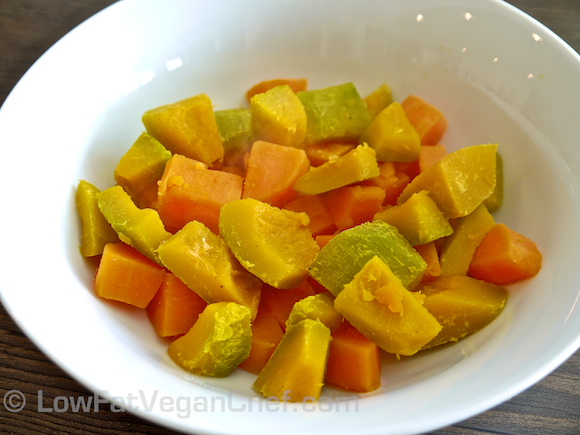 This is the steamed yams and squash before I topped it with the veggies.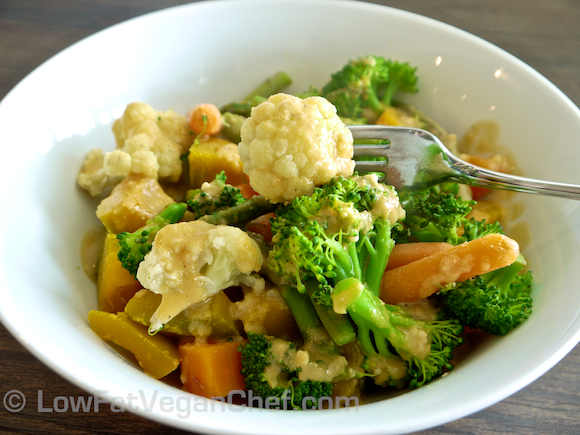 Veronica's Easy Rainbow Veggie Bowl
Serves 2
Ingredients:
1 large yam/sweet potato, peeled and chopped
1 small Kabocha squash, peeled and chopped (Thai/Japanese pumpkin) or 2-3 cups frozen butternut squash cubes
1 12 oz./340 g mixed vegetables (I used broccoli, cauliflower and baby carrots)
1/2 bunch asparagus, ends trimmed and cut in half (or other vegetables as desired)
1/2 recipe of Thin Peanut Dressing (see recipe below)
Directions:
Steam yams/sweet potatoes and squash in a medium-large pot in a steamer basket (if you have one) just until tender.
When yams and squash are starting to cook, place other vegetables into another pot with a steamer basket (if you have one) and steam just until cooked. Be sure to check on them so that the broccoli doesn't fall apart.
Arrange steamed yams and squash into bowls and top with steamed vegetables. Drizzle with thin peanut dressing and serve!
Variations:
Use any other vegetables you desire instead of the asparagus, broccoli, cauliflower or carrots. You can also use ones like kale, Swiss chard, collard greens, Bok Choy, cabbage, onions, zucchini, etc.
Feel free to top your bowl with other goodies like seasoned tofu, tempeh, or black beans.
Kobacha squash can be substituted with Butternut squash, or even more yams/sweet potatoes if you like.
You can also serve with brown or white rice if you don't want to use yams or squash.
(Oil-Free) Thin Peanut Dressing For Veggies
Serves 2-4
4 tbsp peanut butter
4 small dates, pitted or 1-2 tbsp of liquid sweetener of choice
1 clove of garlic
2 tsp light tamari or light soy sauce
2/3-3/4 cup water (to thin as desired)
Directions:
 Add all ingredients to a blender and combine. Taste test and adjust seasonings if desired. Use as much or as little water as you like depending on how far you want your sauce to go.
Serve over greens or steamed vegetables.
Additional Tips:
Refrigerate any leftovers for up to 3 days.
Variations:
You can also try almond butter, or tahini if you prefer instead of peanut butter. You can also add fresh ginger or a splash of apple cider vinegar if desired for different flavours.
What do you think of my Easy Rainbow Veggie Bowl with Peanut Sauce?