Happy Friday everyone!
I'm back home in Vancouver after spending 2 weeks in Oahu and Kauai. Hawaii is still one of my top favourite places in the world. Probably because as an island state it has many more amenities than most smaller tropical islands I've been to (and loads of fresh fruit and veggie friendly restaurant options).
It's rather chilly and rainy here right now as we're getting a late start on warm sunny weather, but it's the perfect time to start eating more fresh fruits and vegetables now that summer is approaching.
Smoothies are something that there is no standard recipe for, and generally what you get when you purchase one is a lot of added sugar, processed juice or milk (for the base) an unripe banana and a little sour frozen fruit. Generally I don't like smoothies at smoothie bars, unless they are from places that don't use processed juice or added sugar.
I actually never have to add sugar or milks to my smoothies because I make sure my fruit has completely ripened before using it. Vegetables generally come ripe when you buy them from the store (except for tomatoes and peppers are they are fruit-vegetables and need to ripen.)
How To Make Great Vegan Smoothies Every Time
The key to making a delicious whole food and sugar free smoothie is to use fully ripe and quality ingredients. Also you don't have to throw a lot of things into it like some witch's brew. I prefer to use only 2-4 ingredients to make a fruit smoothie and I generally start with a base of ripe (very spotted) bananas or ataulfo/champagne (yellow skinned) mangoes and then I add other things like ripe papaya, pineapple, berries, peaches, plums, spinach, etc. Whatever is ripe and sweet tasting can go into a great tasting smoothie.
The biggest crime at smoothie bars is probably using underripe yellow bananas or even worse yellow bananas with green still on them. Bananas contain a lot of starch and the enzymes in the bananas have to process the raw starch and convert it into natural sugars for it to taste sweet instead of sticky and pasty. To compensate they put in sugar, when it's really not necessary.
The best tip for having quality ripe produce every day  for smoothies or recipes is to make sure you are buying it at least a week in advance. I always have bananas and mangoes or papayas (when in season) ripening on the counter. It generally takes 4-8 days to ripen (I'm in Canada and it's not hot or humid right now) on the counter in cooler climates. In tropical and subtropical places fruit can ripen in 3-4 days and then be stored in the refrigerator when it's ripe. Frozen berries or bags of pineapple or mango are great additions to a base of ripe bananas or even fresh papaya.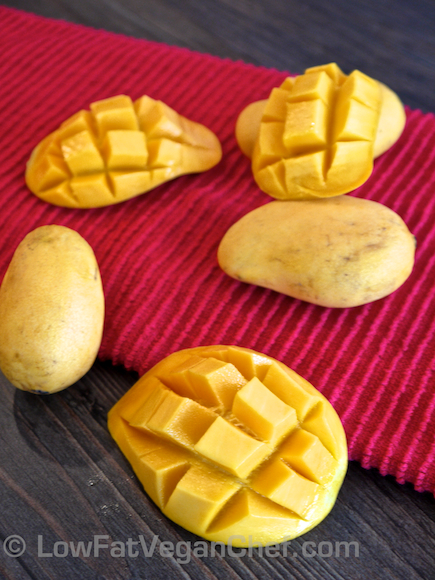 How To Select And Ripen Mangoes
Mangoes can be hard to understand for those new to tropical fruits. They often don't know how to select them, when they are ripe, or know how to cut them. Generally I buy the yellow skinned ataulfo/champagne style mangoes because they don't have a stringy flesh and are very sweet and creamy when ripe. Most people buy the Tommy green/red type mangoes. When ripe these can be good too but they are much stringier and have a larger woody core in them.
Mangoes will take 5-10 days to ripen depending on when they were picked and what kind of climate you live in. You can tell a mango is ripe when it is starting to wrinkle on the skin and get soft. (Just like an avocado gets soft to the touch when ripe.) It should not have any hard spots on it and should be slightly soft and juicy inside and not taught and rock hard. The inside colour will change from light yellow to dark yellow or orange depending on the variety. Unripe mangoes don't make for tasty recipes, and when it doubt leave it another day or two. Even I sometimes get impatient and open a mango too early and am disappointed that it's not at it's peak ripeness yet.
Another tip I have to getting good mangoes is to NOT buy them at the regular grocery or mainstream grocery stores. I find that their supplies are often poor, they are picked super early and don't always ripen properly. This is a terrible place to buy mangoes. Bananas can generally be bought anywhere and will ripen, but not mangoes or papayas. Buy your mangoes from fruit markets, farmers markets, China Town/Asian fruit markets, Indian markets, Whole Foods, health food stores or Costco. (Costco's ataulfo mangoes are usually fine, but the red/green mangoes when bought out of season often don't ripen so I avoid those until the spring/summer.)
If you live in tropical places or states like California, Hawaii or Florida you may be able to get mangoes at the regular grocery stores that are fine, but this is usually because they were shipped shorter distances and thus did not need to be picked so hard and unripe or gassed. If you live in the northern states, Canada or northern European countries, you'll want to avoid the regular grocery stores for tropical fruit purchases because of their bulk suppliers and slow turn around times.
Now onto my smoothies. I make raw smoothies because they are the tastiest and are completely whole food based. I don't like adding supplements or super foods (especially cacao and maca as they are too addicting and stimulating) so my goal is to show you how to enjoy a simple delicious whole food fruit based smoothie. Many people don't get enough servings of fruit in their diet, including vegans who tend to eat more packaged foods. But breakfast is the perfect time for a juicy water rich easy to digest fruit meal whether it is a smoothie or a large fruit salad. Often I only feel like eating fruit in the morning because it's so hydrating and a great choice for eating before or after a workout. My smoothies are also enough for a whole meal, so I'm not having a little glass of smoothie and a bunch of toast or heavy breakfast foods. If you're a woman with a small stomach or not used to eating smoothies you may only use half of this recipe, but you will soon be hungry again and probably want something again, so you can take the other half with you or keep in the fridge. If your an active man you may need to add a few more bananas to this recipe to accommodate for your higher caloric needs. When I have a smoothie this size it's all I need for breakfast and it will hold me over until lunch. So with this information you can decide how to accommodate your needs with breakfast smoothies.
Also for those new to my site I do have a print button option on the top of every post so you can decide exactly what information to print and print with or without pictures if necessary.
(80/10/10 Style) Raw Vegan Berrylicious (Banana Mango Berry) Smoothie Recipe
Makes 2 medium glasses
Ingredients:
2 ripe bananas (see my post on ripe bananas)
2 ataulfo/champagne mangoes (cut around the inner woody seed and scoop out the flesh from the skin)
1 cup frozen mixed berries (I used raspberry, blackberry, blueberry and strawberry)
1/3 cup water
Directions:
Add ingredients to your Vitamix or blender starting with the mangoes and bananas at the bottom, add the water and place the frozen fruit on top. Blend until smooth.
Drink and enjoy!
Variations:
You can also use frozen cherries, just raspberries, or just blackberries instead of the mixed berries if desired.
If you don't have bananas just add another mango, if you don't have mangoes add another banana.
You can easily make this a green smoothie by throwing in a handful or two of baby spinach or chopped kale (remove the stems first though).
Have you ever eaten an ataulfo/champagne mango before?