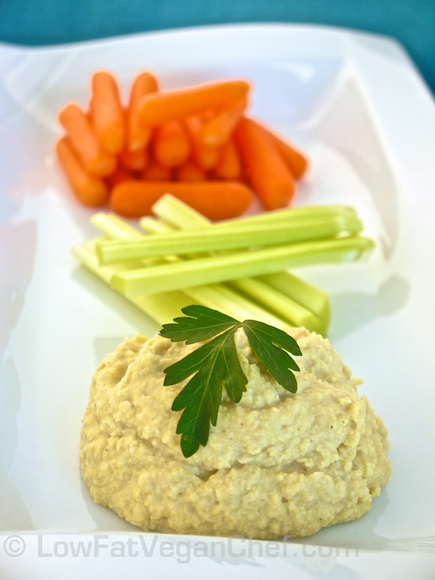 Ah hummus! The classic Mediterranean staple dip (and staple of many vegan sandwich lovers). I usually always make my own hummus at home as the store-bought ones are #1 usually expensive for the amount you get, and #2 have a lot of oil and salt in them and make each tablespoon higher calorie than necessary.
Hummus is basically cooked chickpeas, pureed with tahini (sesame seed butter), garlic, lemon, salt and sometimes olive oil. Babaghanoush (Eggplant Hummus) is very similar but it has roasted eggplant in it for a slightly different flavour. If you've never seen tahini before it's generally in the nut butter/peanut butter section of the health food store, or some grocery stores. Tahini also available at ethnic markets and Indian and Middle Eastern stores. You can also find tahini on Amazon.
If you've made your own homemade hummus before you probably use olive oil in it too, but I want to show you a way to make a much lower fat hummus that is great if you REALLY like hummus and put it on everything. This way you'll cut out excess calories you won't even miss and still get that delicious creamy hummus flavour.
So I got into the kitchen and made this chickpea hummus using canned chickpeas, as that's what most of you are going to do. (I use the salt free variety.) BUT you are more than welcome to use fresh cooked chickpeas. I prefer them and cook them with some kombu (seaweed) and bay leaves to give them a delicious flavour.
If you're into really decadent high fat dips, you should try switching to my hummus recipe to have a new better for you dip to serve to your friends and family with fresh pita, veggies or chips.
For this recipe you're going to need a food processor. I use an 8 cup Cuisinart that I bought in Costa Rica (when I lived there) and it's not a recent model or anything but it does the job. A hand crank food processor will probably not be good enough as this is quite a thick dip. You can get a basic Hamilton Beach food processor fairly cheap on Amazon like this one.
BTW this recipe is featured in my Vegan Comfort Foods From Around the World recipe ebook. So check it out! It's got over 60 deliciously savory and satisfying recipes you're going to love!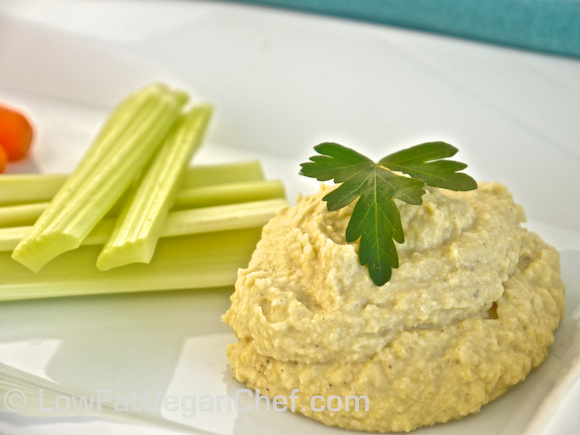 (Oil-Free) Low Fat Vegan Chickpea Hummus
From Comfort Foods From Around The World 
Ingredients:
1 15 oz./425 g can chickpeas (no salt) or 1 3/4 cup of fresh cooked chickpeas
1-2 small cloves of garlic (depending on how spicy you like it)
1 1/2 tbsp filtered water (this is replacing the oil)
3-4 tbsp lemon juice (depending on how lemony you like it)
1 1/2 tbsp tahini (sesame seed butter)
1/4 tsp Herbamare (original) or salt (or none if you are using salted canned chickpeas)
Fresh ground pepper to taste *optional
Directions:
Drain and rinse the chickpeas (only drain if fresh cooked) and set aside.
Add the garlic clove(s) to the food processor and pulse until chopped up. Stop the food processor.
Add the chickpeas, filtered water, lemon juice (start with less and add more if desired) and pulse the chickpeas until they are fairly broken up. Depending on how strong your food processor is when they are broken up you can let it run for a few seconds or just keep pulsing until it's a little smooth. Stop the food processor. Taste test and add more lemon if desired.
Add the tahini, Herbamare (if desired) and a little fresh ground pepper. Let it run until everything is creamed up. Taste test and adjust any additional salt, pepper, lemon or water (for consistency). Your hummus should be creamy with no chunks left.
Serve with veggies, pita or baked chips if desired.
Generally people will not be able to tell there is no oil in this dip. It will be creamy and tangy, it will just seem lighter and fluffier to them. Skipping the oil in recipes is a great way to trim that waist line and satisfy your desire for savory dishes without the guilt!
Do you like hummus? What do you serve it with? Have you ever made oil free hummus before?