Happy Friday everyone! I hope you've enjoyed your week so far. I know I have. I'm still in Kauai for a few more days and have been doing some kayaking, hiking, and snorkelling and taking lots of photos. If you're curious to see what it's like on Kauai (the oldest Hawaiian island) check out my Kauai Travel Pics post. It's the end of their rainy season here so we've been getting a little bit of rain but nothing like what they get in the winter time. It's about 82-84 F (27-29 C) a day here so it's quite nice!
We've been eating a TON of Maui Gold pineapple here along with Hawaiian papayas, bananas, watermelon, cantaloupe, salads and veggies. Just keeping things pretty simple as I'm not really making specific recipes while I'm here. The Maui Gold pineapple is really out of this world, it's so sweet and not acidic at all. I get the mini ones and I eat a whole one for breakfast and it doesn't bother my tongue. Some of the larger pineapples we've got were pale yellow inside and not ripe enough and too acidic to eat, ripe dark yellow (inside) pineapples are really the best. We always smell the bottoms of our pineapples to see if they seem sweet or ripe. If your fresh pineapple smells like nothing chances are it's been picked too early and isn't ripe enough and will burn your tongue and taste tart.
Today I wanted to share with you one of my favourite veggie juice recipes. I don't generally buy juices from juice and smoothie bars because #1 they are far to expensive and small for the price and #2 they are usually super foamy on top, and I can make them better at home. The juicer I have is a Breville and has this nice jug that has a foam blocker in it so when you pour the juice it skims off the top portion of foam before it goes into your glass. So this is nice. Especially for people new to drinking fresh juices (vs. something lie V8) who might be turned off by the natural occurring foam when you juice with a centrifugal juicer.
I love putting apples and beets together in juice the flavour is really rich and energizing. Apple and beets, carrots and beets, carrots and celery, and celery and apples all go great together flavor-wise, so when you combine them all you get a really tasty vitamin and mineral rich juice!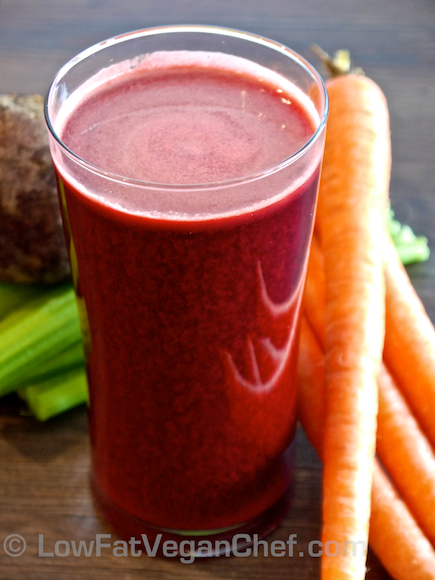 Raw Vegan Apple Celery Carrot Beet Juice
Serves 2
Ingredients:
3 medium apples, peeled (unless organic)
1 large beet, peeled and cut if necessary
8 large stalks of celery (leaves removed)
3 medium carrots, peeled (unless organic)
Directions:
Prepare vegetables, peel apples if desired. Cut veggies into chunks if required for your type of juicer. Run everything through a juicer and serve immediately.
Additional Tips:
Feel free to 1/2 the recipe if you'd only like a small juice. I usually make a big one after a work out.
You may enjoy serving this juice over ice. Depending on your tastes you can add more or less apple, carrot or beets. People new to drinking fresh juices may enjoy more of an apple flavour for the base. If you are trying to juice all at once and want to save some juice for later, it should only be stored in a glass airtight mason jar. Fresh juice spoils quite quickly because it is raw and uncooked. It will not keep in the fridge unless it's completely sealed and airtight. So make sure to use a jar of the appropriate size to ensure it's filled to the top and sealed.
What do you think of this juice? What's your favourite fruit+veggie juice recipe?
Also check out my photos of Kauai if you missed them.