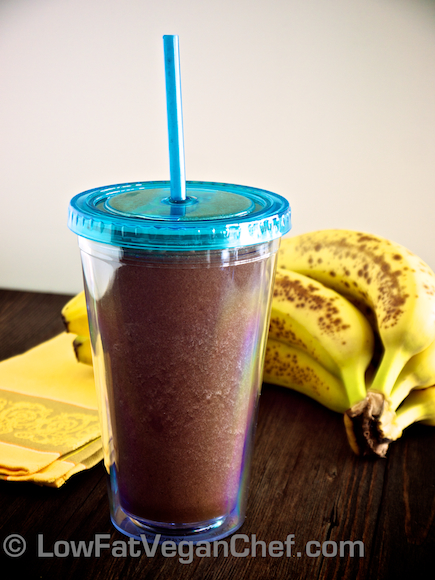 I don't usually eat a lot of chocolate or use cocoa or cacao in my smoothie recipes, but I'm sure some of you out there have cravings for a chocolate milk shake or smoothie once in a while and I thought I'd make a little treat for us!
There are few things more delicious than the combination of bananas with chocolate and even without the traditional ice-cream, this shake is still delicious. The key to making it creamy and naturally sweet is to use fully ripe (lots and lots of spots) bananas. To make this recipe truly fat free I just use a little water, but you can use some soy or almond milk if desired instead.
Although the bananas in my smoothie picture do have lots of spots on them, I still prefer mine slightly riper (by a day or two with even more spots) and no green at all on the stems of my bananas for the absolute best tasting smoothie recipes. The bananas are still firm (not mushy or over ripe) and are even sweeter this way  and then you don't need to add any additional sweetener. The best smoothies always start with quality fully ripe fruit, so it's best to taste test things before tossing them in a smoothie if you are unsure if they are sweet or tart.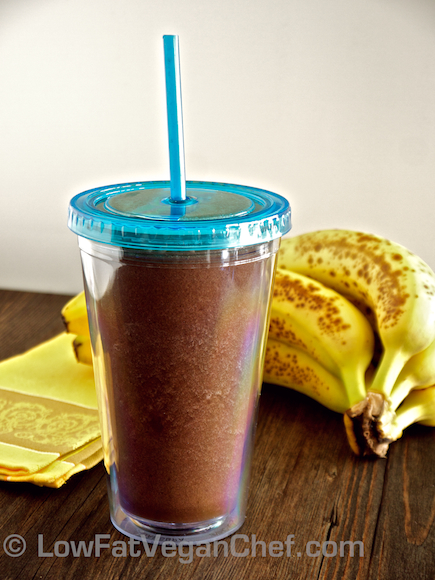 Fat Free Vegan Chocolate Banana Shake
Serves 1
Ingredients:
2 ripe bananas (see my post on ripe bananas)
1/4 cup water
1 tbsp cocoa powder
handful of ice cubes (or sub 1 fresh banana for a frozen banana)
Directions:
Place ingredients into Vitamix or blender in order listed and blend until smooth. If your bananas aren't quite sweet enough add a teaspoon or two of liquid sweetener of choice and blend again.
Serve!
Variations:
If you'd prefer raw cacao powder you can use that instead. I find I don't like it as much as cocoa personally and I find it less stimulating. You can also substitute carob powder if you're looking for a caffeine/chocolate-free option.
To get some greens in this recipe you can throw in a handful or two of spinach.
What's your favourite chocolate smoothie or shake recipe?